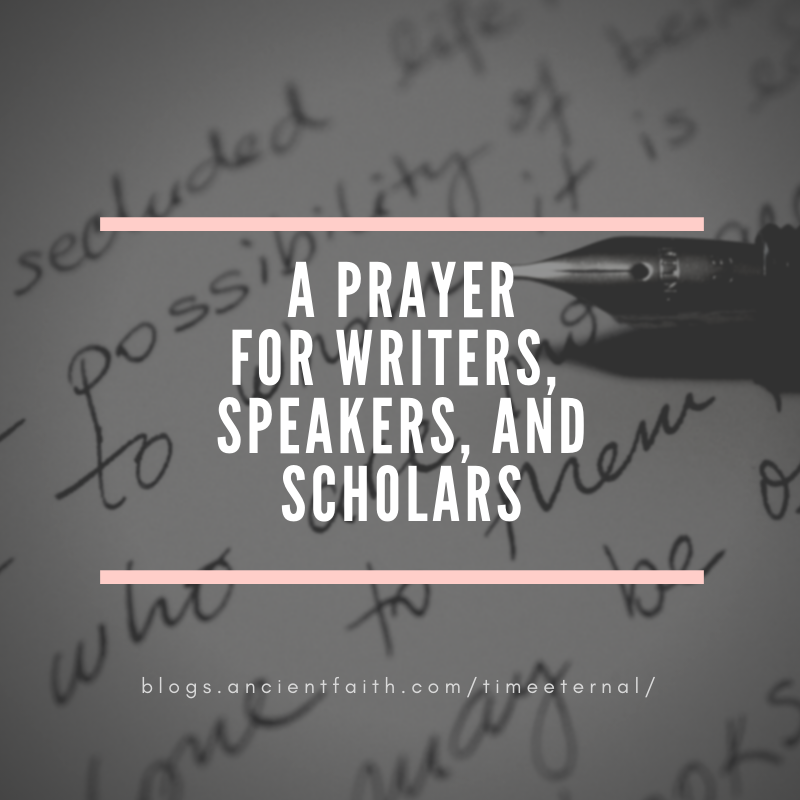 I've already posted several times (here and here) about the Engaging Orthodoxy panel last weekend at North Park University. I'm still reflecting on some of the topics that were talked about, but perhaps one of my personal highlights of the morning occurred not during the speaking portions but after.
As the talks came to a close, our moderator, Dr. Brad Nassif, asked His Grace Bishop Anthony Michaels of the (Antiochian) Diocese of Toledo and the Midwest (who had also been a speaker) to conclude our event with a prayer. He took a small piece of paper up to the podium, from which he read a wonderful prayer that offers back to God both the pitfalls and blessings of the creative intellectual life. When I said goodbye to him afterward, I expressed my appreciation for the prayer. He humbly clarified that he had written much of it himself, integrating some portions from other prayers. I found myself rather grateful he had lent his pastoral voice to crafting a prayer that so deftly addresses the life of the mind (and writer's pen). We don't often recognize the intellectual arena as an extension of our spiritual lives, one that can incite unique temptations and struggles, but also opportunities for growth and thanksgiving.
I've transcribed that prayer from the video and plan to put it up in the office where I do most of my writing and reading. I thought I would share it here for all the writers, public speakers, and scholars out there–may we endeavor to "attain the balance that true wisdom gives."
Oh Lord Jesus Christ, Thou hast said with Thine own pure lips, "Without me, you can do nothing." Oh Lord, my Lord, who art our teacher and our God, help us to accomplish all of our studies, guide our minds to understand the truth that Thou hast revealed, illumine our reasoning powers and strengthen our comprehension. Help us to acquire wisdom beyond knowledge, that we may turn aside from all spiritual error and falsehood, and live not for ourselves but for Thee alone. Free us from the vanity and pride which may come from compliments, and also from the depression that may come from criticism. Let us attain that balance which true wisdom gives us; let us study to know Thy truth always, with energy and consistency. 

For Thou art our Lord, and to Thee along with Thy Father do we give glory, in Thine all-holy good, and life-giving Spirit, now and ever and unto ages and ages. Amen.  

By: Bishop Anthony Michaels
***
The question of this year's Engaging Orthodoxy event was "What does it mean to be human?" You can find the full video of morning here; below that video, I've provided linked timestamps to the different talks. Enjoy!