Well, Saturday is upon us and this evening, we will embark on the Great and Holy Feast of the Nativity of Christ.
Call me crazy, but there's always a bit of grief when you know a fast is ending. Believe me I'm looking forward to Christmas and all that entails (cough Bacon cough). But the fasts are always such a rich time.
And so, today, I wanted to find a way to soak up these last few moments of fasting. I thought I'd skim through a piece of Advent literature I've always found rather challenging and heartwarming–Dietrich Bonhoeffer's God is in the Manger.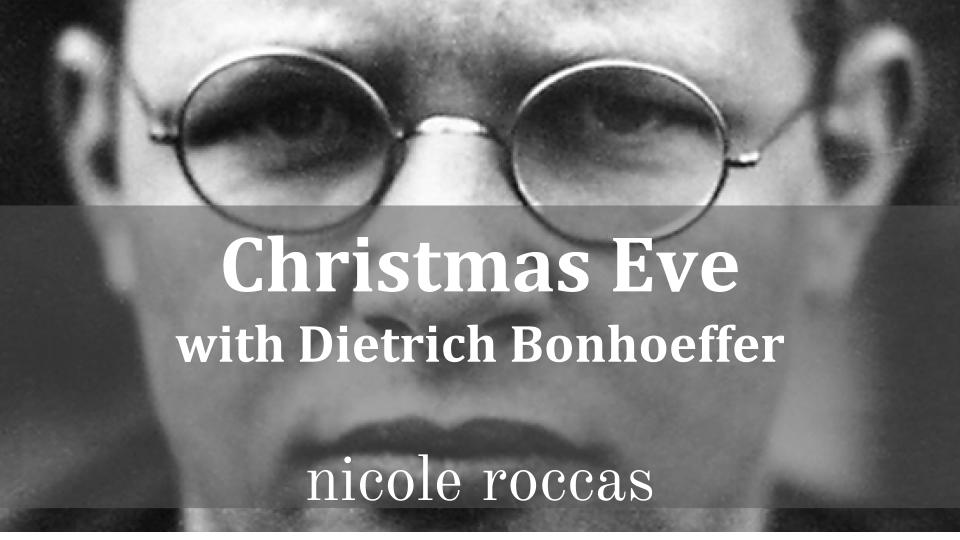 Although Bonhoeffer wasn't Orthodox, his life is a stunning example of what it means to be a Christian martyr in modern society. He was a Lutheran minister in WWII Germany, well known for his opposition to the Nazi party and their disregard for human life. He was imprisoned and eventually hanged only a month before Germany surrendered to the Allies (got goosebumps just typing that–the time-eternalness!)
God is in the Manger is a small compilation of Dietrich's reflections on the season of Advent. Orthodox or not, it's one of my staple spiritual readings this time of year.
Every time I read this work, different things pop out at me. Here are some of my favorite quotations this time around. I'll refrain from adding further reflection or analysis to these quotes–they're beautiful and stand quite well on their own. Let us open our hearts as we turn, together, toward Christmas.
Waiting
The Advent season is a season of waiting, but our whole life is an Advent season, that is, a season of waiting for the last Advent, for the time when there will be a new heaven and a new earth." Dietrich Bonhoeffer, God is in the Manger
Not everyone can wait: neither the sated nor the satisfied nor those without respect can wait. The only ones who can wait are people who carry restlessness around with them." Dietrich Bonhoeffer, God is in the Manger
Mystery & Modernity
The lack of mystery in our modern life is our downfall and our poverty. A human life is worth as much as the respect it holds for the mystery. We retain the child in us to the extent that we honor the mystery. Therefore, children have open, wide-awake eyes, because they know that they are surrounded by the mystery. They are not yet finished with this world; they still don't know how to struggle along and avoid the mystery, as we do. We destroy the mystery because we sense that here we reach the boundary of our being, because we want to be lord over everything and have it at our disposal, and that's just what we cannot do with the mystery…. Living without mystery means knowing nothing of the mystery of our own life, nothing of the mystery of another person, nothing of the mystery of the world; it means passing over our own hidden qualities and those of others and the world. It means remaining on the surface, taking the world seriously only to the extent that it can be calculated and exploited, and not going beyond the world of calculation and exploitation. Living without mystery means not seeing the crucial processes of life at all and even denying them." Dietrich Bonhoeffer, God is in the Manger
Brokenness and the Love of God
And then, just when everything is bearing down on us to such an extent that we can scarcely withstand it, the Christmas message comes to tell us that all our ideas are wrong, and that what we take to be evil and dark is really good and light because it comes from God. Our eyes are at fault, that is all. God is in the manger, wealth in poverty, light in darkness, succor in abandonment. No evil can befall us; whatever men may do to us, they cannot but serve the God who is secretly revealed as love and rules the world and our lives." Dietrich Bonhoeffer, God is in the Manger

And that is the wonder of all wonders, that God loves the lowly…. God is not ashamed of the lowliness of human beings. God marches right in. He chooses people as his instruments and performs his wonders where one would least expect them. God is near to lowliness; he loves the lost, the neglected, the unseemly, the excluded, the weak and broken." Dietrich Bonhoeffer, God is in the Manger
And because this blog is called Time Eternal, I'll end with a quote about:
Time and Repetition
Every day we must turn again to God's acts of salvation, so that we can again move forward…. Faith and obedience live on remembrance and repetition. Remembrance becomes the power of the present because of the living God who once acted for me and who reminds me of that today."

***
On this last day of the Nativity fast, may we come to the manger of our own lowliness in courage rather than fear, drawing near to a God who on this blessed Feast lovingly clothed His Son with the meagerness of human existence. God is in the manger!