This Side of Glory started in September 2003 as the personal blog of Grace Brooks (below). It has coalesced into a kind of all-purpose dumpster-diving exercise. The theory is that Orthodox Christians in 21st century America may find themselves in a rather toxic environment culturally, but there is still Truth and Beauty to be found, sometimes in surprising places. That may be a conversation at the dry cleaners or the latest blockbuster from Hollywood — sometimes people will describe the God-shaped hole in their lives, if you just know how to listen for it.
Two other premises that tend to drive the material on This Side of Glory:
That same unfriendly culture bears closer examination at times. There are negative examples and occasionally some events and trends that need a little light to be shed.
We Orthodox have inherited a legacy of inestimable value in terms of the history, teaching and life of the Church, but sometimes we are so steeped in austerity that we forget to share the experiences, anecdotes and reflections of our life of faith as humans one to another. This blog probably isn't the place to look for extensively researched doctrinal theology, but we hope that it's a place you can hear a thought from a prayer, or how autumn leaves remind us of the Dormition, or other such humble offerings as these.
---
Grace Brooks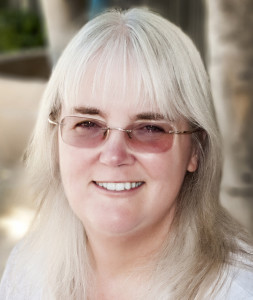 I'm your faithful blog-mistress(?!), living in "challenging"  Las Vegas, NV, with Good Husband Greg and a beefy cat we just call The Senator. I'm a graphic artist by trade, but I have also done cartooning, book illustration and whatever else needs doing. Oh, and blogging. And doodling illustrations for blog posts. Neither of which need to be done, really, but which make me happy.
Church: I've been in the Orthodox Church since I was chrismated in with so many others of the EOC movement in 1986. I think Orthodox Christianity is about the only thing in the world I take really seriously, because it's the only thing in the world that seems absolutely true and absolutely beautiful, even if my own spiritual struggle — podvig — looks a little less so. (If you want to know more about the Orthodox Church, check out the "Orthodoxy" tab on the homepage.)
My home church right now is St. Paul the Apostle Orthodox Church in Las Vegas, NV. Come and see us sometime!
E-mail: email hidden; JavaScript is required
---
Guest Authors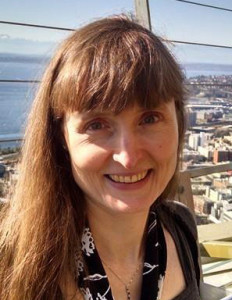 Melinda Johnson is an Orthodox Christian, wife, mama, writer, and friend to friendly four-legged animals. She is the author of Letters to Saint Lydia (AFP, 2010) and is hard at work on another book project.
Melinda has a Master's in English Literature because she loved taking literature classes so much she couldn't stop doing it. She suspects she is not a real writer at all because her creative process largely consists in bursts of insight, ecstatic typing, some staring out of windows, and the eventual sanding off of extra words. Although she can no longer remember all the great books she studied,
Melinda retains and treasures the way these books taught her to look at the world. When she is not seeing "heaven in a wildflower," Melinda enjoys writing for children, walking and talking, and knitting. She lives with her family in the Pacific Northwest.