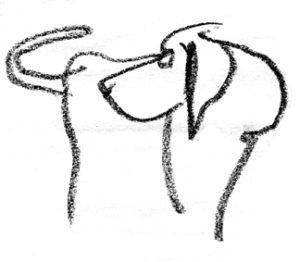 "A dog is better than I am, for he has love
and does not judge."
St. Xanthias
I'm taking a break from big-thinky stuff today to reminisce about a good dog who passed away yesterday.
Longtime fans of This Side of Glory (assuming they're both still alive) will remember the days when I used to post about my hound-dog Clementine. When we moved from the Missouri country life, we had to leave her behind with a second family that became her first family. It's been six years since I got to have her around, snuggle with her on rainy days or take her on walks (consisting of her leading me around town and rolling her eyes at my slowness and lack of an adequate sense of smell). I have missed her, but I knew she was out there somewhere. She still is, but only in the abstract sense. So I wanted to take a minute and share some memories, because in time those will fade out as well.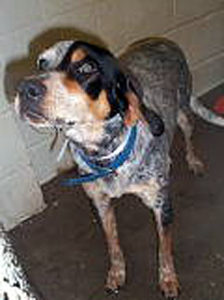 She was a bluetick coonhound/Brittany spaniel mix. We had been looking for a dog for some time, and we found out that we were picky: we didn't want A dog, we wanted OUR dog. We couldn't quite seem to find him or her. And then, when we came into the pet store in early 2004 to check back on one we were thinking about, we met the one we had to have. We met OUR dog. They had named her Ellie May, and it's possible that I adopted her in part just so I could change that name. ("No, Greg, I am not going around Plattsburg, Missouri, saying, 'Have yew met my hound-dawg, Ellie May?")
The person taking her for a walk let us know that she was a shelter dog whose time was running out. I looked at her and thought, "That's impossible. Look at that face." We came down where she could see and smell us properly, and she was all love, all tail-wags and licks and "life is good." She was lean and looked a little nervous, but she was so pretty with her gray-blue markings and russet-tan touches. Impossible that someone would have given her to a shelter when she was five months old. Impossible that no one else had to have her. But we weren't about to make the same mistake. We took her home that day.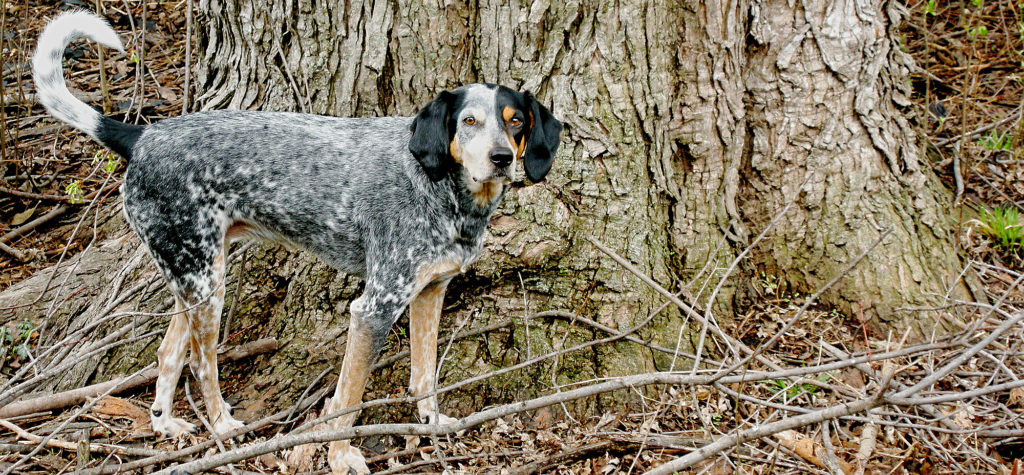 We were lucky. Maybe Clementine was lucky, too — not only did we stop the ticking clock at the shelter, but we gave her a name change that I'm convinced was a huge relief to her. But we were lucky because I haven't owned many dogs in my life, and was nervous about the prospect. But she fit so well with us that it was a kind of miracle. The coonhound side of her meant that she was boisterous, adorably cuckoo and nearly always ready to bound about. The Brittany spaniel side of her meant that she was a trifle fussy and fastidious — she hated getting wet or muddy and was house-trained in about a nanosecond. The coonhound would greet you at the door with a tail wagging so emphatically that it helicoptered around like it would propel her through space. The Brittany spaniel was a stickler for the rules, and was so easily guilted that I had to be careful not to look at her wrong or she would go to her "shame spot."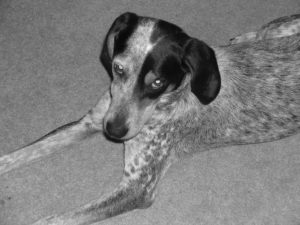 (I didn't know she had a shame spot, by the way, until one day when Greg was out of town and I had been out shopping. I picked up a pair of pantyhose, among other things, and tossed the package on the bed to deal with later. I forgot about it until bedtime when I was mounting the stairs with Clem behind me. I had gotten to the landing of the stairs when I saw a peculiar sight on the upstairs floor: a new pair of pantyhose that had not only been removed from the package by curious teeth, but — impossibly — tied into a knot and left on the floor. It was tempting to burst out laughing, but I remembered how much we didn't want her chewing up socks and furniture and managed to sternly pronounce her name in my "bad dog" voice. That's all I did, but before I had fully turned around, she had done a morose 180 and slunk down the stairs to the place in the living room that I now knew was her shame spot.)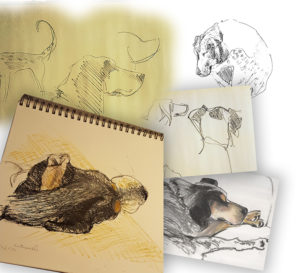 She got to know our routine quickly and was not only tolerant but actually our best enforcer. Dinner and bedtime were supposed to happen at certain times — not sure where she got that idea from — and she would whine or shoot us looks when we were sloppy and stayed up past 9:30. Which was every night, and so she would sigh and take herself off to bed without us. But in the morning, order would be restored. I was supposed to rise, put down her food, make tea and take possession of the good armchair so that she could clamber onto my lap and have a good sleep. This actually happened like clockwork, and so she put up with our other regrettable lapses.
At lap time, or couch-potato time, or when she was shadowing me throughout the house, I was free to try to photograph or draw her. She would make herself available in the best of poses, but she was just a little too restless for my weak skills  — even sleeping, she moved around too much for me to capture her accurately. I kept trying, and I have many blurry photos and unfinished sketches to bear witness to my efforts. But the best pictures of her only exist in my imagination, I'm afraid.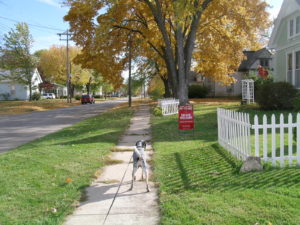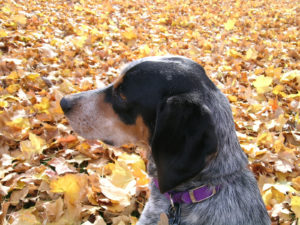 Maybe that's why I started writing about her. I opened up a category just called "Adventures with dog," because the daily walks became a feature of days that I can say now I didn't appreciate enough. Our little household endured all the usual ups and downs of life, but Clementine's perspective on life didn't change much, and when I would walk her around our little town, I would begin to see past the manic joys and heart-stopping sorrows and consider that whatever else happened, life was the thing, really. Life and smells and breathing. Greeting the next-door cat, Ace, or the down-the-street basset hound, Otto, with unfeigned delight when you saw them, but not holding it against them if they weren't there or weren't that into you. Going everywhere that you had already been as if it was always new, just for the enjoyment and wonder of being there. Letting yourself be excited because the world was an exciting place and you never really knew what was going to happen. Setting out, in the best tradition of dogs, thinking that "Today could be the day!" and believing it every day.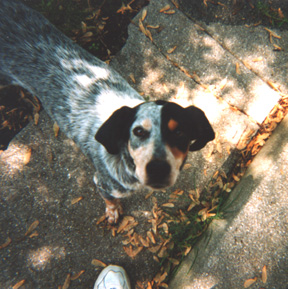 I could tell stories, but I'd forget some. And every owner of a beloved dog or cat or parrot or wombat knows the type of thing. The bad times she made better; the good times she made great. She was a good dog. I'd like to think I did some things to promote that goodness (or at least not get in the way), but I know that having her in my life made me a better human being.
Rest in peace, old girl.