"There are some standing here who will not taste death
until they see the Kingdom of God present in power." Mark 9:1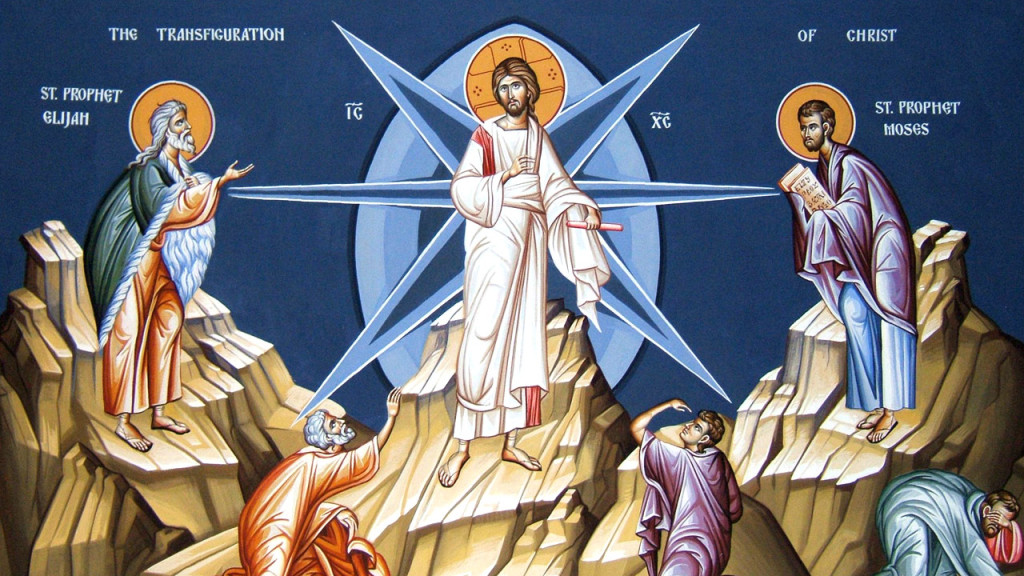 Today on the feastday of Transfiguration, we stand with Peter, James and John, enraptured with the incredible revelation of Christ shining with divine power, conversing with Moses and Elijah.
I have heard believing and non-believing friends say wistfully that they wish that God would just reveal Himself clearly and incontrovertibly – something grandiose and exciting. Maybe the dazzling and wondrous Transfiguration comes closest to that.
But also, never was there such a clear difference between our fantasies and God's realities. We have a strong desire for wonderful and magical things; God offers instead the harrowing and transformative miracles that leave a person awe-struck and almost terrified. We want to see sights that will remove all unhappiness and perplexity — God's miracles seem to set us down squarely in the middle of these sorrows, but put them in a different perspective forever.
"Who do you say that I am?"
Listening recently to Fr. Thomas Hopko's podcast on Transfiguration — HERE — I was reminded where it occurred chronologically. After Christ's ministry, and after the Jewish Feast of Tabernacles, which Fr. Thomas points out had come to have a lot of eschatological overtones to it, Jesus asks the apostles, "Who do the people say that I am?" and after that, "Who do you say that I am?" And we know that Peter has the true answer: "You are the Christ, the Son of the Living God."
After that confession, Jesus begins to tell them that the Christ must suffer (which Peter doesn't want to hear). Christ then takes Peter, James and John up to Mt. Tabor and is transfigured before them into blinding light, with Moses and Elijah on either side talking with Him.
In other words, no one should have been more prepared than these three apostles to see the glory of Christ, and yet even that wasn't separate from the full knowledge and responsibility that came with it. Christ in His glory, to prepare them for Christ in His humility.
Christ showed three of His disciples a little of who He really was, but even with all they had already seen, they were terrified. And even having seen the transfigured Christ, they doubted the resurrection until they saw the risen Christ for themselves.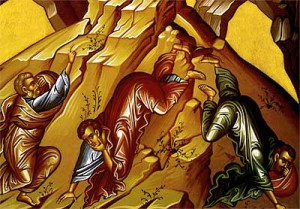 So I suppose these kinds of spectacular events aren't really all that we imagine they'll be. We consider that having such overwhelming evidence of our senses will inform our faith, bolster it past all temptation. But apparently, that's not so and Christ was telling the simple truth when he said in a parable that unbelievers wouldn't be swayed "even if someone came back from the dead."
Those of us who only hear of the Transfiguration without witnessing it firsthand may still be the lucky ones. With our spiritual eyes, at least, we know very well that Someone did come back from the dead, and that He is the same one that shone brilliantly on Mount Tabor. "Who do you say that I am?"
Something for me to contemplate as I consider the troparion for the feast:
When Thou wast transfigured on the mountain, O Christ our God, Thou didst show Thy glory to Thy disciples as far as they could bear it. Let Thy everlasting light illumine also us sinners through the intercessions of the Mother of God. Giver of Light, glory to Thee.
What an amazing feast it is.