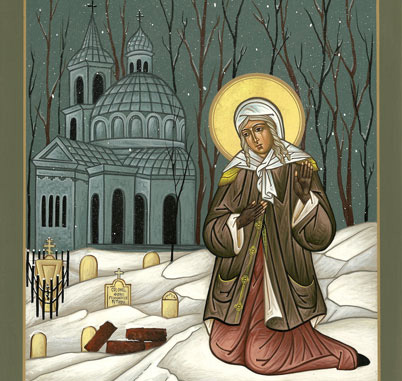 Today is the saint's day of St. Xenia of Petersburg, who has started to become one of my favorite saints. I love the idea of the 18th century "homeless" lady who used to go around this major city dressed in the military jacket of her late husband, insisting on being called by his name. Is it any wonder that people thought she was just crazy? But when her behavior just didn't fit their expectations — giving away all of her food and money to others, praying all night in icy fields, performing manual labor so that others wouldn't have to — the people of St. Petersburg probably began to wonder about her. And when it turned out that she had a gift for clairvoyance, I'm sure they started looking at her in a whole different way. Her kontakion reads, "… thou wast known as a fool by the senseless and unbelieving, but as most wise and holy by the faithful."
Here's my favorite story about St. Xenia, (paraphrased from a post on Mystagogy):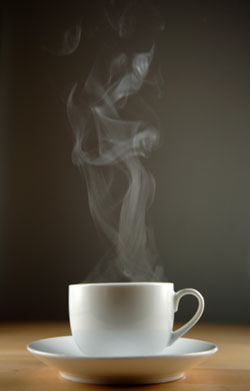 Among the friends of Blessed Xenia, there was a widow, Mrs. Golubev, and her 17-year-old daughter. Xenia liked the girl very much because of her quiet character and kind heart. Once, Xenia came over for a visit and then suddenly upbraided the girl, saying, "Here you are drinking your coffee and your husband is burying his wife in Okhta. Run there quickly!"
The girl was shocked. "My what?! I don't have a husband … and, burying his wife??"
But Xenia insisted and wouldn't take no for an answer. The Golubevs, knowing well that Xenia never said anything without a reason, obeyed her command and left for Okhta. When they arrived, they saw that a funeral procession was headed for the cemetery, and they joined in with the crowd of mourners. A young woman, the wife of a doctor, had died in childbirth and was being buried.
The liturgy was celebrated and then the funeral service, after which the Golubevs followed as the coffin was carried to the grave. The funeral had ended and the people began to leave. However, they chanced upon the sobbing young widower who, at the sight of the grave mound over the remains of his beloved wife, lost consciousness and fell to the ground near them. Both mother and daughter strove to revive and comfort him. They became acquainted and, eventually, the young Miss Golubev became the wife of the doctor.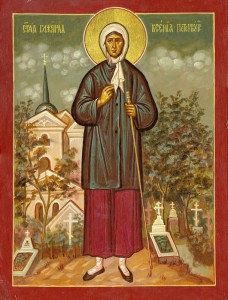 There are many more stories of the astonishing things St. Xenia did during her life (HERE) and even after death (HERE). Not bad for a woman about whom so little is known. We're not even sure when she was born or died — the guess (via OrthodoxWiki) is that she lived from 1731-1803. What little we know is from an epitaph on her gravestone that tells us that she was widowed at 26 and died at the age of 71 — we don't even know who wrote the epitaph!
That's a lot of mystery for one woman. But then, it almost seems fitting for her to be leave us with questions. Sometimes it's better for us to have a little confusion than to think that we understand everything perfectly. When it comes to strange women who pursue their own path to holiness, it's probably best if we don't assume we know very much. Still, I hope that she's out there still, in a ratty old jacket, praying for those of us who are just sitting drinking our coffee without realizing that a miracle may be around the next bend.