Now that we have the book and ornament set ready to go, I've been trying to decide where we'll be hanging our ornaments to count down to Christmas. You may have seen my earlier post in which I searched Pinterest and contemplated various cool trees we might make…   In the past, we have hung our ornaments along a ribbon, but this year I wanted to find a way to really count — I'd like the kids to be able to see at a glance how many days remain before we celebrate the Nativity.
A blog reader commented that they use a piece of plywood with hooks screwed into it, and I knew what I wanted to do. I rummaged around the garage and found a piece of wood that would fit all 40 ornaments on it, and I was all set.
So here's what I made, and how I made it, in case you're thinking about doing something similar.
First, I laid out the ornaments to make sure that the board was about the right size.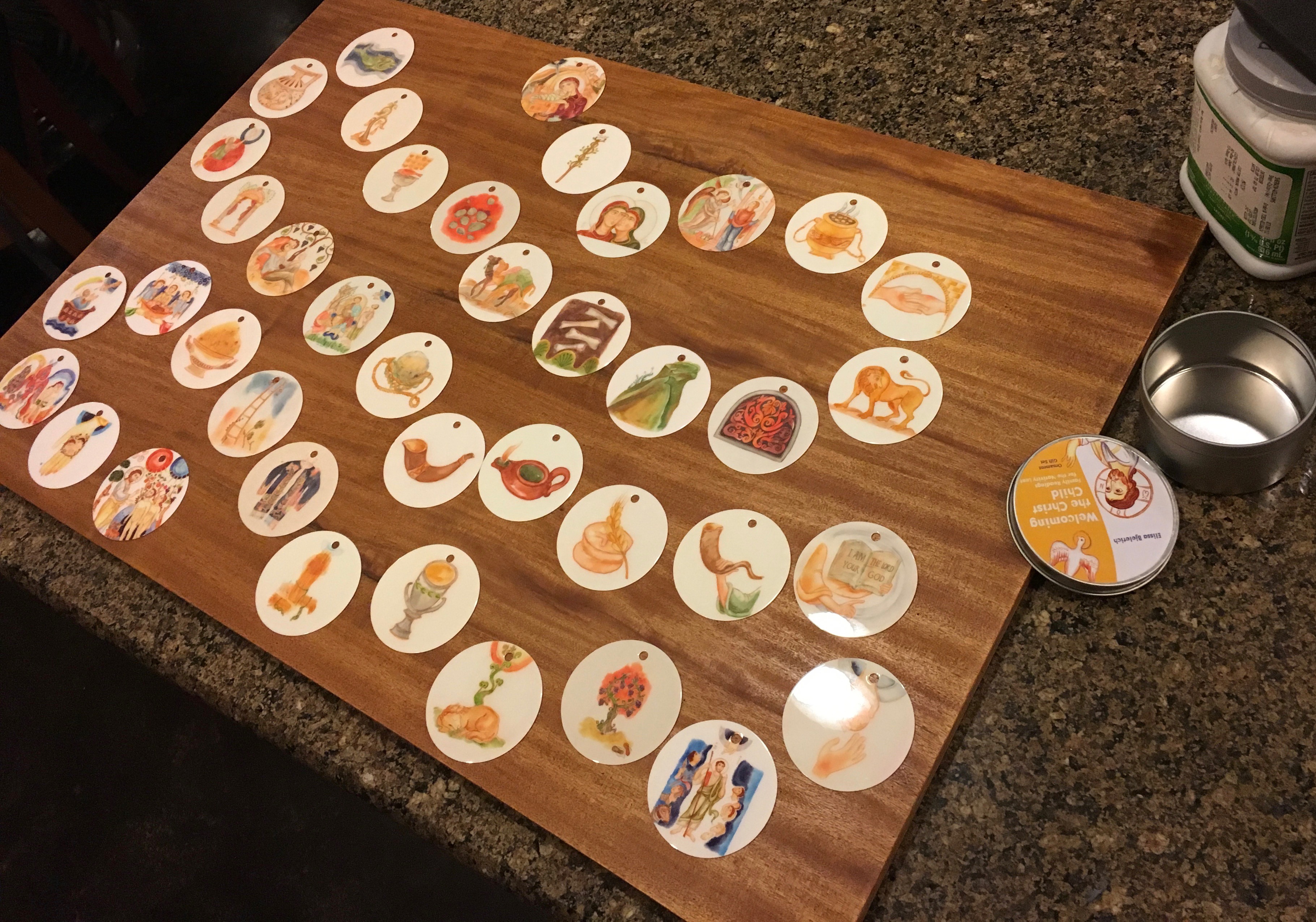 You'll note that my board is already stained. That's because when I found it in the garage, my husband (the owner of the wood in question) noted that it was too nice to paint. My plan had been to slap on some white or green paint, but he was right — it was good plywood, so I applied a stain and sealer combo product that we had left over from a fence we built.
I laid the ornaments in a pattern I liked. I went for of a loose, winding progression across the board. You might like to lay them out in a nice grid. I personally get very uptight about grids being perfect, and my grids are never perfect, so I have chosen to prefer random patterns, where I can more easily tolerate a little imperfection.
Next, I used a pen to mark the holes where the ornaments were positioned.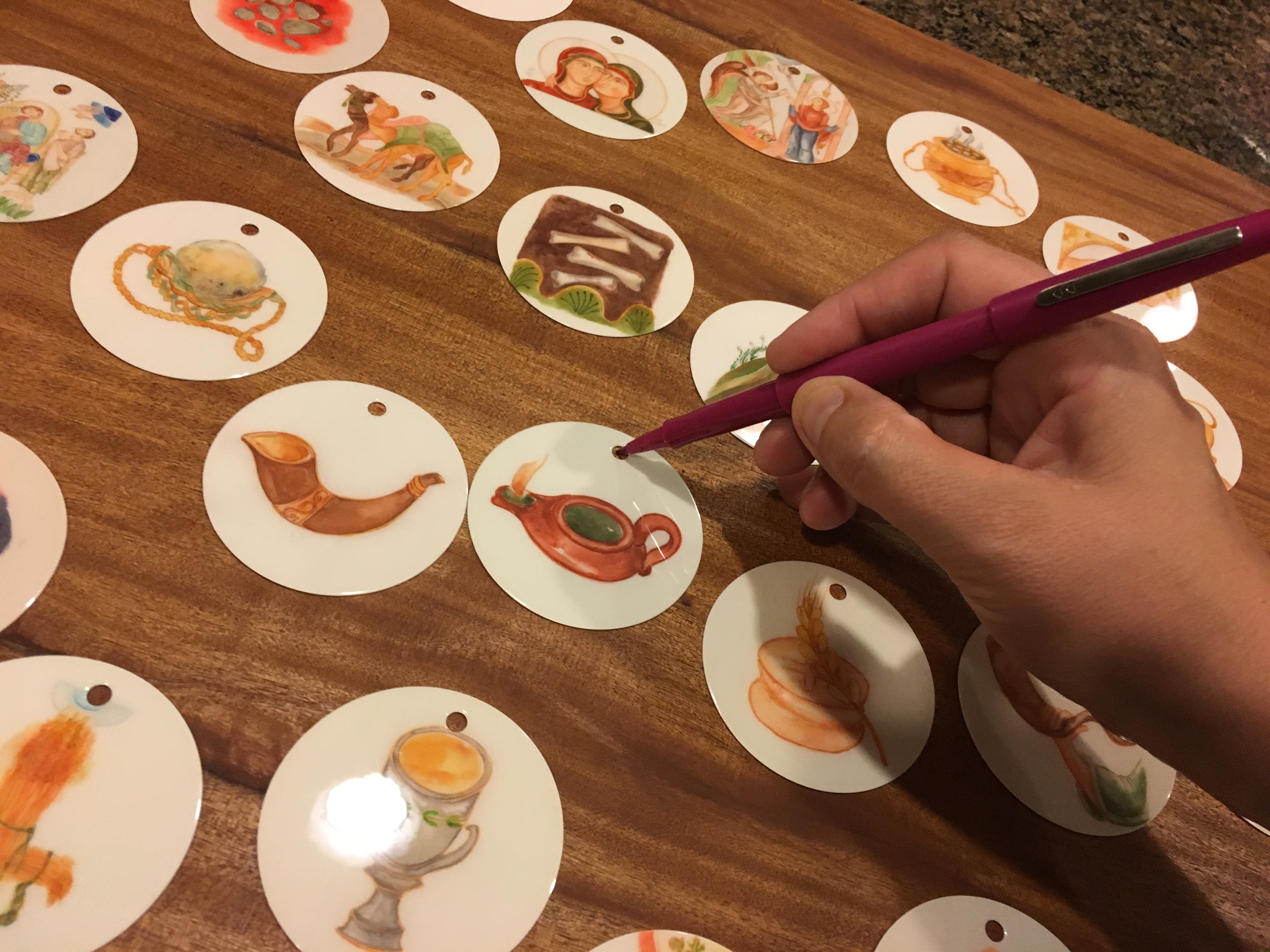 Then I removed the ornaments, and painted a trail in gold paint that would connect the ornaments in order.
I had actually planned to stop here, because in my head this looked beautiful. On the board, however, it was not very impressive.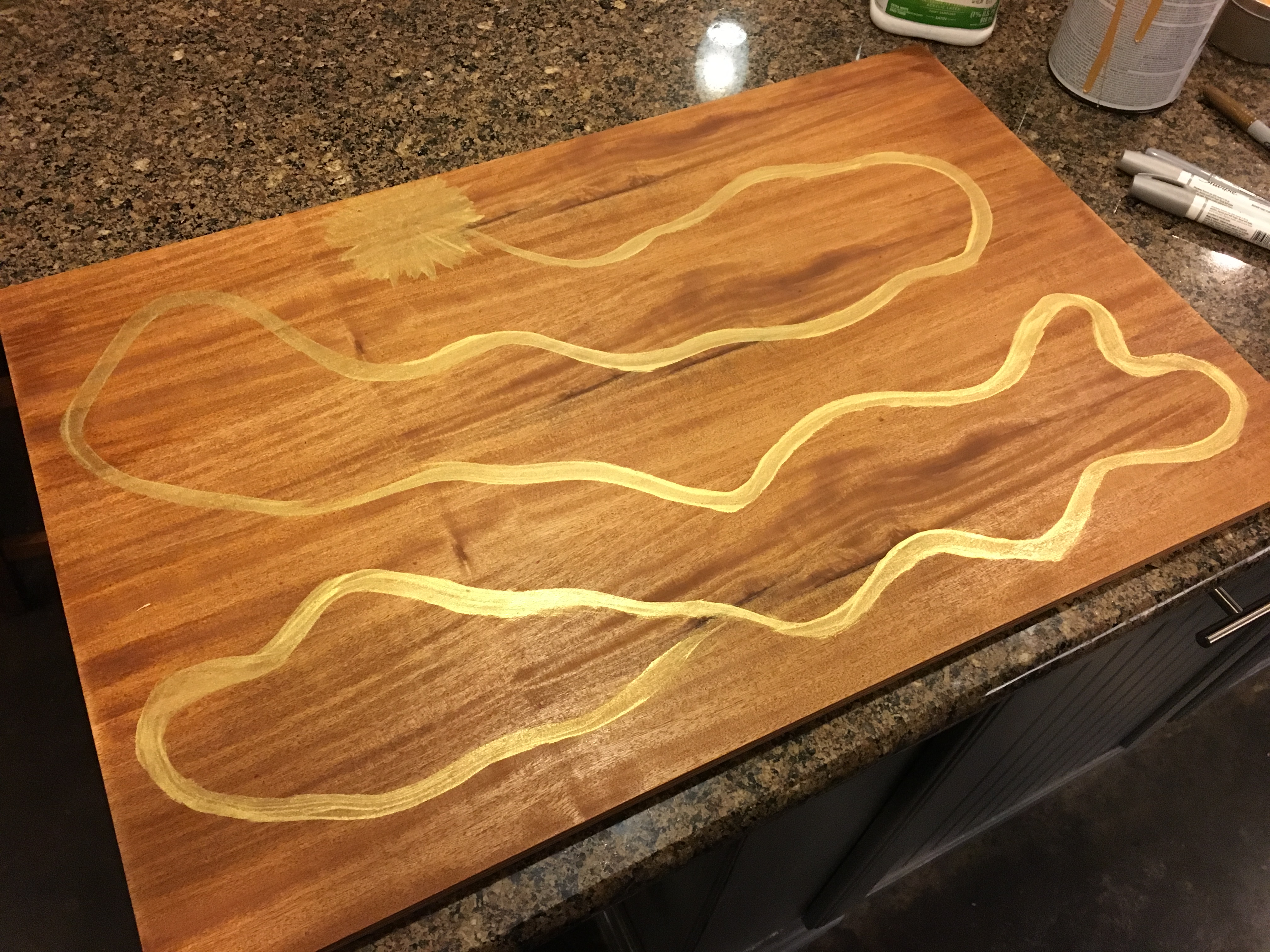 I called out to my kids and asked what I should do to fix this. My sixteen-year-old offered that I should draw a silver circle where each ornament would be and promised it would look better. I found a little medicine dosing cup and went to work with a silver paint pen.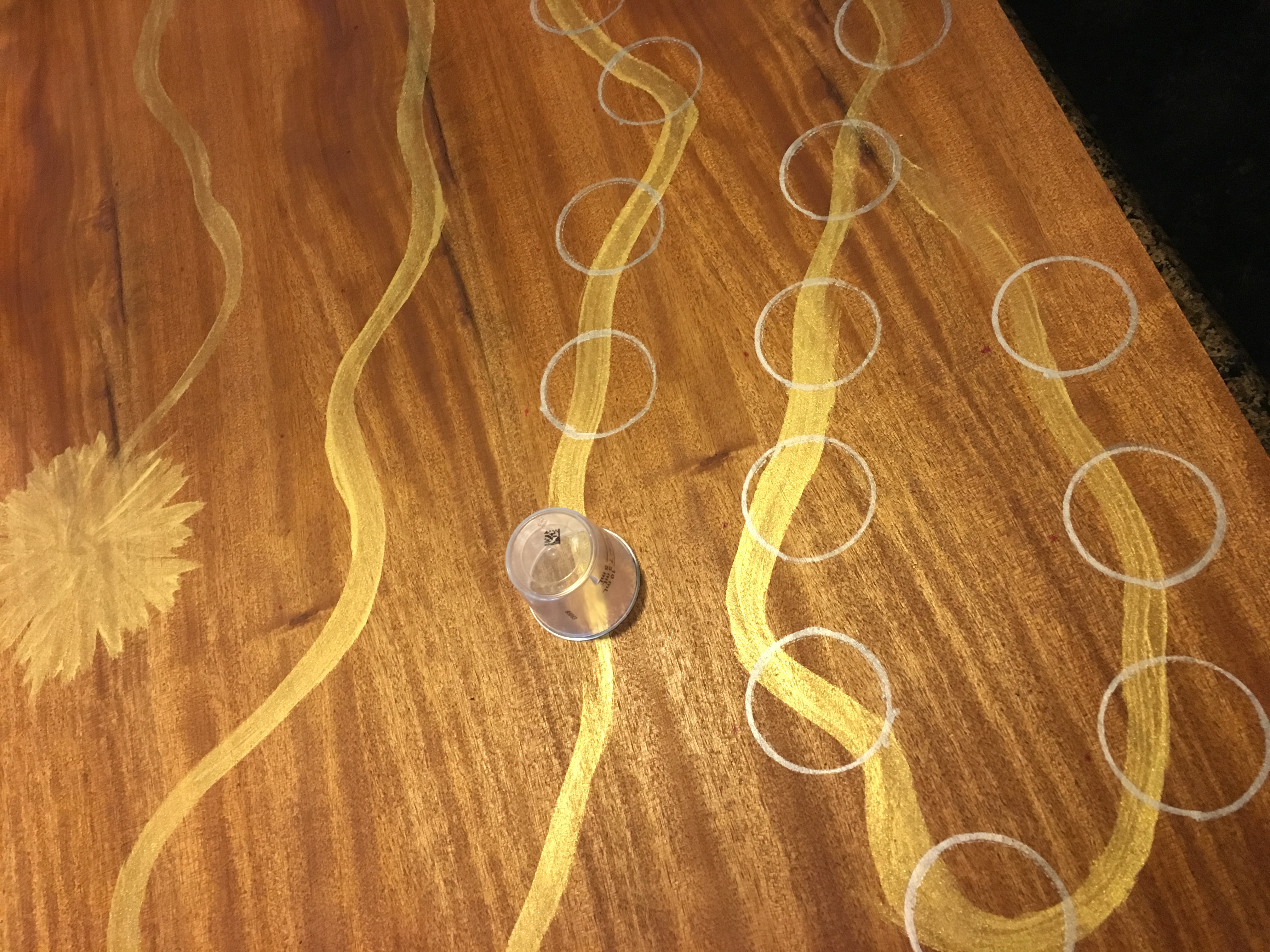 The circles did make it look better, possibly because they distract from the weird gold ribbon I painted. (In my head it was a ribbon. On the wood, it was a squiggly line.)
With the same paint pen, I wrote numbers in the circles so that we would be counting down 40 days to Nativity — the countdown ends on December 24 or January 6 (depending on when you celebrate Christmas), so there's a 1 because there's still one more night to sleep before the holiday arrives.
The final step was to put in some nails so that I could hang the ornaments. I won't be using the ribbon, but will hang them directly on the hole in the ornament. (With a larger piece of wood, you could use the ribbons.)
My husband, who is less impulsive and more responsible, urged me to pre-drill my holes. I don't always pre-drill, and I sometimes regret it. Because I planned to put this here on the blog, I decided that I'd better pre-drill.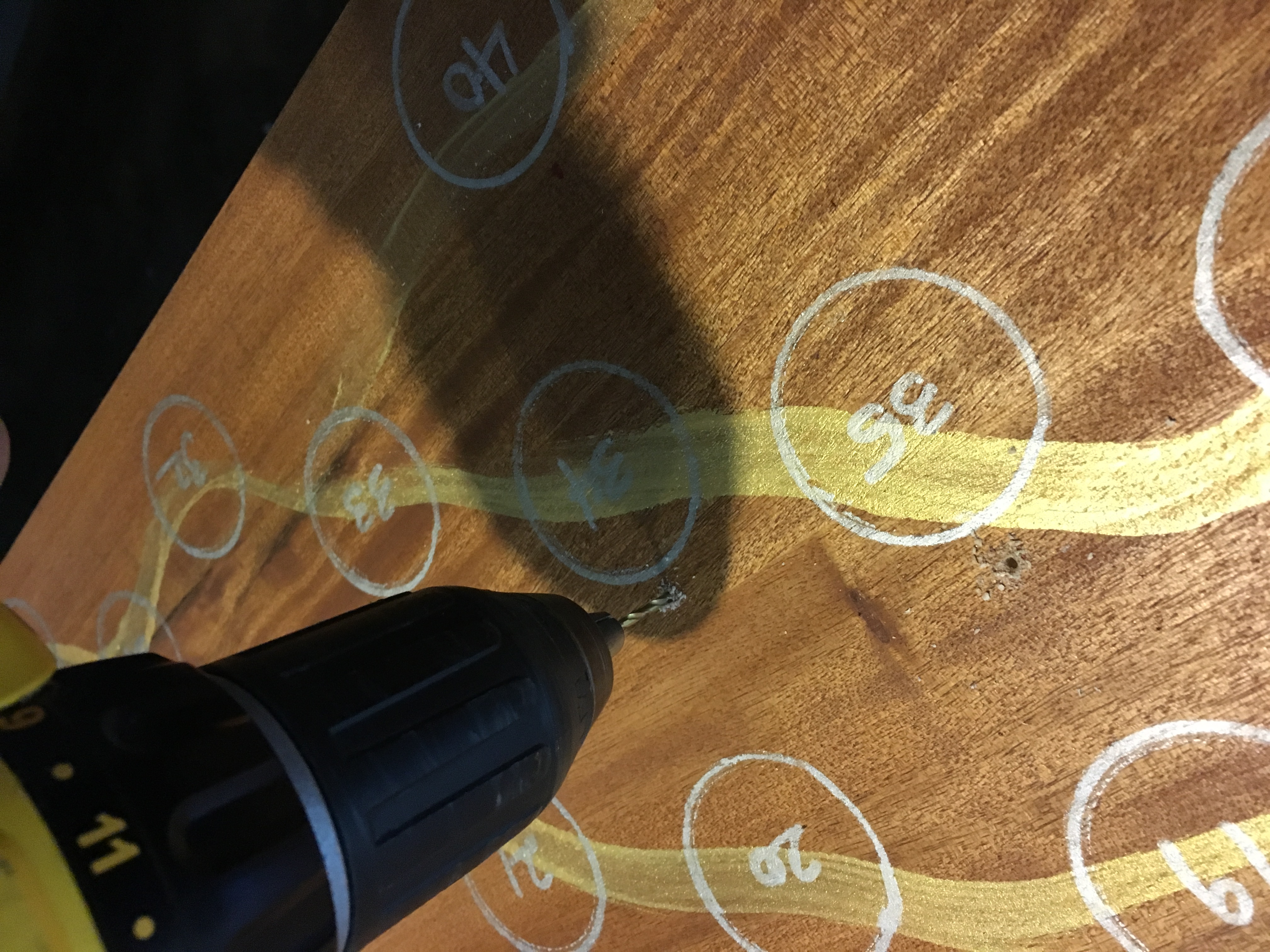 Finally, I nailed in some nails and the project was finished!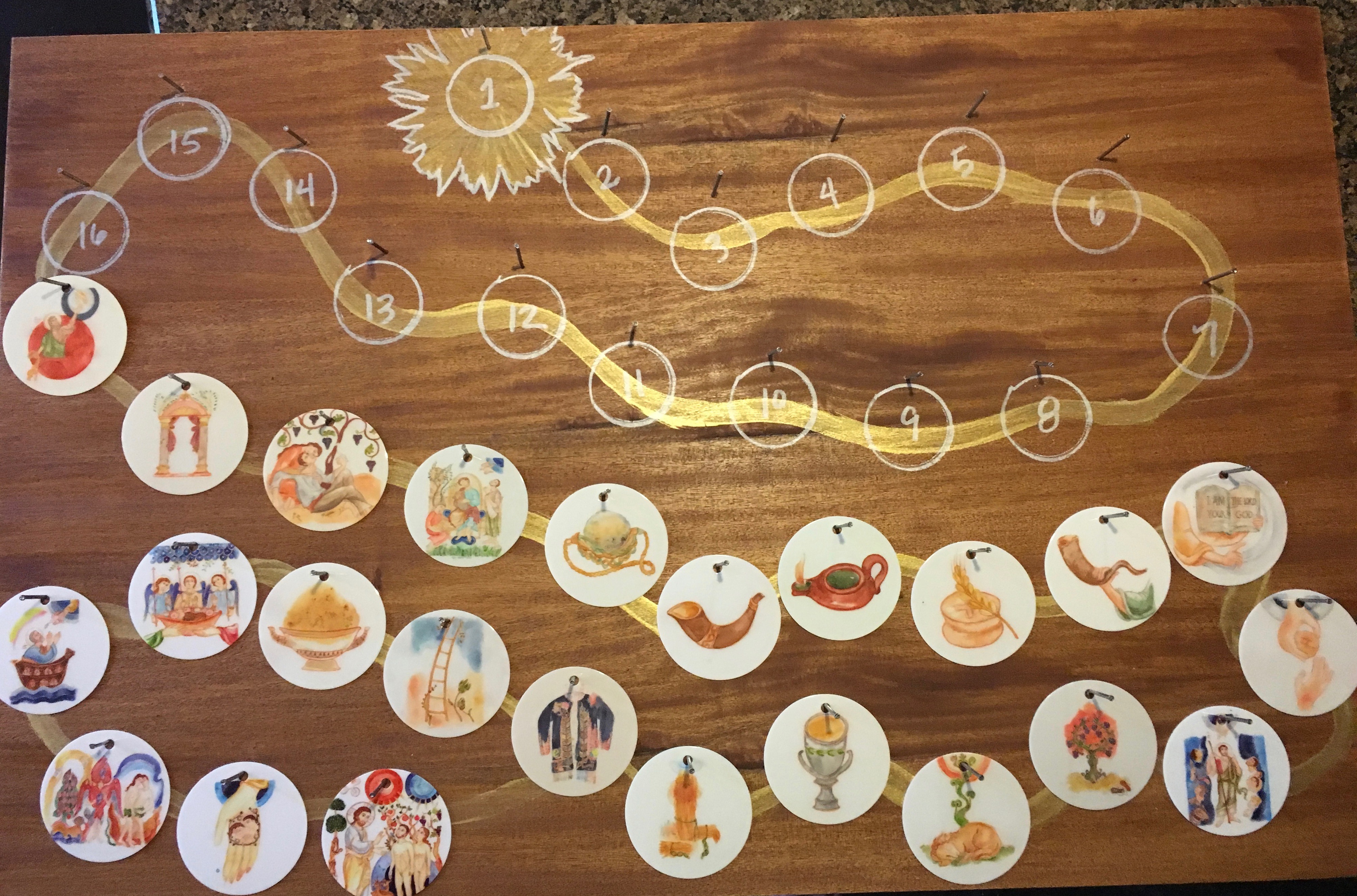 This is how it will look when we're sixteen days from Christmas!
If you're looking for the Welcoming the Christ Child Jesse Tree book and ornament set, you'll find them at Sebastian Press!