As we help our children prepare for confession — or as we do so ourselves — we often struggle to identify those sins which most need confessing.  On the one hand, we mustn't leave anything out, but on the other hand, a long repetitive laundry list seems a waste of time. How can we engage in real repentance ourselves, and how can we lead our children to serious self-examination and a really good confession?
A photo of a magazine page recently came across my Facebook feed, in which Diane Stark offers interesting advice for young people choosing a suitable crush target: replace the word "love" with his name in 1 Corinthians 13: 4-6.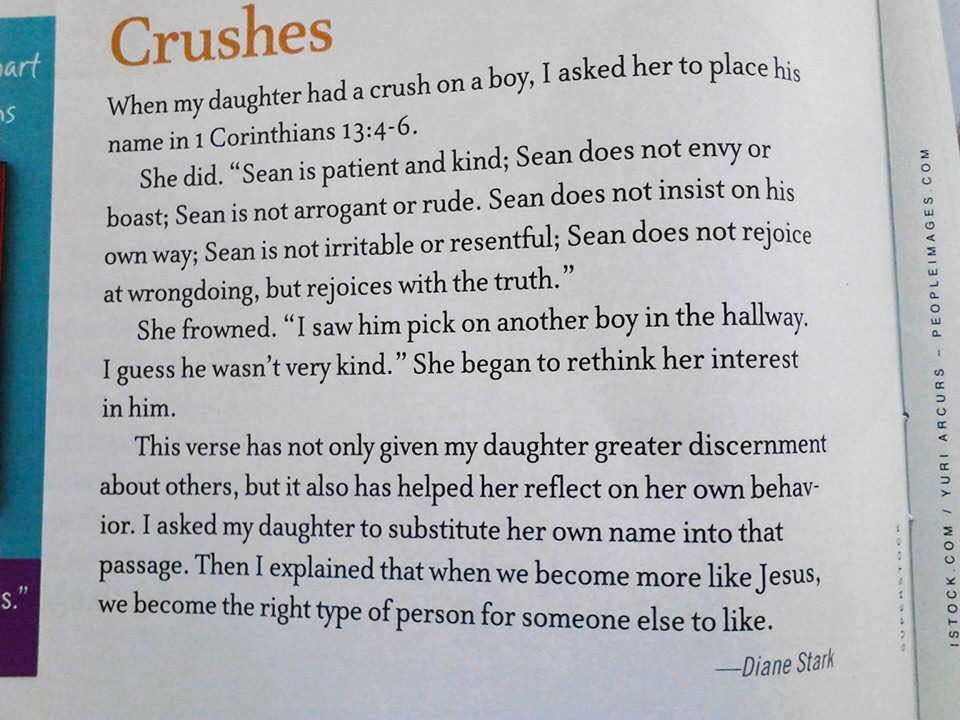 It's a cute exercise, though it may not be what St. Paul had in mind. American weddings often feature these verses, admonishing the couple about how their love should be. But Paul isn't addressing romantic pairings — he's describing love itself and of course, God is love — so this is a description of God, too. If a boy is striving to be like God, then his name may fit well here, but this verse isn't really about finding a mate.
We're all striving to be like God, aren't we?  We're all striving to love one another like God loves us.  We Orthodox know that we are saved in community, that we work out our salvation in the way that we treat one another – or rather, in the ways that we love one another.
What if we were to place ourselves into that verse?  What a self-examination.  We could offer this verse to our children, print it up and pin it to the wall in our prayer corner.  If we want a snapshot of how we're doing on this spiritual journey, we can simply read through this verse, inserting our own name for 'Love' — and then just listen for our conscience, who will let us know when those phrases just don't ring true.  Those are the phrases we should bring to confession; it's those places where we fall short of love that we should be working to heal.