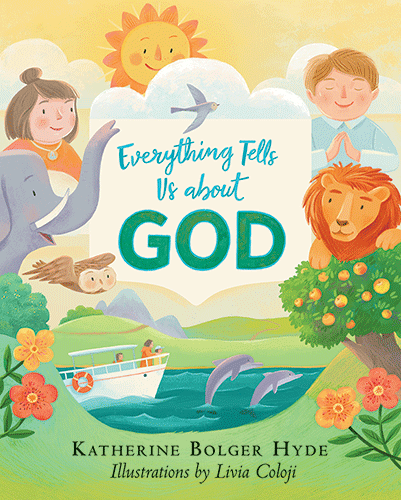 If you're looking for a Pascha gift for your children, grandchildren and godchildren, Katherine Bolger Hyde has written yet another profoundly beautiful children's book and I heartily recommend that you consider it. Everything Tells Us About God is very special and sure to become a beloved favorite in many households. Katherine walks her reader through the world, noting that every piece of God's wonderful creation speaks to us of its Creator. This is such a powerful message, beautifully delivered.
Katherine has filled the book with treasures like these:
"The wind in our hair tells us God's Holy Spirit is moving over the Earth like an enormous dove beating its wings. The Spirit is everywhere, filling all things. He is God's breath — and our breath of life."
Children will learn to see God's mark in everything He has created, and to praise Him in His creation!
The illustrations are by the Romanian artist, Livia Coloji, who brings the world to life with a sweetness that will charm any reader.
I was especially delighted by the closing note Katherine added, in which she explains how this book came to be. It seems that Fr. Thomas Hopko, of blessed memory, submitted a manuscript in which his younger self drives a visiting bishop to the airport, who points out how everything they pass along the way points to God. His story inspired hers — as we see so often in Orthodoxy, one elder passes down a bit of wisdom to another, and he passes an anecdote containing that gem to another… and through this sweet retelling, this wisdom will find its way into some very lucky children's hands.
I've already ordered a stack of these for Pascha — my younger godchildren will surely benefit from learning that God is known in His wonderful creation!