Kristina Wenger and I were recording this week's episode of Tending the Garden of Our Hearts, and I realized that unlike so many of my activities, podcasting won't miss a beat in this period of social distancing and self-isolation; at Ancient Faith Radio, we're already working from home, recording in our closets, and communicating with you digitally. Glory be to God! We're already set up for this brave new world.
So, if you're feeling lonely because you're responsibly social-distancing and self-isolating, come meet someone new in the Everyday Orthodox archives!  There are hundreds of interesting Orthodox people there, ready to tell you their stories. This Sunday night, we'll be live as usual, because we're all remote. Everyone can show up, because there's no risk of contagion! This week, Sam Cox will be live with me — he's a very cool filmmaker and amateur comedian. He wasn't Orthodox, but then he started filming a documentary at an Orthodox monastery in West Viriginia and… well, we'll let him tell you on Sunday night.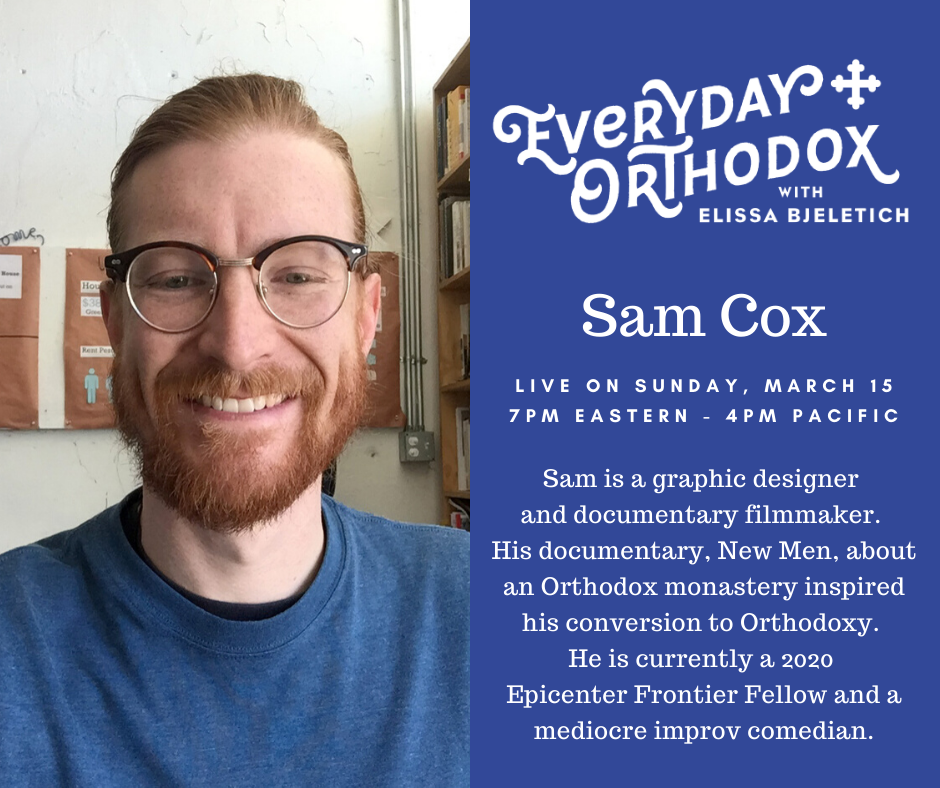 We'll be live at 7pm Eastern (that's 6pm, 5pm or 4pm, depending on where you fall in Canada or the lower 48…) Just go to ancientfaith.com and click to listen live to the talk channel. Call in with questions even — no risk of infection! 1-855-AFRADIO!
Kids bored at home? Sunday School canceled? Tending the Garden of Our Hearts: Meditations for Orthodox Families offers a new, true story every week. You can continue your kids' religious education, and perhaps more importantly, your family can use the questions at the end of each episode to get the conversation going. Why not make the most of your time together at home, building up habits of learning and talking about the faith together?
This is our Great Lent. This year looks different than other years, but as usual, Ancient Faith Radio will be there.