One of the really amazing things I discovered about Orthodoxy is that we understand the Old Testament differently than most Christians. I grew up reading the Bible with the understanding that the New Testament was about Jesus, and the Old Testament was a history of God's people which conveniently offered morals to live by. When I became Orthodox, I very slowly started to realize that we were understanding those stories in a completely different light. No longer was this morality literature ripped from true headlines, but in fact Jesus Christ lived and breathed on every page, if we could just look for Him. Both Testaments are about Jesus. There's no disconnect; they both tell the same story.
In order to prepare us to receive Christ, His story is told again and again in the Old Testament. When Abraham loads wood onto his only begotten son's back and asks him to march up a hill, we see God loading His Son's back with a cross as He ascends Golgotha. When God speaks to Moses through a burning bush (which is never consumed) we see the God taking on flesh inside the Holy Theotokos Mary (who remains ever-virgin even after giving birth to God Himself). Christ's story is predicted and foretold and foreshadowed throughout these sacred texts, so that when He arrives, we'll recognize Him.
What's more, Christ Himself is present in the stories. When the "word of the Lord" comes to Elijah, that's Jesus. The LOGOS (Word) is the pre-incarnate Christ. The Son of God is eternal, without beginning and end, so of course He is at work long before He takes on flesh and is born in Bethlehem. That was a shock to me. Who created the earth and Adam and Eve? Well, somehow the Father and the Son and the Holy Spirit were all there, and the 'work' of it was done by the Son. It was He who mixed clay to make Adam. It is Christ who comes so often to speak to the prophets.
The Orthodox understanding of the Old Testament is so much more beautiful and complex than anything I'd ever seen before — so fascinating, in fact, that I found myself explaining the typology and meaning to my children again and again, and I was excited to see how much they absorbed (even when they looked like they weren't listening).
When I learned about the tradition of the Jesse Tree, in which parents read with their children the various prophecies foretelling Christ, marking each day with an ornament for that prophecy, it sounded like the perfect way, as they say, to keep Christ in our Christmas preparations. I was disappointed though, to find that the Jesses trees I kept locating either offered a flat understanding of the Scriptures with none of the Christ-filled typology, or they offered just a list of Bible references which carried me to verses I could hardly understand, let alone explain to my kids.
I'm excited to say that now there's a collection of illustrated Orthodox children's Bible stories that communicates our beautiful understanding of Scripture. Over forty readings, Welcoming the Christ Child moves from Christ's Creation of the world to His birth in a manger. Children can count down the days until Nativity by hanging the matching ornaments on a tree or ribbon.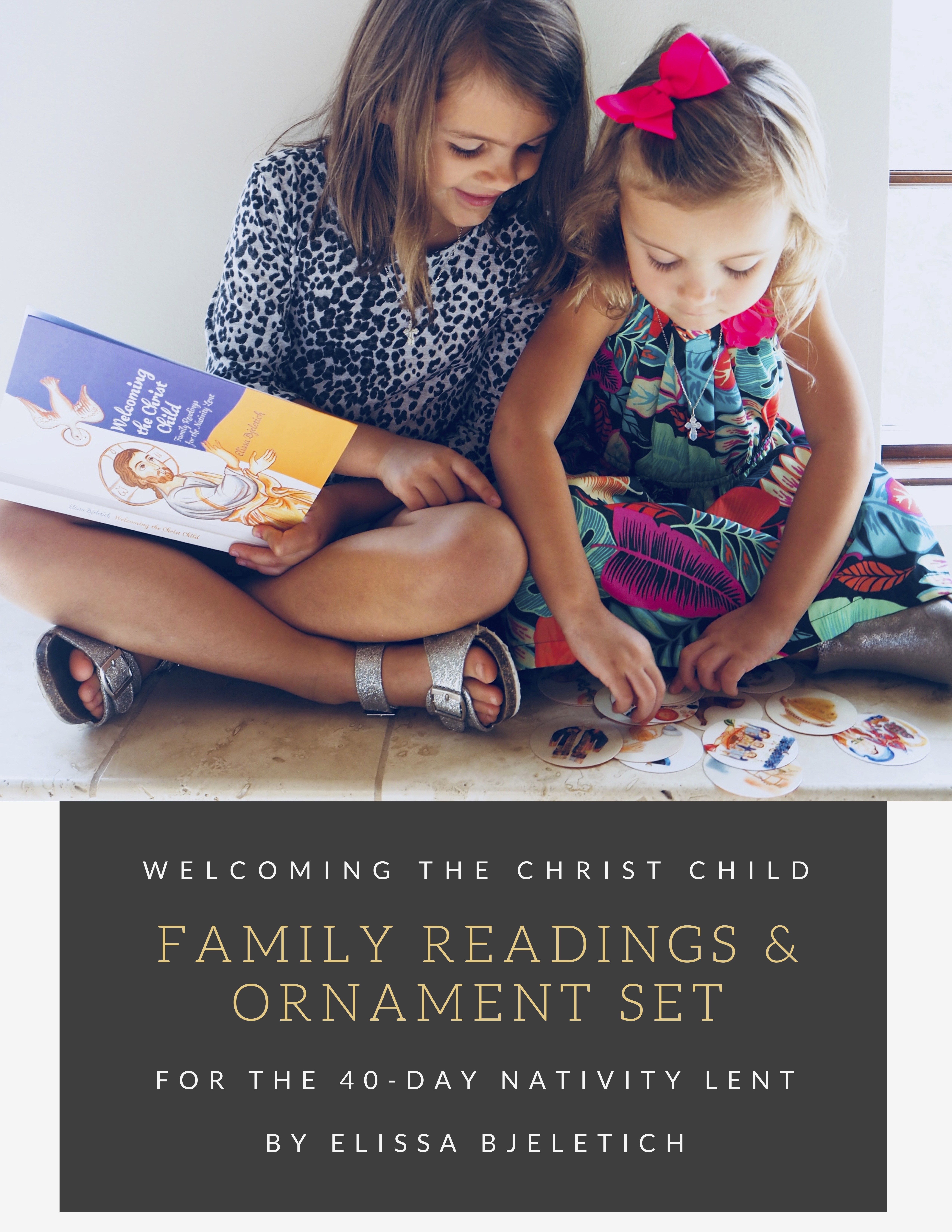 You'll find Welcoming the Christ Child at the Ancient Faith Store and at Sebastian Press.  It works equally well for Old or New Calendars (as it's not dated, but simply counts down 40 days.)