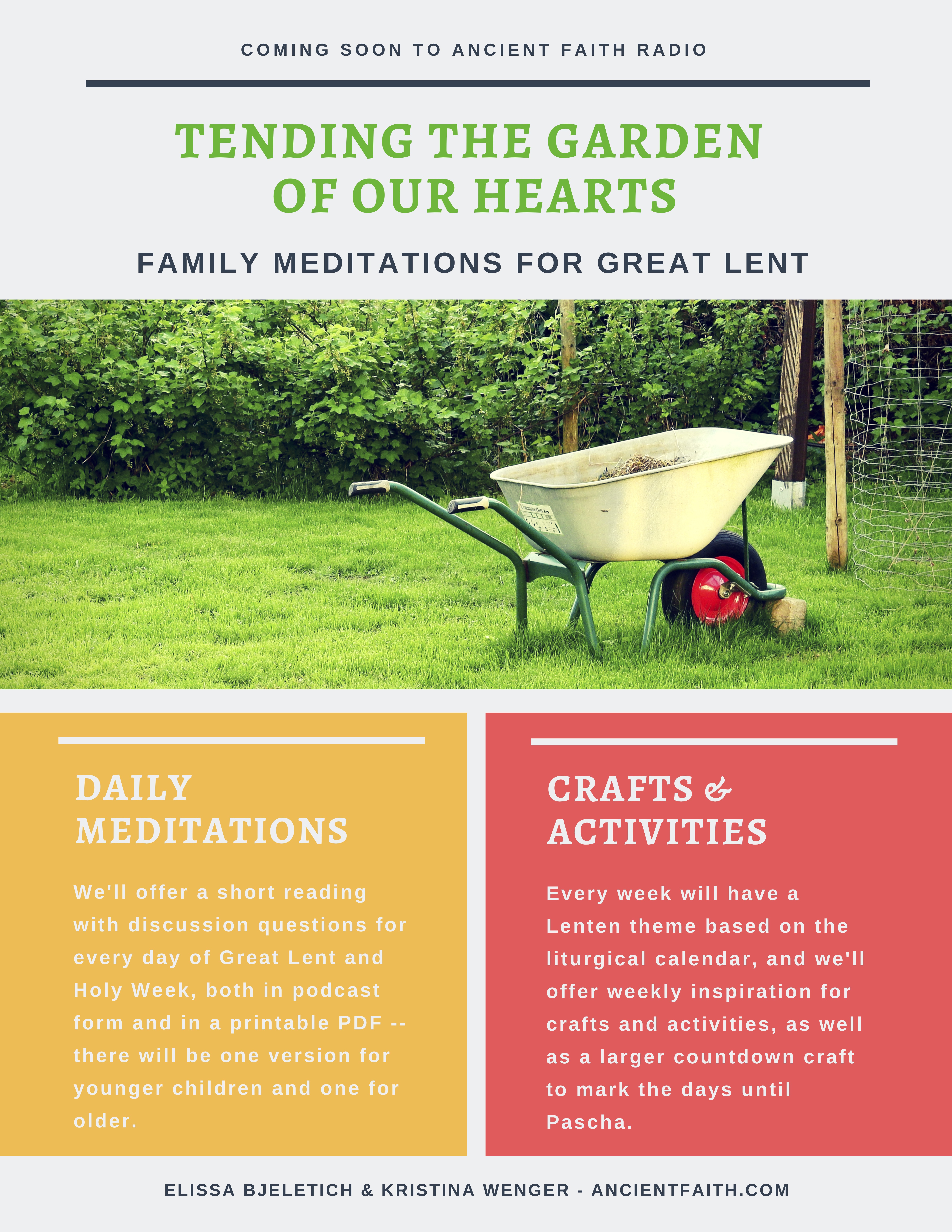 Tending the Garden of our Hearts:  Family Meditations for Great Lent & Holy Week
I am excited to announce a new podcast mini-series on Ancient Faith Radio! Tending the Garden of our Hearts will be a daily podcast of readings for children and their families. We hope that you and your children will join us on a journey through Great Lent and Holy Week!  
Every day, we'll offer a short reading followed by a few questions, to help you engage your children in conversation about the faith during this most important season of spiritual growth and renewal. Sometimes it will be a Bible story, sometimes a Saint's story, and sometimes it may simply be a little Lenten lesson or idea to consider. The day's meditation will come in one version for older children, and another for younger children, and each meditation will be available as a podcast and a downloadable PDF. We hope to make this flexible for families, some of whom might like to listen to the podcast in the car, and others who might prefer to make the day's meditation bedtime reading — and if your family is sometimes able to participate in the car, and sometimes at bedtime, you can move back and forth between the two formats as much as you like!
Every week, we'll be engaging a different Lenten theme. We'll offer a downloadable PDF explaining the week's theme, and offering ideas for different craft project, object lessons and activities you might want to try, if you have the time and inclination.  These extra activities are all optional, and we won't mention them on the children's recordings, in case you decide this isn't a good week for it — and in case you're playing this at the end of the day and don't want to get the kids started on a new project at bedtime!
Soon we'll announce ideas for a countdown to Pascha for your family!  Children love a visual reminder and Pascha takes a long time to arrive, so we'll have ideas and inspiration for every level of craftiness (or non-craftiness!)