I've been awfully quiet on this blog, and in general perhaps. In 2019, my husband moved out and we divorced. I had a lot of processing to do, and as someone who writes about family stuff… I just wasn't sure what I could say, what I had to offer. I wasn't sure that it was ok for me to continue offering. Maybe no one would want to hear it anymore, you know?
Covid has provided good cover, as I canceled speaking engagements and focused on my home and on healing. I'm still writing, but it's really lessons — Bible stories and Saints' lives, stuff that has nothing do with me personally, but which remains an offering for families. I stopped writing reflections that involved my own life, my family, my experiences. My writing stayed objective, avoided the subjective. I wasn't sure I was a worthy subject. Or somehow, I knew I was worthy, but I wasn't sure Orthodox people wanted to hear from me.
I have this beautiful, amazing friend, Summer Kinard. She is a light shining. Her theological insights are so beautiful, and her concern for inclusion and accessibility is inspiring. I love Summer's work, and her new publishing house, Park End Books. But when she approached me to write a chapter in an upcoming anthology on saints who were single mothers, I admired the project but my instinct was to slink away. I wasn't writing like that anymore.
Then Summer said,  I would love for you to write the chapter on St Helen. Oh wow. You know how certain Saints sometimes keep bumping into you? Helena had been nudging me lately, and throughout my divorce, I had been thinking a lot about her. If Summer knew that this was the Saint I should cover, then this was another nudge. Lord, have mercy. In these moments, when you know it's really God telling you to go this direction, you don't get to argue. I took a deep breath, and got to work.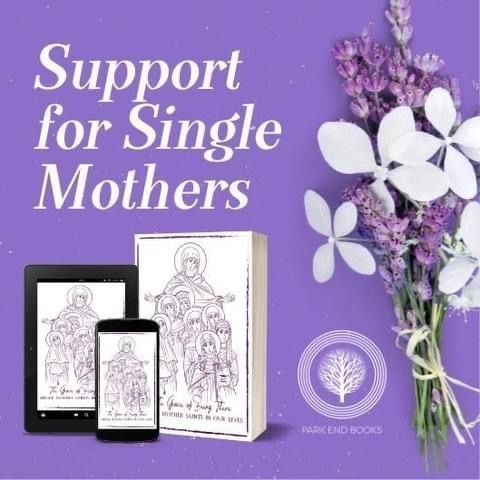 I recently got to read the rough draft of the book — my chapter there among chapters written by some women I know and love, and some I've never met — and truly, I love this book. I'm proud to be a part of it. The other women's chapters touch me and connect with my experiences, and I am excited to think that this book will be in the world, drawing other women into this connectedness. We're not alone. We have each other, and we have the Saints.
I'm glad to be able to use my experience for good. I know that nothing ever goes to waste with God, and that He will use every bit of this divorce, every piece of it, for good. That's just what He does. So this book is one of those good things to come out of a painful situation. May it be blessed!
The Grace of Being There is scheduled to release on Bright Tuesday, April 26, 2022. I'm really looking forward to it.
PS I haven't been totally silent. At the end of 2020, Fr. Christian Siskos kept asking about my marriage, so I broke my silence and told him what was going on, and you can hear the whole conversation on Hidden Lives. Around the same time, Axia Women invited me to be Woman of the Week, and their questions led me to talk more about how the divorce has impacted my prayer rule, among other things. (Impacted is a nice word. Shattered is more accurate.)