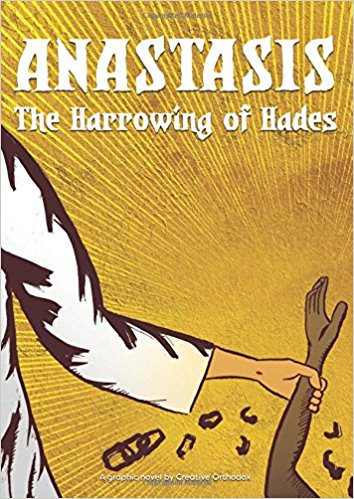 Every year, our parish hosts a Holy Friday Retreat. The kids join us throughout all of the various services of the day (Royal Hours, The Descent from the Cross, The Lamentations Service, etc.) and in between, we spend time together as a parish, decorating Christ's tomb and cleaning the church. The day is, for the most part, a beautiful multi-generational event. The kids work alongside adults of every age, and we wouldn't change that for the world.
There is some time at about 1:00 where do split up a bit — preschoolers, early elementary, later elementary, middle school, high school and adults — to enjoy a retreat on an important theme for Holy Friday. We find that adding this element has enriched our experience of the services, and attracts more parishioners to take the day off and join us.
This year, we've discovered a beautiful new graphic novel called Anastasis: The Harrowing of Hades, and we're building our retreat around it! In the coming days, I'll post a more detailed plan for what we're doing. I think that fourth grade through adults will be reading this graphic novel and discussing it, and that the younger students will be provided a little coloring book on the same topic that's a little less dark, as is appropriate to their age.
What are you doing for Holy Friday?