I'm happy to introduce Hannah Vazquez, who has recently released a wonderful new podcast for parents on Ancient Faith Radio! All These Things is likely to become a favorite among Raising Saints fans, so I recommend that you subscribe now!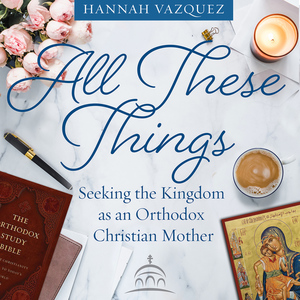 Hello everyone! I'm Hannah Vazquez. When I met Elissa at the Ancient Faith Writer's Conference this summer, and shared my idea with her, she was so enthusiastic and supportive. I'm so grateful for this opportunity to share it with you as well.
At the time when I was first entering the thick of mothering, I studied Matthew 6 and felt drawn to Christ's call to seek first the kingdom of God. I felt stuck in the mundane – grocery shopping, laundry, and wiping little bottoms and noses. How could I do something so lofty as seek the kingdom of God?
One day, I scribbled down a list (one of my favorite ways to get thoughts out). It looked something like this:
How to Seek the Kingdom
Pray and read the scriptures
Go to church
Be grateful
Fulfill my responsibilities
Over the past six years I've implemented those, and adapted and expanded the list some. I've built habits, routines, and family culture. I've grown and learned a lot, yet still have just as many questions.
Now I have four children ages 9-2 with one on the way. I homeschool the older two and sing silly songs with the younger two. My husband and I have been married twelve years, and we have land where we garden, somewhat successfully, and let the kids run free, very successfully.
And, six years after beginning this journey of seeking the kingdom as a mother, I am sharing with others the lessons I've learned. Through the prompting of a friend, the support of my husband, much grace from God, and the help of Ancient Faith Radio, I've started a podcast!
It's called All These Things. It's for Orthodox Christians mothers who are where I have been or are where I'm at. I hope it is also enjoyable to mothers older and wiser than me. It's about seeking the kingdom of God as Orthodox women, wives, and mothers. We'll explores ways of connecting our everyday lives and responsibilities to our journey toward the kingdom.
I've also started an Instagram account just for the podcast. The name is @all.these.things. It's a place for us to continue the conversation. I'll announce new episodes, ask questions, and solicit advice. I hope you'll listen to the podcast and join us over there as well!