Today we have a special treat for you: a guest post from Angela Isaacs. You may know her beautiful board books from Ancient Faith Publishing — Goodnight, Jesus and her latest release, I Pray Today (see my recent review here.)  In honor of her new release, she's on a blog tour, and is stopping in at Raising Saints to talk with us about parenting, and how it forms our life of prayer.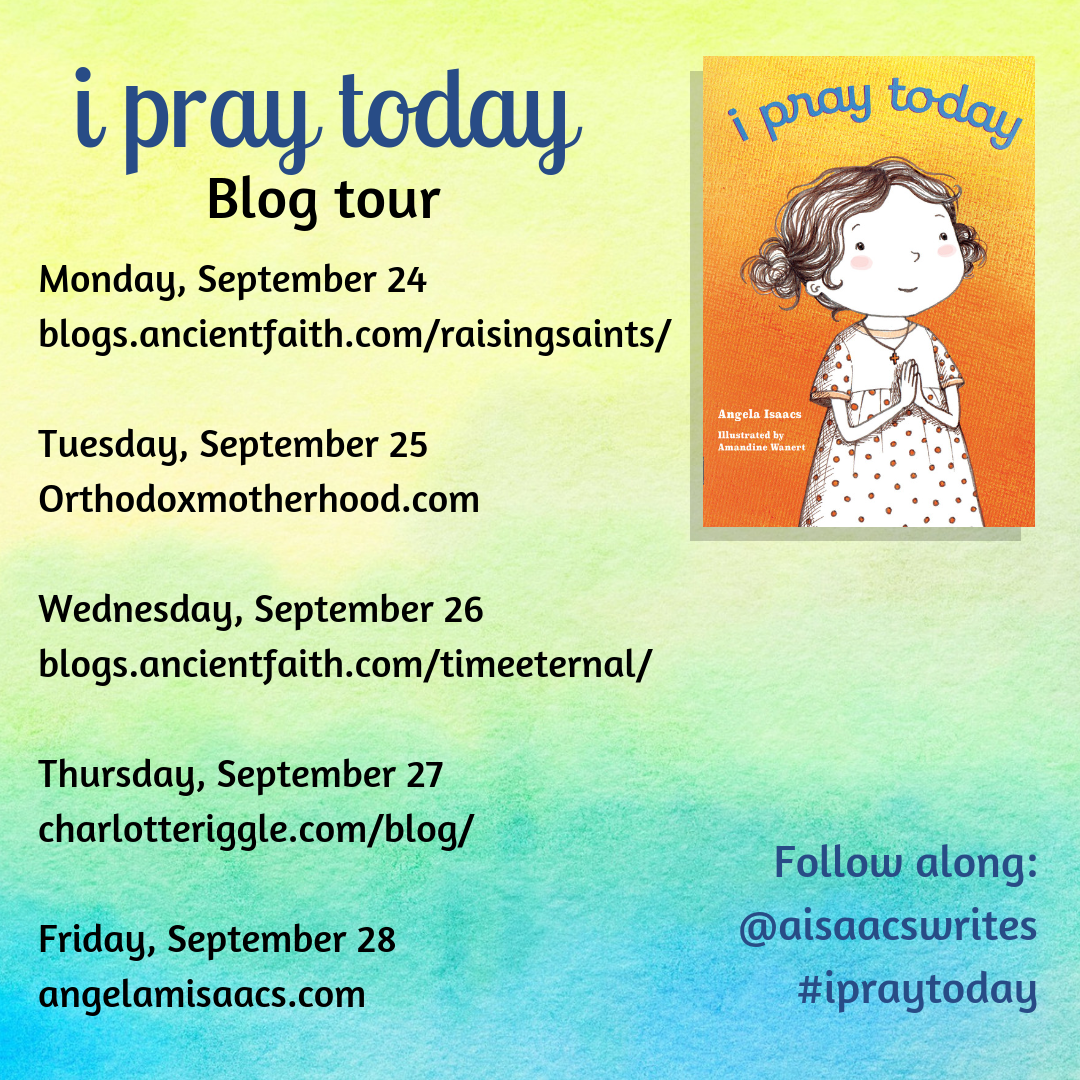 I was raised as an evangelical Christian. My childhood introduction to faith was quite different from my own children. Every night when I was a kid, I said bedtime prayers:
Now I lay me down to sleep,
I pray the Lord my soul to keep
May angels watch me through the night,
And wake me with the morning's light.
That plus a prayer at dinner (if we remembered) was the sum total of the prayer life in our household. The only other prayer I memorized was the Lord's prayer.
When I found Orthodox Christianity as an adult, I discovered a lot more prayers to memorize and a lot more occasions to use them. At first, everything felt strange. The services, in particular, felt awkward and unfamiliar. I'm embarrassed to admit it took a few weeks before I realized most of the liturgy was in English.
I was also lost on how to participate – when to sit, stand, cross yourself, venerate, and the rest. I spent a lot of those first few months watching my sponsors out of the corner of my eye. Eventually, I learned to get through a service without standing up while everyone else kneeled.
Learning to live an Orthodox life outside of liturgy was even harder. I couldn't just mime my sponsors.
And then I had kids. In between the colic, teething, and tummy bugs, I wondered: How could I teach my child to live a life of faith, when I was still learning?
My answer came from watching my then-toddler one night. We had begun to build a small bedtime prayer routine: cross ourselves, say the Jesus prayer, and kiss icons. It was extremely simple, but it was just right for her at the time.
Except my daughter didn't just leave it at that. She kissed the icons. Then she kissed me. Then her Daddy. Then our dog, the picture of Grandma, her stuffed animals, occasionally a toy truck – everything she loved.
To her, kissing icons and kissing people were one and the same. We kiss the people we love and that includes Jesus and his saints.
That is a powerful theological statement: that these people are as real, relevant, and as physically present in their lives as the grown-ups who tuck them into bed. That's a theological truth that adults grapple with, but to a toddler it is intuitive. "Of such is the kingdom" indeed!
That experience led to my first book, Goodnight Jesus. It's a simple book with a simple premise: a baby getting ready for bed by kissing people they love, including Jesus and His saints. But it's sown with theological seeds that can be grown for many years.
My new book, I Pray Today, was also inspired by my children. "Lord have mercy" is an easy prayer to remember, but it packs a wallop of meaning. Like the longer Jesus prayer, it can be said throughout the day in many situations and many times: from fervent supplication to heartfelt repentance. And like Goodnight Jesus it plants a seed that can be nurtured over time.
I've learned a lot in my twelve years as an Orthodox Christian and eight years as a parent. I've learned that I will always be learning to live my faith. I've learned that a prayerful life ebbs and flows: in some seasons (like with colicky babies and cranky toddlers) a heartfelt "Lord have mercy" goes a long way. In other seasons I say longer prayers on a daily basis and save up those life-giving waters for the droughts ahead.
I learned that children learn the most from what you do: in between throwing crayons during the homily and trying to grab the flaming candles, they're watching you just like I watched my spiritual guides. The best thing I can do for their spiritual growth is to tend my own.
I've learned that imperfect prayer may be just what my soul needs – even if all I can manage is a heartfelt "Lord have mercy" before my child melts down. (Again.) And I've learned that my days run smoother if I can slip off for some quiet prayers while the coffee perks.
Mostly, I've learned to appreciate prayer in all its forms – from the slobbery kiss of a toddler to reverent devotion in a pre-coffee haze. And I've learned that my children have as much to teach me as I have to teach them.
This post is part of a blog tour in celebration of my new children's book, I Pray Today. Each day this week I'll be blogging around the internet.
Monday, September 24: Raising Saints
Tuesday, September 25: Orthodox Motherhood
Wednesday, September 26: Time Eternal
Thursday, September 27: Charlotte's blog
Friday, September 28: Angela's blog