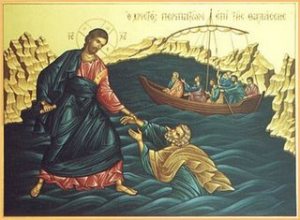 As I'm preparing for an upcoming retreat in New Mexico, I've been thinking lately about how fear impacts parenting.
This weekend, I heard a wonderful presentation from Fr. Timothy Pavlatos — as we raise up our children, he reminded us to 'See the person, not the problem".  We sometimes focus on our children's behavior (and correcting it) rather than connecting with them as people and thoughtfully receiving the message that the behavior is sending.
His message really resonated with me, as I've been thinking about how youth ministry can connect to each individual person (as Christ did).  The Church is losing half of its youth, and this suggests that somehow, some of our children were not spiritually nourished by their life in the Church, or at least were not convinced that ours is a more rewarding path than others.  We can look to Christ's example of how to 'do' ministry, and we find that He encounters us one at a time, right where we are, and offers us love and healing.  Is that what our ministries do?  Or have we been distracted by our fear that the children will fall into certain behaviors and traps (alcohol and drug use, sex, poor academic performance and eventual poverty, even abandoning the faith) and spent our energy working on those issues instead? Have we focused on the person, or on the problems we see on the horizon?
If fear is driving our youth ministry and our parenting, then no wonder we find ourselves off the path.  Fear is a terrible driver.
Our Lord does teach us that fear gets in the way of our ability to fulfill our calling, to do His work.  Look at His interactions with Peter on the water:
And Peter answered Him and said, "Lord, if it is You, command me to come to You on the water."  So He said, "Come." And when Peter had come down out of the boat, he walked on the water to go to Jesus. But when he saw that the wind was boisterous, he was afraid; and beginning to sink he cried out, saying, "Lord, save me!" And immediately Jesus stretched out His hand and caught him, and said to him, "O you of little faith, why did you doubt?" And when they got into the boat, the wind ceased.  – Matthew 14:28-32
Had Peter no fear in him, he could have walked on water.  Instead, his fear caused him to falter — and in his weakness, he called out to our Lord and was saved.  Jesus always catches us when we fall.
We are called to co-create life with God and then to help nurture and steward that child of God into a fruitful life in the Body of Christ.  That's a tall order, and perhaps it requires a leap of faith to approach it. Maybe sometimes our fears get in the way and interrupt the miraculous work God is trying to do with our children.
But how can we help but fear for the future of our children?  There are so many dangers in this modern world. They face challenges and temptations we never faced.
That may be true, but one of the problems with this modern culture is the way we think about troubles. Unsurprisingly, the American ethos on suffering is not very Orthodox.
I had the pleasure of meeting Fr. Peter at the Joy of All Who Sorrow Cathedral in San Francisco, and I enjoyed his article, "Suffering in Family Life", in which he observes:
Suffering is an integral element of our existence here on earth. It is woven through every aspect of our life. One should speak about it, one should anticipate it, one should be prepared for it as much as possible, and one mustn't run away from it. Nowadays, sufferings, sorrows, misfortunes are regarded as some kind of evil to be resisted and avoided at all cost. People fear suffering. (One doctor-archpastor said that the fear of suffering at times exceeds suffering itself.) Life, we are told, should proceed smoothly, unhindered. Suffering and sorrows interfere with a life of well-being; they bother us. They are considered to be anomalies, injustices, not the result but the cause of man's wrongs. How could a good God allow it?! This way of thinking is instilled in our minds and hearts through the schools and mass media, especially here in the affluent West. As Orthodox Christians, our best defense against unconsciously assimilating this attitude is to understand the true meaning of suffering, as it is presented in the Orthodox Church.
Our culture has an obsessive fear of suffering, so rather than prepare ourselves (and importantly, our children) to endure and even benefit from suffering, we hide from it and tell ourselves that we can hold it at bay.
We irrationally attempt to create a life for our children in which they will not suffer, and then we suffer from the fear and anxiety because of course we know that they will suffer.  It's our approach to pain that is backwards, and from it flows our fear, and that's getting in our way of doing God's work with the children He sends to us.