I came a little bit sideways into the Orthodox Church. I was very sure about marrying the Serbian Orthodox man I'd fallen in love with, but I was struggling about how to wrap my head around becoming Orthodox myself and raising an Orthodox family with him.
I was raised outside the Church, out in the wilderness. Literally. We lived way out in the country, and we had no parish, no denomination even. My parents were not raised in church, but as young adults they had discovered Jesus Christ, and they raised us with a firm conviction that He was truly the Son of God and our Savior — but with no parish context. Ours was a sort of rugged individualist brand of Christianity, as we each quietly read our Bible and contemplated God's plan for our lives, but did not gather to pray or worship or study or to live our lives with other Christians in community.
As I struggled to take on the many traditions and communal aspects of Orthodoxy, I bought Fr. Peter Gillquist's book, Becoming Orthodox, and there I found a friendly spiritual guide, a Christ-loving soul who had journeyed from a Protestant mindset to the riches of Orthodoxy. I was able to make that journey with him, as he gave me the vocabulary and perspective that made it possible.
In retrospect, I can look back and see how God drew me into the Church over those many years; how He gave me a hunger for some manifestation of faith outside of my own head, and how He placed Orthodox people and even Orthodox churches along my path. (Naturally, I ignored a lot of them at the time, but eventually I let my pridefulness wane and gave Him my attention.)  He fed me and nourished me. He was with me all along, shaping me and forming me and calling me ever closer.
Sometimes in the Church, we suspect that God only acts inside our borders. We don't much trust expressions of His Grace in the other Christian groups and denominations, and yet I can tell you for certain that He was right there with me, showering me with His grace and mercy, on that long meandering road I took before finding the Church. God has not changed in His disposition to me — but my life in the Church changes me, and makes my heart more open and available to Him. I am transformed, but God is the same.
I always thought I'd take a trip up to Fr. Peter's church and meet him someday, but the opportunity never quite materialized. In 2012, I learned that Fr. Peter was passing away, and I was praying for him. I found myself in tears, so grateful for the role he had played in my own conversion and for the work he accomplished in this nation of mine, paving a road for so many Americans to enter into Christ's Holy Church. May God bless him abundantly, I prayed, and may God prepare a great reward for him in heaven.
I never met Fr. Peter, but we had this journey in common, a journey that unbeknownst to him, we had actually taken together. I was so happy to hear that he had planned one last book, with a very specific message that spoke directly to my heart:
"I'd like to start from my youngest memories about how the Lord has been merciful to me and now to us," he said to an interviewer, "through those years of of searching for the Church, learning how to be Orthodox, doing the missions and evangelism work; up through the years of retirement, where I continue experiencing His mercy… to share with other people the faithfulness of God in a way that I hope will motivate them to trust in Him more than they do now."  — Memories of His Mercy, p. 11
I see the same beautiful trail of God's mercy through my own life, and it touched my heart to see that Fr. Peter thought of this in the same way. Another kinship between us! I looked forward to the release of the book, so that I could spend some time with Fr. Peter, contemplating God's mercy.
When Ancient Faith asked for reviewers, I was delighted to add my name to the list! Soon, I sat down to read Fr. Peter's last book, finished and polished and published by friends and family after his passing, Memories of His Mercy: Recollections of the Grace and Providence of God.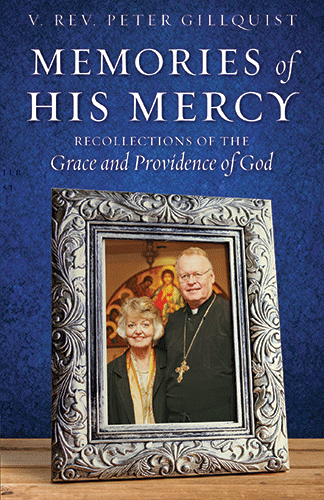 The book does not disappoint. Fr. Peter is right there, with his lovely, friendly voice. Reading the book feels like sitting down with Fr. Peter over a cup of tea and getting to know him — hearing stories from his childhood, how he met and married his wonderful wife, what it was like to write with Johnny Cash, how it felt to meet with Orthodox bishops asking for entry into the Church. He talks candidly and warmly about the houses they renovated and the children they raised. What a blessing for me — I missed meeting him in person, but here is a memoir that invites me to get to know him just the same.
As promised, Fr. Peter traces God's mercy through the whole book. In his childhood, Fr. Peter was not religious, but he writes, "Of my own free will, I had departed from the Christian life, but the Lord never departed from me. Only later was I to realize what an incredible consolation that was." (p. 30) Indeed!
Fr. Peter's beloved Marilyn discovered Christ first, and then brought him along. Soon enough, the two of them were utterly devoted to serving the Lord, and as the years passed, that service meant trusting in Him completely at every turn.  No matter what came their way, the two simply prayed for help, and God never disappointed.
Aptly, Fr. Jon Braun opens his Foreword with a verse from Hebrews:
By faith Abraham obeyed when he was called to go out to the place which he would receive as an inheritance. And he went out, not knowing where he was going. (Hebrews 11:8)
Truly, this is Fr. Peter, and this is why he wrote Memories of His Mercy: just as Abraham responded without hesitation when God called him to pack up his wife and all of his belongings and leave the land of his fathers, to journey to an unknown destination, so Fr. Peter and Marilyn followed Christ whenever He called, and like Abraham, they were never abandoned, never neglected. God provided, as He always does.
This book is offered up to all of us, in hopes that we will read this life story and see what Fr. Peter saw so clearly: God was there, every step of the way, and through His mercy and His grace, He was faithful to His servant.
In my life in the Church, I have had my dark days, and every time I cried out to Him, God was there for me, as He was for Fr. Peter. So now Father and I have this in common as well:  we both want you to know that you can step forward in faith as Abraham did, as Fr. Peter did, and know that God will be faithful to you as well.
He always is.
+ May the memory of the priest Peter be eternal! +