There's a wonderful new trend in children's publishing that will benefit Sunday Schools, homeschoolers, and anyone who who would enjoy using a beautiful children's book as a springboard to deeper learning: authors are creating lesson plans and suggestions for further conversation to accompany their books!
Whether you are trying to find a great activity for your youth group, looking for ideas to keep Sunday School exciting, or just hoping to have great conversations with your children on a rainy afternoon, you'll want to check around to see if the author of your favorite books has a website full of free ideas to enrich your child's experience.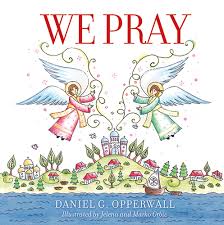 A wonderful example that will benefit Orthodox teachers and parents is the new Ancient Faith release, We Pray.  Daniel G. Opperwall's beautiful book walks children through the beautiful variety of ways in which we pray in the Orthodox faith:  we pray before icons, with incense, with the prayers of saints and the Psalms, with prayer ropes, etc. He talks them through all the wonderful ways we pray, and reminds them that we pray for others with lists of intercessions. The book is beautifully illustrated by the Serbian couple, Jelena and Marko Grbic. On its own, the book is a great joy and a primer on our Orthodox treasures.
But it's not on its own!  On the same Ancient Faith store site where you can purchase this gorgeous book, there's a list of links to free resources the author has prepared for you.  There are discussion questions, an 'our body in prayer' activity, daily prayer rule and prayer list activities with printable stickers. With these lessons and activities, this book becomes precious curriculum for your classroom and home!  The prayer life of the child and of the family can be enriched and enlarged.
Take advantage of this really wonderful and practical new trend in publishing. Start with We Pray, and watch for lesson plans on future Ancient Faith children's books and from all the publishers you love. Suddenly, children's publishing is opening up a whole new world of discussion and enrichment.