Christ is risen!
When we picture the Resurrection, we envision Christ rising from the dead, trampling down death by death, destroying the gates of Hades. But how often do we picture this scene from the perspective of the dead who await Him faithfully?
This year, our parish has been studying the Old Testament together, and of course all of the prophets and the people (those who were righteous and those who were disobedient, both God's people and the enemies of God's people) eventually died and went to Hades. So this seemed like the perfect year to consider the Harrowing from their perspective.
And then we got lucky and stumbled across the fascinating new graphic novel from Creative Orthodox: Anastasis: The Harrowing of Hades.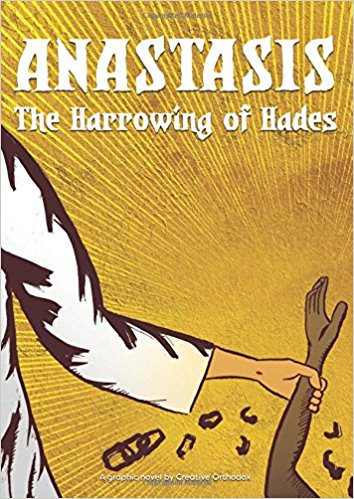 We gathered children and adults together for the retreat, and everyone in third grade and higher received a copy of this amazing graphic novel. (Because Hades is by definition separate from the light of God, it must be characterized by darkness, so the graphic novel is necessarily a little dark for the youngest children, so we asked my daughter, Vasi, to create a little Harrowing of Hades coloring book for the second-grade and under crowd.)
The books themselves were a great hit: many participants remarked that they really appreciated having a text they could refer to during the conversation, and with which they could revisit the topic in greater detail on their own. Days after the retreat, people were talking about the articles referenced at the end, so I can say with confidence that people were interested enough to follow up!
The conversation was fascinating at every age!
In younger groups, children listened to the story and then acted it out — whether by playing Old Testament figures who died, one by one, and were corralled under a parachute in a closed-off Hades only to anticipate and then experience Christ's wonderful liberation of them, or by building Hades out of LEGOs and destroying it with gusto.
In older groups, conversation moved from gasps of amazement at the idea that, as the Bosom of Abraham slowly filled with prophets, they would have been delivering the good news of the Messiah's impending arrival to those waiting in Hades. As one of our high school freshmen said, "I've never thought of the people in Hades as having faith and waiting for Christ! I think it would be harder to hold on to faith for them than it is for us, now that He has already come." Soon, instead of prophecies, they were hearing first-hand accounts of the Savior's arrival on earth, and then of course, Christ Himself arrived in Hades! We were all fascinated by the idea that He came to preach to those lost in the days of Noah, to the bad guys! What could it mean that our Lord would try to bring even the worst of historic humanity to Paradise. What does that mean for us, and for our loved ones who have passed away before us? Why do we pray for the dead, and how does that help? It was a fruitful and beautiful conversation, and everyone left with a better understanding of this important Church teaching, and with new questions that only highlight God's great mercy and love for mankind.
Anastasis is a wonderful graphic novel to share with your family, your youth group, your Sunday School class or maybe your entire parish! We often brush past this important Church teaching on our way from the Crucifixion to Pascha, but at any time of year it benefits us to slow down and consider what it means that our Savior comes to the darkest, farthest reaches to chase after His lost sheep, and that we cannot know the limits of Christ's love.
Christ is risen, and death is overthrown!
(If you're interested, I posted the plan for the retreat itself on this blog's Curriculum Page. You're welcome to use it in your parish or family.)