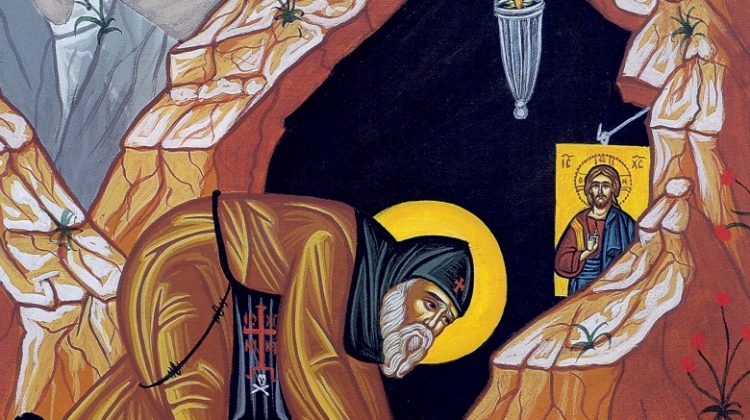 "When in times of darkness, kneeling [prostrations] is more helpful than anything," so says St. Isaac the Syrian.  "If our thoughts are cold and murky," he goes on to say, "we ought to persist in long kneeling [prostrations]."  In fact, he goes so far as to say, "And although our hearts should be dead at those times and we should not even have a prayer or know what we ought to say, since no words of supplication come to us, nor even a petition, still we ought to remain continually prostrate upon our faces, though we keep silence."
Prostrations are a powerful means by which we can draw near to God when we are depressed or sad or overwhelmed in some way and find that we can't seem to make ourselves pray.  Usually when I do a few prostrations, I say the Jesus Prayer and make the sign of the cross as I do them.  However, sometimes I have no prayers to say.  That is, my mind is so troubled or deadened that I can't seem to make myself say the words to any prayer.  At those times the prostration itself becomes the prayer.  
Human beings are complicated creatures.  What troubles our mind is sometimes not even known.  It can be like my mind is blank, like I'm a machine going through motions.  And yet, deeply buried beneath my consciousness, I have a sense, a hunch, a faint hope that God is there, even though I have no feeling or thought of Him.  At such times, since my experience seems so much like a machine, I offer God my machine-like prayer: prostrations.
Here's what I do.  There is no magic or feeling in it.  It's just a cry to God for help with the only part of me that I can seem to make work, my body.  I stand in front of an icon.  I light a candle or lamp if I have one—although often even this feels too overwhelming for me.  Then I just do some prostrations, mechanically.  I usually start with ten, because I have ten fingers and I can keep count up to ten.  If I am in good shape, or if after ten I start to feel something in my heart (often anger or sadness or frustration), I do ten more.  I use the mounting feeling (of anger, sadness or frustration) to fuel my prostrations.  Sometimes these feelings help me to say the words: "Lord Jesus Christ, Son of God, have mercy on me the sinner."  Sometimes, no feeling comes whatsoever, so I just stand there, breathing heavily from the prostrations, and say nothing.
On some days, and in some seasons of our life, this is what prayer can look like.  St. Isaac, and not only St. Isaac but also many Saints have said that God allows us to experience times of abandonment so that we will seek Him.  It is a form of spiritual warfare.  St. Isaac even uses the word "combat" to describe such times.  St. Isaac compares it to a woman giving birth.  He warns his fellow hermit monks that at such times it's essential that you "don't leave your cell."  
For those of us who live in the world "cell" cannot be taken literally.  We don't live in cells, but in families and have jobs and go to churches and have responsibilities.  Nonetheless, not leaving our cells can be understood and practiced in at least two ways by those living in the world. 
The first way for people in the world to stay in their cell during times of sadness, depression or spiritual deadness is not to change their routine.  A cell is a routine: what you normally do when you normally do it. Running away is not the answer.  The second way to remain in your cell is to continually be aware of your heart—even if the only thing your are aware of is that it seems dead.  Our heart is also the cell that we must stay within, and the way we do that is by doing our best to pay attention to what we feel in our heart.  So often we are ashamed of what we feel in our heart and want to pretend that it's not there because we think we shouldn't feel that way.  
But acknowledging the ugliness in our heart is like taking out the garbage.  When we pretend it's not there, it doesn't go away.  It just festers.  But when we confess our sin by acknowledging before God the ugliness of our heart, a ray of light shines there and we take a step toward healing.  Not leaving our cell means not ignoring the ugliness we see in ourselves but rather offering that very ugliness to God.  I've written on this before, so I don't want to go into too much detail here, but basically we can only offer to God ourselves, messed up as we are.  And all God asks from us is ourselves, everything, the good bits and the bad.  
And sometimes for me that's what prostrations are.  They are a very physical way for me to fall down before God and offer myself to Him, even when I feel dead inside and have nothing at all to give Him.  And then when the feelings or thoughts come, usually they are quite ugly.  But ugly thoughts and feelings become for me a fuel, the content of the word "sinner" when I say the Jesus Prayer.