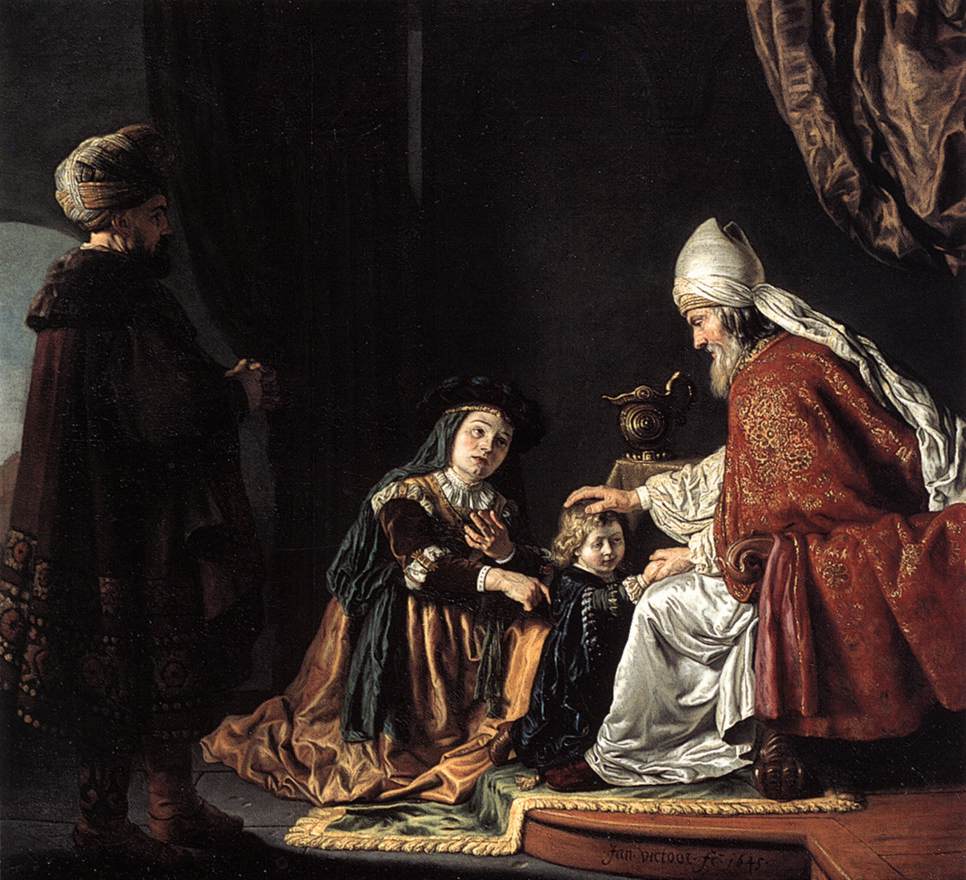 The Prophet Samuel was one of the holiest prophets of the Old Testament.  But what I find most interesting is that Samuel grew to be a holy prophet while living in the midst of a very corrupt religious and political context.  Samuel's holy mother, Hannah, was barren.  But God heard her prayer after many years and much humiliation.  God gave her a son,  and at the age of three, Hannah gave her son to God.  She brought him to the priest of the Tabernacle in Shiloh.  This was before there was a Temple, and the Ark of God's Presence was kept in a tent (Tabernacle) that moved from place to place depending on the tribal warfare of the day.  
However, the priest, Eli, and his sons were very corrupt.  And here I find several interesting things to ponder.  First, despite the corruption and poor parenting of the priest Eli, and the outrageously sinful and even predatory behaviour of his sons, God still spoke through Eli.  And Hannah and her husband, Elkanah, still prayed at the Tabernacle and offered their sacrificial gifts there, despite the obvious corruption of the priest and his family.
I must confess that this is a profound mystery to me: not only that God allows very sinful people to function in positions of hierarchy to which very holy people submit; but what is even more mysterious to me is that God's Grace still functions through these very broken people in positions of spiritual authority, not, I think, because of their position, but because of the holiness and purity of heart of those who come to them.  While Hannah was praying at the Tabernacle for a child with anguish of soul, all that the priest Eli could think looking at her was that she was drunk.  When she protested that she was not drunk but was in anguish of soul and praying, Eli says dismissively, "may God grant your prayer."  And God does!  God hears and answers righteous Hannah's prayer through the sinful priest.
This is a deep mystery, but it is a mystery that gives me hope.  It gives me hope that even as I am a sinful and broken priest, God may still use me to help those who earnestly seek God.  It also gives me hope that even if my bishop or confessor were sinful or deficient in one way or another, God would still look at the anguish of my heart and hear my prayer.  But there is a mystery here that is even more profound than these, a mystery that may show us the way to grow in Christ in the "crooked and perverse generation" that we find ourselves living in today.  
With complete faith in God and a heart full of thanksgiving, Hannah gives her one child, the gift of God to her, back to God.  However, the only way for her to do this is to bring little Samuel to the corrupt priest Eli to be raised at the Tabernacle along with Eli's corrupt and predatory sons.  Now if you ask anyone—If you ask me!—this is not good parenting.  And yet, doesn't God do something very similar with most of His children, with you and me?
Look at the world we find ourselves in.  We are mentored by media that exploits and seduces us for its own profit, political leaders whom we know are lying, businesses that we know are cheating us and an educational system piloted by women, men and "others" who want to obliterate basic human nature.  It seems we find ourselves, like young prophet Samuel, being raised in a corrupt and predatory culture.  Yet nevertheless, like the prophet Samuel, we too can grow into very holy people, people who can learn to listen for God even as we are surrounded by innumerable sins and evil influences.  
How did Samuel do it?  Or rather, how did God save Samuel in such an evil and wicked context?  And how can we too be saved in such a broken world?  St. Paul gives some advice to the Philippians on this very thing.  He says, "Do all things without complaining and disputing, that you may become blameless and harmless, children of God without fault in the midst of a crooked and perverse generation, among whom you shine as lights in the world."
Keep in mind that the ancient pagan world of the Philippians was very corrupt, even by today's corrupt standards.  Most of the people, the very people St. Paul is writing to, were slaves.  They couldn't just change their world, they couldn't just flee to the wilderness or find some less wicked place to live.  They were stuck where they were and had to become holy there, "in the midst of a crooked and perverse generation."
Actually, many of us today find ourselves in situations that are somewhat similar.  We have to work for a living and we have little choice about the policies that are imposed on us or who we work with or how the companies we work for may be exploiting us or destroying the world.  Sure, we could quit, but quit and do what?  If we could afford to buy a farm, we could run off to the country, but farming is very technical work and if you don't know what you are doing you can fail miserably at it.  Also, and this is something that we have to think deeply about, no matter where we go, there we are.  My inner struggles, perhaps exacerbated in the city, are still with me in the country.  I still have to struggle.
The advice St. Paul gives the Philippians, however, is not to run away (in fact he actually tells slaves not to run away).  Rather, he advises them to do all things without complaining and disputing.  Now by "all things", he does not mean that we are to knowingly or intentionally sin.  Rather, he is saying that when we do our jobs, when we do whatever it is we do, we are to do it without complaining and disputing.  And if we don't complain and dispute, at work, at home, at church and on the internet, then, St. Paul tells us, we will become blameless and harmless.  Thus we will be children of God without fault in the midst of a crooked and perverse generation.  
We really have to let that sink in.  "In the midst of a crooked and perverse generation."  He does not say, "you will shine like lights standing outside of the crooked and perverse generation."  Like the Prophet Samuel, it is in the midst of a crooked and perverse generation or culture or context or company or family or even a corrupt church that we "shine as lights in the world."  
This is indeed a hard word for us to hear.  
I think 500 years of Protestant influence on western culture has made St. Paul's advice and the example of Prophet Samuel very offensive to us.  We don't really believe that God saves in the midst of the furnace, as He saved the three Holy Children in Babylon.  We think that it is our job, our calling from God, to put out the fire, to stamp out evil, to make the world a better place.  We don't believe that it is God's will for our righteous souls to be tormented day and night by seeing and hearing of the wicked deeds of those who live around us—even though this is exactly what St. Peter commends about Righteous Lot and gives as an example in his second epistle.  We don't believe that "the Lord knows how to deliver the godly out of temptations and to reserve the unjust under punishment for the day of judgment"  Rather, we think it's our job to right wrong and to fix what is broken, or to escape from the sinful world.  
And so the counsel of the Scriptures and the Holy Fathers of the Church makes no sense to us.  It even offends us.  Consequently, we make no progress.  We fight and crusade against the evil around us, but we secretly indulge in our lusts and anger making no progress whatsoever in peace and stillness of soul.  We flee one sinful context and find that we bring our sinful passions to whatever new context we flee to.  We burn out (or become hypocrites) trying to heal others without healing ourselves.  It's like we grind the gears of our soul trying to fight or escape the wickedness of others, but make no movement at all in acquiring peace in the transformation of our own souls.
We have to become like the child Samuel if we want to be saved.  The child Samuel saw the wickedness, but did not participate in it.  The child Samuel knew he could not change others, but he also knew the One for whom nothing is impossible.  The child Samuel prayed, obeyed, and waited.  And then one day, God spoke to him.  Then one day God changed his world: the wickedness of the wicked caught up with them and the fruit of their wicked lives came upon them.  Samuel remained pure.  Samuel remained quiet.  Samuel shone as a light in a corrupt and perverse generation.  
We too can shine as a light, St. Paul tells us, if we will do everything without complaining and disputing.  Or, we can do things the Protestant way: we can protest.  We can argue and fight and try to change others.  Instead of waiting for God to judge, we can demand what is right, now.  But then we will not be transformed by Grace, then we will not shine as lights.  I think the brightness of one little light will do more to bring salvation to the world than a thousand voices trying to fix it.
At least that's what I think.