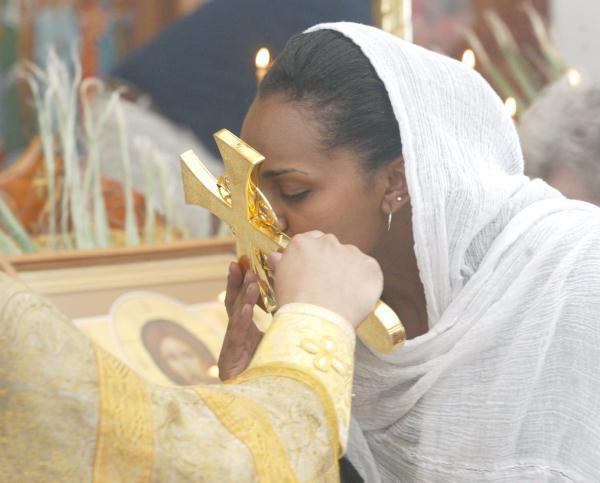 Today is the feast of the Exaltation of the Cross.  There are actually three feasts of the Cross in the Church year: Today,  the main feast of the Cross, then on the third Sunday in Lent and again on August first.
When we celebrate the Cross, we are not so much remembering the Crucifixion of Christ, as much as we are remembering the salvation that Christ's Crucifixion has brought us and all the ways that we too are crucified with Christ.  You see Christ did not suffer so that we would not have to suffer.  Rather, Christ suffered on the Cross to be with us in our suffering, to lead us to the Resurrection through our suffering.
Every time we venerate the Cross it is like a renewal of our Baptism.  When we were Baptized, we entered into Christ's death and we were raised in His Resurrection.  So too when we kiss the Cross we are accepting as from the Hand of God the Crosses that are in our own life so that through these Crosses we may find the Resurrection.
Crosses come in all shapes and sizes.  They can be as small as an inconvenience or a persistent annoyance, or as large as a life crisis that seems unbearable.  Crosses come in the form of difficult relationships and limiting circumstances; they sometimes take the form of physical pain or just not knowing what may happen next.  Crosses come in the form of every kind of human suffering.
So what, then, is the difference between a Cross and just the normal suffering of human life?  The difference is not in the suffering itself, it is in what you do when you suffer.  What makes any suffering a Cross is that we offer it to God.  When we say with Christ, "Nevertheless, not my will but Yours be done," then our suffering is joined to Christ's suffering—even if it is in a very small way.  Then, Christ's Cross becomes our Cross—even if it is in a very small way.
When we kiss the Icon of the Cross of Christ, when we bow before it, we are offering all of our own crosses to God, we are saying with Christ, "Nevertheless, not my will…"
But there is a secret we Christians know that the world does not know: The Cross is the doorway to the Resurrection.  Dying with Christ—even in a very small way, we rise with Christ.  This our Christian hope.  Death is not the end, it is only a door.  Suffering is not meaningless if it is joined to Christ's suffering on the Cross.  This is why we kiss the Cross.