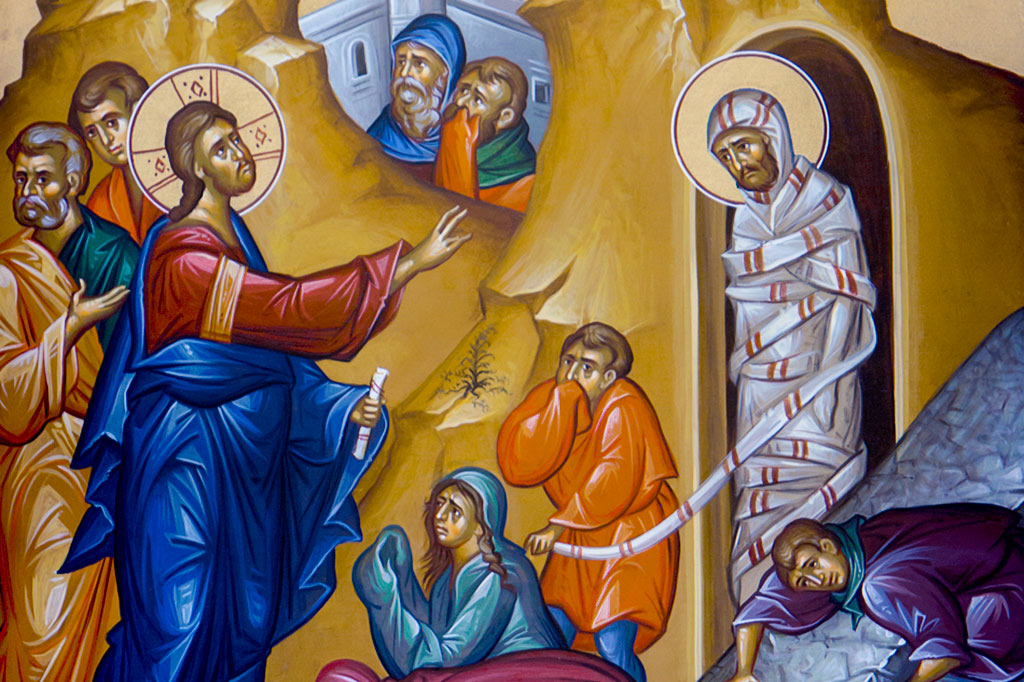 I wrote a series of commentaries on the hymns and themes of Holy Week.  Since this year we were kept from church by the social distancing practice due to COVID-19, I thought I would reflect on some of the themes of Holy Week with our unprecedented situation in mind. Here's the first one.
Tonight and tomorrow morning we celebrate the raising of Lazarus from the dead after he had been 'asleep' in the tomb four days.  Two themes stand out in the hymns we sing for this feast.  The first is that in weeping at the tomb, Jesus manifest his humanity; and in raising Lazarus, Jesus manifests his divinity.
Shedding tears for your friend, O Saviour, you have shown the reality of your Incarnation: the flesh that you took from us was united to you in essence, not in appearance only. And, since you are a God Who loves mankind, immediately you called him and raised him up.
The second theme is that Death and Hell are personified and we hear of the terror they experience as Jesus raises Lazarus from the dead.  The resurrection of Lazarus is just the beginning, and Hell and Death know it.  In raising Lazarus, Jesus is beginning the plundering of Hell and Death that will be completed on Holy Pascha, when "not one is left in the tomb," as St. John Chrysostom tells us in the paschal homily.
Woe is me! Now am I destroyed utterly, Hell cried out, and thus he spoke to Death: See, the man from Nazareth has shaken the lower world, and cutting open my belly He has called a lifeless corpse and raised it up.
However, there is also one more point that does not play prominently in the hymns for this feast, but that I think is very helpful for us today.  In the Gospel reading for this feast (John 11:1-45), both Martha and Mary come to Jesus separately and say, "If you had been here, my brother would not have died."
Some of us may be facing death at this time—just as Lazarus did.  Some of us may have a loved one who has or will soon die—as Mary and Martha did.  And some of us, most of us probably, are just largely inconvenienced.  And with the Churches closed, all of us may be wondering with Mary and Martha where Jesus is, for if Jesus were here, surely He would not let this happen.
But Jesus is here.  The same Jesus who raised Lazarus from the tomb, also first allowed him to 'fall asleep' in the tomb.
Faith is the substance of what we don't see.  We see Churches closed, but what we don't see is the Life of Christ that is alive in us and the 'little churches' that are in each of our homes.  We don't see each other, each hidden in our own homes, praying, singing, walking with Jesus through the Holy Week of His Passion.  We don't see this, which is exactly why it is our Faith.  We see death and sickness and fear, but what we don't see are the thousands of little miracles, graces, and acts of compassion.  We don't see patience and humility being worked in us as we have to submit to limitations to our freedom and rules we don't always agree with.  We don't see the monumental battle so many face now as we struggle not to judge those who either have less faith than we think we have, or have less common sense than we think we have.  But all of this we see with the eyes of faith.
Jesus is here now saving our souls even in this time of isolation, if we look with the eyes of our heart.  This week each of us can rise with Lazarus, cry Hosannah with the children, and suffer and be raised with Christ and all the dead, if we want to.  We are not hindered by a closed Church, for Christ is with us, and what the physical eye cannot see, each of us with the eye of faith can both see and celebrate.