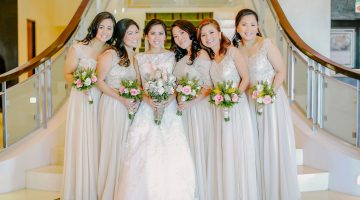 In Jesus' parable about those invited to the King's wedding dinner, we are both terrified and comforted by the fact that those who were invited did not come because their refusal makes room for us.  We the poor, the lame and the blind are ushured into the wedding hall, both the good and the bad (Matt. 22:10).  In most commentaries we are told that the invited guests refer to the Jewish people who through the Law and the Prophets received invitation, but in rejecting their Messiah, rejected their summons to the wedding banquet itself, which is understood as nothing less than the Kingdom of Heaven.  We who are not of the Chosen People, so the common commentary goes, are consequently invited, even compelled to come to the wedding celebration (Lk. 14:23).
However, entrance into the wedding banquet is not the end of the story.  In the ancient practice, a wealthy patron would provide new suits of clothes to be worn by his guests at the wedding.  These are the wedding garments that the King in Jesus' parable expects to find His guests wearing.  However, one guest is not wearing the wedding garment given to him.  And what is the result?  This one is bound "hand and foot," taken away, and cast in to outer darkness where there is "weeping and gnashing of teeth" (Mat. 22: 13).
Putting on and taking off clothing is a central image or metaphor of our life in Christ.  It is in many ways the primary 'how to' image of the Christian life.  How do we become more like Christ?  We put on "tender mercies, kindness, humility, gentleness, long suffering" (Col. 3: 12);  and we take off "anger, wrath, malice, blaspheme, filthy language" (Col. 3: 8).  Or in his letter to the Ephesians, St. Paul puts it the other way around: by 'walking' with humility, gentleness, long-suffering and forbearance, (4:2) we put on the New Man.  And by not 'walking' as worldly people do, with a blind heart, giving ourselves to lewdness, and doing unclean and greedy things, we put off the old man (4: 20-24).
Yet you may ask, "If I have to do all of these things, if I have to be kind and humble and gentle, and if I can't be angry or curse or be sexually immoral, then how is this garment given to me?  It seems that it is something I do, something I create."  Yes, it is an interesting paradox.  On the one hand it is freely given, and on the other hand I have to put it on.
But this paradox is not unlike the child who wants to play the piano.  The child must be given the piano and the teacher, the time and the physical and mental ability, but unless she actually practices, she will not learn to play the piano.  God freely gives us all that we need for salvation, yet it is we who must put it on.  I'm reminded here of St. Paul's exhortation to St. Timothy to "exercise yourself in piety"(1 Tim. 4:7).  [Note: most English translations have godliness instead of piety here.  I think this is because most English Bibles are translated by Protestants who seem to think piety "sounds too Catholic."  But if you look up godliness in an English dictionary, it will tell you that it means piety.]
In the book of Revelation we are told that the Saints under the Altar are given white robes, (6:11) and later we are told that the robes are the righteous acts of the saints (19:8).  On the one hand, when we are baptized and we thus put on Christ (Gal. 3: 27).  On the other hand, we put on Christ by making no provision for the flesh, but rather 'walking uprightly as in the day, not in revelry and drunkenness, not in lewdness and lust, not in strife and envy" (Rom. 13: 13, 14).  The wedding garment that we are freely given at our baptism is at the same time the very garment we put on by acquiring the Holy Spirit, by living a righteous life in Christ day by day.
Like many aspects of our Christian faith, this is paradoxical.  We are given freely what we seem to gain by labour.  How can this be?  How can we acquire through effort what is freely given?  How can the Virgin conceive?  How can Three be One?  How can God be Man?  And yet this is the experience of the Christian faith, full of irony and paradox, full of apparent contradiction.
And this brings me back to the parable of the wedding banquet and both the terror and the comfort that the parable evokes.  In the book of Romans, St. Paul goes on for many chapters about how God has remained faithful to the Jewish people even though they have by in large rejected their own salvation by rejecting their Messiah.  However, at the end of this long argument, St. Paul uses the image of a grafted olive tree to say that we Gentile Christians must remain humble.
And if some of the branches were broken off, and you, being a wild olive tree, were grafted in among them, and with them became a partaker of the root and fatness of the olive tree, do not boast against the branches. But if you do boast, remember that you do not support the root, but the root supports you.  You will say then, "Branches were broken off that I might be grafted in."  Well said. Because of unbelief they were broken off, and you stand by faith. Do not be haughty, but fear.  For if God did not spare the natural branches, He may not spare you either.  Therefore consider the goodness and severity of God: on those who fell, severity; but toward you, goodness, if you continue in His goodness. Otherwise you also will be cut off.  And they also, if they do not continue in unbelief, will be grafted in, for God is able to graft them in again.  For if you were cut out of the olive tree which is wild by nature, and were grafted contrary to nature into a cultivated olive tree, how much more will these, who are natural branches, be grafted into their own olive tree? (Rom. 11:19-24)
Notice that the only criterion to be grafted (or regrafted) into the olive tree is belief (or not continuing in unbelief).  However the necessary criterion to remain grafted in the olive tree is to continue in His goodness.
It seems to me that the lesson of the grafted olive branches also applies to the parable of the wedding banquet.  That is, I don't think we can dismiss this parable as having only to do with the Jews and the Gentiles in the ancient past. I think we can apply this parable to our life now.  We Orthodox Christians might consider ourselves the ones who are now invited to the wedding banquet.  We are the ones with the Ecumenical Councils, the Martyrs and the Holy Fathers, we are the ones who are now supposed to be preparing ourselves for the heavenly Wedding Supper by putting on the garment of Christ, awaiting our summons to heaven.
And those who are outside the Orthodox Church, even those outside any kind of Christian faith whatsoever, what about these?  Could these be the poor, the blind and the lame of today?  As the Gentiles were outside the ancient covenant with Abraham, yet were invited, even compelled into the Kingdom of the Messiah because of the unbelief of many of the Jews,  will we Christians be spared if we do not ourselves put on Christ?  Is it possible that those not so nearly blessed as we are, those blind to the Creed, poor without the Divine Liturgy, and lame in regard to faith, will not these, perhaps, be the ones compelled into the Kingdom of Heaven while those of us with every blessing, yet distracted by every worldly concern, are left outside?  St. Paul tells us to consider both the goodness and the severity of God.
And yet how is it that we put on Christ?  How do we let our mind be renewed and thus be transformed according to "the good and acceptable and perfect will of God" (Rom. 12:2)?  St. Paul tells us the answer immediately: "For I say, through the grace given to me, to everyone among you, not to think of himself more highly than he ought to think, but to think soberly, as God has dealt to each one a measure of faith" (12: 3).  Then he goes on for the next four chapters to give practical examples of what not thinking highly of oneself, but rather thinking soberly, looks like.
One of the realities of our finite experience in this world is that there is no real objectivity.  We cannot take a step back from ourselves and see the whole picture of our lives.  We are right in the middle of it and can only see one bit at a time.  And so in one moment we see how dreadfully short we fall of our desire and goal to put on Christ by acquiring Christ's virtues.  And then a moment later we see so clearly the God's free gift of Grace given to us at baptism and continually renewed through repentance.  And then a moment later, all we see is our failings, our inability to endure for the smallest moment in patience, kindness or love.  And while the tears of sorrow are still wet in our eyes, we see the great compassion and kindness of God who saves sinners and those who come to Him with broken and contrite hearts.  Tears of sorrow mix with tears of joy.  This is the normal Christian life.
And as I vacillate like a yoyo between the awareness of my many sins and God's great goodness toward sinners, I have not much room for pride and boasting against those who do not seem to know God as I do, who do not yet seem to be grafted into the olive tree.  For when I consider both the goodness and the severity of God, I am both comforted and terrified.