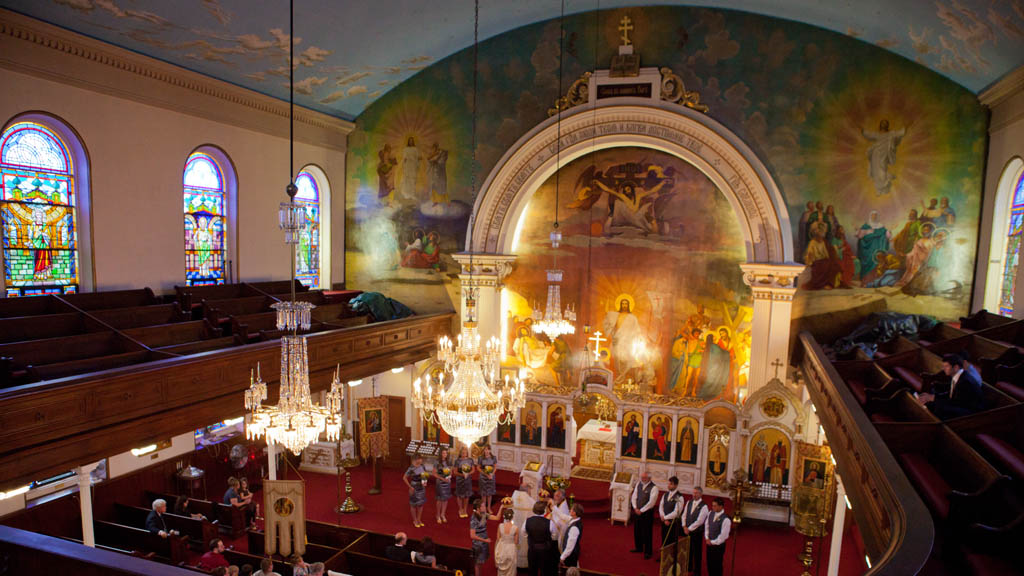 A recent post by Peter Leithart questioning the role of high liturgy in sacramental theology has already sparked two responses on this site, and I wish to add to this collective response, though perhaps taking a different angle, specifically one that is surprisingly non-theological.
Liturgy is as old as religion itself.  Sacrifices, altars, incense, priestly vestments, and so on, have all been found in ancient literary descriptions of human religion and in the earliest archaeological records. The following example of a ritual is from a text found at Ras Shamra, Syria (modern day Latakia), the ruins of the ancient city-state of Ugarit destroyed around 1200 BCE, which describes a sacrificial liturgy and has been called by some as an "atonement liturgy":
Section V
(26) wa šaqrib ˤēra mēšari
mēšari bini ˀugārit
wa [nōpayu gēri ḥāmiyāti] ˀugāri<t>
…
Section VI
(40) [lē dabaḥīma] wa lē ṯaˁī
dabḥun (41) nidbaḥu
huwa ṯaˁū ni[ṯˁayu
huwa nakatu na]kkatu
yitta[ši]ˀ lē ˀabī banī ˀili
(42) yittašiˀ lē dā[ri banī ˀili
lē] mapḫarti banī ili
(43) lē ṯakamuna [wa šunama] hanna ˁēru

Bring near the donkey of "re[cti]due":
rectitude of the son of Ugarit
And [well-being of the foreigner within the walls] of Ugari<t>
…
[As concerns sacrifices] and the ṯaˁū-sacrifice
The sacrifice, it is sacrificed,
the ṯaˁū-sacrifice, it is [offered,
The slaughtering is done.
May it be borne to the father-of-the-sons-of-ˀIlu,
may it be bor[n]e to the C[ircle-of-the-Sons-of-ˀIlu
to] the Assembly-of-the-Sons-of-ˀIlu,
to Ṯakamuna-[wa-Šunama:]†
Performative Language
This text describes the offering of a donkey as a sacrifice to the Ugaritic high god ˀIlu (equivalent of the Biblical "El"), but what is significant here is what we would call performative language. "The sacrifice, it is offered," "The slaughtering is done," "May it be borne to the father-of-the-sons-of-ˀIlu" –  all of these phrases describe an action that is performed simultaneously as the words are spoken, similar to how we say "Here you go," when we hand something to someone.
Performative language is the hallmark of liturgy. We need only think of the Divine Liturgy of St. John Chrysostom, wherein we find this exchange at the epiklesis:
Priest: Again we offer to Thee this spiritual and bloodless worship;
and we beg Thee, we ask Thee, we pray Thee:
Send down Thy Holy Spirit upon us and upon these Gifts set forth.
(Deacon [pointing with his orarion to the diskos]: Bless, Master, the Holy Bread.)
Priest: Make this bread the Precious Body of Thy Christ,
(Deacon [pointing to the chalice]: Amen. Bless, Master, the Holy Cup.)
Priest: And that which is in this Cup, the Precious Blood of Thy Christ,
(Deacon [pointing to both]: Amen. Bless them both, Master.)
Priest: Changing by Thy Holy Spirit.(Deacon: Amen, Amen, Amen.)
As the deacon points to the various objects and the priest speaks the words, it is believed by all present that the actions which are described are actually happening, that is to say, as the priest speaks the words, the Holy Spirit is indeed descending upon the gifts and changing them into the body and blood of Christ. Each of these statements is a performative utterance, e.g., "We offer to Thee" is an actual offering. Even the response of the people is performative, "We praise Thee, we bless Thee, we give thanks unto Thee, O Lord…" When we sing "we praise Thee," we are actually praising, when we sing, "We bless Thee," we are actually blessing. These performative utterances form the real nuts-and-bolts of liturgy, whether it be a pagan sacrifice or a Christian Eucharist.
At the core of this is the basic idea of signification, which forms a subset of linguistics known as semiotics (and furthermore pragmatics). The father of modern linguistics, Ferdinand de Saussure, described a sign as a combination of a signifier and the thing signified. In language, a word is a sign that contains the signifier, which is the particular combination of sounds that make up the word, and the signifier, which is the actual, real-world object that the word means. For example, the word "dog" contains a signifier, "d-o-g," and it signifies a particular domestic animal with floppy ears and a waggly tail. We could use the signifier "perro" or "kalb" or "hund" – it doesn't matter. The signifier is arbitrary, even though it is connected to the thing signified. In performative language such as liturgy, a signifier such as the epiklesis above is a sign. It contains a signifier, which can be variable (the epiklesis of the Liturgy of St. Basil is different), consisting of the text read by the deacon and priest, and the signified, which is the very act that it describes, i.e. the descent of the Holy Spirit and the change of the gifts.
Gestures can be signs as well. For example, when a priest or bishop makes the sign of the cross with his right hand, it is a sign containing the signifier of the cross-ways motion of the hand and the thing signified, which is a blessing. It is usually accompanied by performative language as well, "The blessing of the Lord be upon you." As the sign-gesture and the sign-utterance are performed, the thing signified is believed to actually happen.
Markedness
A second factor present in all liturgical acts is something we may call markedness (pronounced "mark-ed-ness"), which is the quality of something being marked out as being distinct form something else. In all religions, including Christianity, deities and things associated with deities are marked out as being special and distinct. This marking out is the root idea of what we call holiness or being sacred. In Christianity, something is said to be "holy" if it is specifically marked out as belonging to God or for exclusive use by or for God.
In order for something to be perceived as holy, it must, therefore, be marked out as being uncommon in some way. We do this in a multitude of forms: The priest is marked out by wearing holy clothing, i.e., vestments of brocade and beautifully embroidered designs; the book of the Gospels is marked out by being bound in gold and carried in procession; the chalice is marked out by its beautiful appearance and position on the altar; even beards are a form of markedness for priests, bishops, and monastics.
All of these things are holy, because they are marked out as being different from normal, common clothing, books, and cups. Even language is marked as being sacred, which is why most people prefer liturgy to be chanted, not said, and done so in an ancient language such as Koine Greek, Church Slavonic, Latin, etc., and why English speakers often prefer Elizabethan English forms with Thee/Thou pronouns and other archaisms. If God is referred to as "You," it messes with our sense of sacredness, because "you" is a pronoun in common language, and it feels to some people too colloquial. We use archaic language forms in order to specifically mark out liturgical language as being distinct and holy in its unique service to God.
Signifying Faith
The signification of performative language and markedness enables people to offer worship to God as conduits of faith. When we mark something out as being holy, (i.e., by saying a prayer of consecration and sprinkling holy water on it), we actually believe that it becomes holy. When a priest clothes himself in sacred vestments, he actually believes that he is stepping into the sacred role of offering the Eucharistic sacrifice. When we liturgize by offering the Eucharist with prayers and ritual actions, it is precisely because we believe it to be real and true, contrary to Leithart's accusation that it betrays distrust in God. Leithart does not seem to understand the role of performative language (semiotics) or markedness in human religion, nor especially in Christianity, for his statements are the exact opposite of what all liturgy is designed to express: faith in God.
Performative language and ritual is vital to the preservation of dogma by enabling dogmatic belief to be actualized. We believe by speaking and doing rather than merely having an idea in the back of our mind. The fact that nearly all religions in the world, even the people of Ugarit 3500 years ago, used ritual action and performative language testifies to the fact that it is a part of our nature as human persons. To ritualize—to liturgize—is to be truly human.
Similarly, markedness is extremely important for creating and sustaining a sense of holiness—for marking out sacred space and sacred time, and for designating certain people, objects, and language as being devoted to God. Without markedness, we lose the sense of the divine presence (which is utter and complete holiness) and hinder our ability to devote ourselves as being holy to God.
We believe as we pray and as we act in liturgy. Our prayers and liturgical actions are vehicles and instruments of faith, by which we are both transformed by the grace of God and transform the world by consecrating it to God in a cosmic liturgy of redemption.
Notes
†RS 1.002, text, vocalization, and translation by Dennis Pardee, from: Bourdreuil, Pierre and Dennis Pardee. A Manual of Ugaritic. Linguistic Studies in Ancient West Semitic, Vol 3. Winona Lake, IN: Eisenbrauns, 2009, pgs 204-205.
Also: Pardee, Dennis. Ritual and Cult at Ugarit. Writings from the Ancient World, Vol. 10. Atlanta: Society of Biblical Literature.