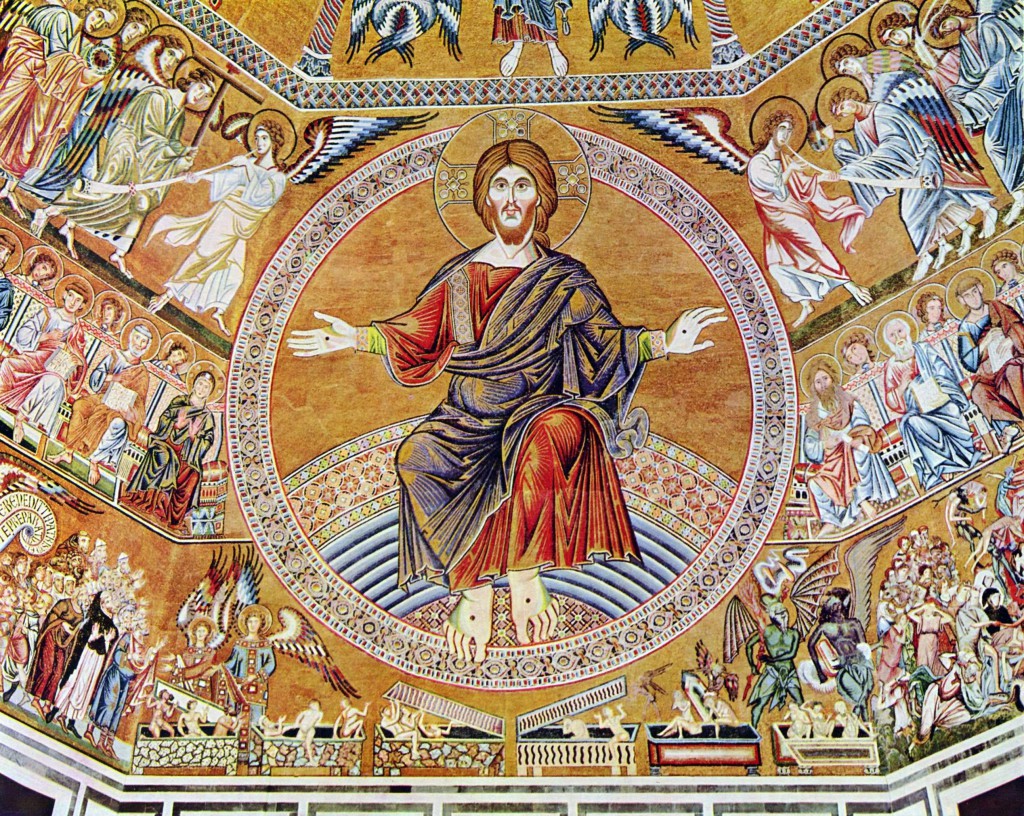 The discussion of justification in my past two posts have brought up a lot of good discussion in the comments revealing the great discomfort that Orthodox Christians seem to feel with forensic (i.e., legal) terms used to describe justification. Nevertheless, such forensic terms are quite dominant in Paul's language, and the Fathers use them as well. We cannot completely rid ourselves of this manner of speaking, no matter how hard we try. The important thing to remember here is that such concepts are used iconologically to describe a divine mystery through the legal concepts of guilt, acquittal, law, freedom, etc. We need not press these concepts too far, though they are significant for us to be able to understand the fullness of our salvation in Christ. But if we carefully examine the forensic language in Paul, something very interesting emerges: "Christ is the end (telos) of the Law for righteousness for those who believe" (Romans 10:4).
In other words, whatever legal concepts we use to describe sin, forgiveness, divine judgment, and justification, Christ is ultimately the end of the forensic concept itself, both in terms of the ceasing of the Law and its fulfillment. When we look back upon the Cross and our justification by the blood of Jesus, we are looking back to a point whereby legal categories and a legal relationship with God are both ended and fulfilled. Let me explain a bit further.
Forensic Terms in Paul
Paul is speaking about Torah/nomos in the Jewish sense of divine statutes, precepts, and commandments which are found within a legal system to which Israel was bound as if to a husband or a slave master (Rom. 6:15-7:6). Paul speaks of being confined under sin by Torah, which brings knowledge of sin. He also speaks in terms of "righteous requirement" of the Torah, dikaioma, which can refer to the divine commandment itself (Rom. 2:26), God's judgment according to the commandment (1:26, 8:4), and fulfillment of the righteous requirement, i.e., justification (5:16, 18). Other forensic terms are used as well aside from the dikaio- word group, such as krima ("judgment"), katakrima ("condemnation"), eleutheria ("freedom"), opheilema ("debt"), not to mention nomos ("law") itself.  These are all very stark, forensic terms. So, while there is metaphor and imagery (icon), these terms are nevertheless stark in representing the absolute perfection required by God, and failure to keep it renders one liable to judgment and condemnation. But, "There is therefore now no condemnation to those who are in Christ Jesus, for the Law of the Spirit of Life in Christ Jesus has set you free from the law of sin and death" (Rom. 8:1).
The Christian and the Law
It seems as though Paul conceived of Torah/Law in different ways than James, as I explained in my last post. Paul takes a very pessimistic view of it, seeing it mainly as an impossible requirement which could never be met and which was given for the purpose of confining all under sin so that all might receive the grace of God through Jesus Christ (Rom. 3:19-20). James, on the other hand, is much more positive in his approach, conceiving of the Torah in the vein of his contemporary Jews as a divine principle of righteousness woven into the very fabric of the cosmos, as a reflection of the divine Wisdom by which the universe was created. The Jews of the Second Temple period began to bring the concept of Wisdom (as seen in the Proverbs) into alignment with Torah, and we see this in places like Psalm 1, 19(18), 119(118), etc. It is really amazing to see how the Jews waxed so eloquently about the Torah in such a way, and as such one can see then the Pauline and Johannine insistence that this "divine principle" by which the cosmos was created is not Torah per se but Christ the Logos, or in Pauline terms, "Christ, the wisdom and power of God" (1 Cor. 1:24). So then, continuing the forensic metaphor, we, being confined under sin and guilty of transgressing divine precepts, die to the Torah with Christ, i.e., to the very law which condemns us, and we are raised to live under a new Torah – the Torah of the Spirit of life in Christ Jesus (i.e., the Logos and true "divine law").
Thus, to be justified in Christ Jesus by faith in his blood, and to be baptized into his death and raised with him to walk in the newness of life by the Spirit, is to be freed from the very system of sin-law-judgment-condemnation itself. So the Christian is no longer under Torah as a forensic system of condemnation, but is now under the "Torah of Christ," which is the true Logos and Wisdom, i.e., "Divine Law," of God.
The Christian and Good Works
Paul therefore uses forensic language and leverages it in order to demonstrate that the forensic concept itself, seeking to be justified by works, only leads to condemnation. If, while we are condemned by the Law, we seek to be justified by keeping the Law, we find that it is impossible, for "all have sinned" (Rom. 3:23). Therefore, under this system, good works, the works of the Law, are counted as debt, for we are indebted to keep the Torah, as Paul says, "For Moses writes about the righteousness which is of the law, 'The man who does those things shall live by them'" (Rom. 10:5).  Therefore, under the Law, good works cannot be counted as such but only as feeble attempts to establish our own righteousness, which is impossible before God.
But, because we are justified by faith, and thereby because of the grace of God, we no longer do good works in order to establish or attain righteousness before God. What then of works? Herein lies the beauty of all that we have talked about. Because we are free from having to do good works to attain righteousness (as a debt), the works that we do perform are done as a grace, freely and in freedom. We work, not because we owe a debt of good works to God, but rather we work in eucharistic thanksgiving to God and in conformity to his image (theosis). God performs righteous deeds in full freedom, and so we, in conformity to his image and standing in the freedom of justification, perform good works in freedom and not in debt. It is only because we are justified by faith that our works are not counted as debt but as truly good works, for if works are performed as a debt to attain to righteousness, then they are not good (eucharistic) but rather self-righteous. Rather, having attained to righteousness by faith in Jesus, our works are not aimed at attaining to righteousness, because we have already attained it. Instead, our works are performed in the full freedom of the Children of God, not as slaves owing a debt. "And if children, then heirs—heirs of God and joint heirs with Christ" (Rom. 8:17), and herein lies our deification in Christ—as adopted sons and daughters of God living in freedom to perform works of righteousness as a Eucharist to God, whereby our works are transformed into operations of the Spirit who abides in us.
Concluding the Matter
We could say then that Paul used forensic concepts in order to show the limits of them, to show that we are no longer under law (hence forensic categories) but under grace (Rom. 6:14). Again, Romans 10:4, "Christ is the end (telos) of the Law/Torah for righteousness for all who believe." The Torah, and therefore all legal categories by which we are either excused or condemned by divine judgment, find their end, both in the cense of ceasing and final fulfillment, in Christ. We should, rather than being suspicious of these forensic terms, rejoice that they are there, because they get to the heart of the matter of how we relate now to the absolute standard of divine Wisdom/Logos, which is the substance of divine law to which we are held accountable as transgressors. Moreover, they demonstrate the true freedom of the Children of God, who are given freedom to work, not as to pay a debt, but as ministers of grace.
So we distinguish the concept of justification from the concept of theosis (deification, conformity to the image of Christ) in order to show how they are related to each other. Justification is the forgiveness of sins, the wiping away of our transgressions and the removal of the enmity between us and God that was caused by them. Having been forgiven of our sins, we have peace with God (Rom. 5:1). Now, this does not speak further about how we progress in divine grace to the complete likeness of Christ. Justification brings us from condemnation to peace, while theosis brings us from peace to likeness. Justification frees us from our debts to the Law, while theosis is our life lived in Eucharistic freedom.
I think some people have in mind that righteousness is a positive "thing" or "work" which we can attain to. No! That was Paul's whole point! Righteousness cannot ever be attained to, because we cannot keep perfection. Rather we are forgiven of our sins and justified, not by trying to attain to something positive, but by receiving forgiveness from God freely. Then, we press on to attain the upward calling of God in Christ Jesus by living according to the Spirit. Justification allows us to attain, to work, to become like God, not the other way around. Unfortunately, I think a lot of contemporary Orthodox people gets this backward—we work in order to attain righteousness. No, we have been justified, therefore we live in freedom to work. Why? because when we are justified by faith our working is no longer counted as a debt to be paid. It doesn't mean that we do not work; it only means that the aim or our working has changed from trying to attain justification to walking in the Spirit—theosis.