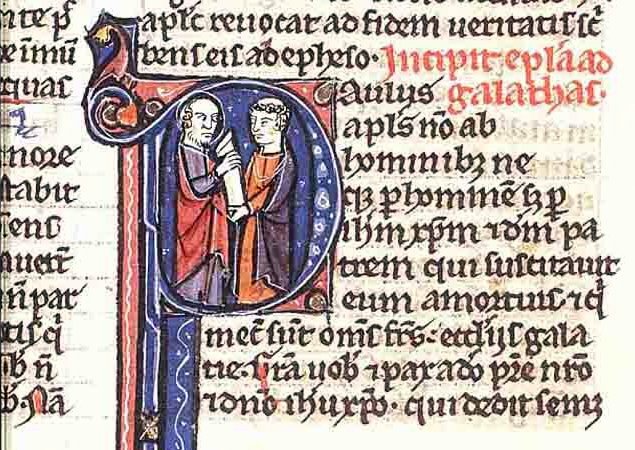 The following post represents some of my musings on the topic of justification which have proceeded in the comments to my last post. I do not intend these musings to be understood as reflecting a particular "Orthodox position," as in "this is what the Orthodox Church teaches" and thus prescribing such belief. These ideas represent my own thoughts and opinions as I have dialogued with others. Therefore, please take them with ample grains of salt if you need to.
Knowing that a man is not justified by the works of Torah but through faith in Jesus Christ, and we have believed in Christ Jesus, that we might be justified by faith in Christ and not by the works of Torah; for by the works of Torah no flesh shall be justified.   (Galatians 2:16)
You see then that a man is justified by works, and not by faith only.   (James 2:24)
Any discussion of justification is tasked with the almost impossible proposition of reconciling Paul and James on the matter, for what they say stands in apparent contradiction. In fact, most scholars do detect in James a deliberate attempt to answer or correct Paul, seeing how it is that he uses much of the same language as Paul as well as the same midrashic example of Abraham. Rhetorically, James does offer a corrective of a perceived excess in Paul's thought, though ultimately they approach the terms justification, faith, and works from different perspectives and sort of "talk past each other" in their dialogue. What Christian theology is tasked to do, counting the writings of Paul and James as sacred scripture, is to uphold both as accurate statements of truth without contradiction.
Justification in Paul
Looking then at St. Paul, we discover a radically simple teaching on justification. There is almost a monergistic tendency, for Paul presents justification as God demonstrating his own righteousness both by raising Christ from the dead and by justifying the ungodly, for he says that God's purpose was "to demonstrate at the present time His righteousness, that He might be just and the justifier of the one who has faith in Jesus" (Rom 3:26). That is to say, the Righteous suffered for the unrighteous thereby demonstrating God's righteousness and proving that he has the "right" to forgive sins and justify the ungodly. Moreover, the contrast between justification by faith and justification by works is that the latter is an attempt to establish one's own righteousness (Rom 10:3), which was the chief fault of the Jews according to Paul in Romans 9-11.
Yet to be justified by God is also to be given the Spirit by whom we can fulfill the righteous requirement of the Torah, which is the opposite of works, as Paul says in Rom 4:5, "But to him who does not work but believes on Him who justifies the ungodly, his faith is accounted for righteousness." That is to say, not only does God justify by forgiving transgressions, but he himself makes righteousness possible by the indwelling Spirit. Therefore, as he says in Philippians 2:13, "It is God who works in you to will and to do for his good pleasure." This happens to the degree that we walk in the Spirit, which is a function of faith. One might say then, that Paul's teaching of walking in the Spirit (e.g., Gal 5:16) is the exact theological equivalent of what James means by "works," it is just that James does not articulate such a refined pneumatology.
Yet, for Paul, justification is something entirely separate from walking in/by the Spirit, and accomplished by heart-felt belief in and confession of Jesus Christ. Paul's statement in Romans 10:9-10 is striking in its simplicity: "that if you confess with your mouth the Lord Jesus and believe in your heart that God has raised Him from the dead, you will be saved. For with the heart one believes unto righteousness, and with the mouth confession is made unto salvation." There are no further conditions placed upon the believer in Christ in order to obtain salvation.
Justification in James
Interestingly, the midrashic example that both Paul and James give of the justified person is Abraham. What is interesting here is to see which events in the life of Abraham each apostle focuses upon. Paul focuses upon the initial promise that Abraham will have a son by Sarah. Abraham believes God, trusts that God will fulfill his promises, and there's very little "working" to be done here. James focuses upon the akedah—the binding of Isaac—where Abraham most obviously puts his faith into action through obedience to God.
For James, faith must have a corresponding action, obedience to God's commandments, i.e., Torah. James did not construe the works of Torah as being an attempt to establish one's own righteousness before God but to live by faith through obedience to the commandments. James and Paul have very different opinions of Torah, which I characterize as "insider" and "outsider." James, a Jew writing to Jews, understands the Torah as being a perfect, divinely revealed means by which a person can be guided to living righteously before God. For him, it is the "perfect law of liberty," not a burdensome slave master as it is for Paul (is he responding to Paul here?). Yet, for Paul, writing to a community of both Jews and Gentiles, and in some cases to an exclusively Gentile audience, the Torah is a foreign element and a burden which the Gentiles could not bear. Paul's genius was to conceive of righteous obedience apart from Torah as a function of faithful living by the Spirit, yet this seems to be lost on James who finds no place for obedient living according to God's precepts in Paul's schema. What is clear in James is that faith must be accomplished by active obedience to God.
Justification in the Christian Life
Now, lets see how this scenario plays out in the life of a Christian: At baptism one (or one's sponsor) makes a confession of faith, and then the baptism and chrismation proceed. There is no "working" to be done. Paul's conditions in Romans 10:9 are the only ones met, i.e., belief with the heart and confession with the mouth. This newly baptized Christian is justified, washed, sanctified, and for all intents and purposes "saved," having been placed within the safe haven of the Kingdom of God and rescued from the evil kingdom of this age. Yet after baptism, the new Christian is tasked with living in righteousness and keeping from sin, which can be very difficult indeed.
This is perhaps the root of Luther's quandary and subsequent declaration of simul justus et peccator ("at the same time righteous/just and sinner"), for herein we discover that the Pauline conditions of justification are easily satisfied, yet the practice of "walking in the Spirit" to the keeping of the righteous requirement of the Law, as Paul declares is the consequence of justification by faith (Romans 8:4), is another matter entirely. In fact, we may find that our post-baptismal ability to "walk after the Spirit" is rather poor, in spite of the promises and encouragement of the Scriptures and our pastors.
There is, if I may be so bold to say, a rather underdeveloped doctrine of repentance in the New Testament, i.e., what do we do when we find ourselves engulfed once again in sin? There is a tendency toward rigorism, especially in the Epistle to the Hebrews, and elsewhere in James and perhaps in Paul as well. 1 John gives us the only definitive teaching on confession, and I can't think of anything else off the top of my head that expects Christians to be so much in a state of sin while seeking repentance. Rather I get the impression that, for the most part, New Testament writers expect Christians to live in a virtual state of perfection. The most pressing matter at hand for the Biblical writers was endurance under persecution (which occupies Peter's mind), the avoidance of Judaizing (Paul), or proper treatment of the less fortunate and the poor (James). While some epistles acknowledge the presence of sin in the lives of Christians, there is little by way of explaining how justification extends throughout the constant struggle against sin, confession, and repentance.
And yet we find in almost everyone we meet, most especially in ourselves, the constant presence of sin. Even Orthodox societies are given toward alcoholism, domestic abuse, hatred of others, racial prejudice, etc., that make us wonder if such a state of pristine justification is possible to maintain save for the very few who abscond themselves to a monastery. The point of all of this is to say that there is a danger of extending the role of works in Justification too rigidly to the point at which we lose sight of the mercy of God. We perhaps tend toward a scholastic definition of justification, then scramble to pick up the pieces when we discover that few if any can actually attain it, all the while forgetting that God is merciful. This is why, at least in my own life, I have tended toward the Pauline definition of justification rather than the Jakobian insistence upon works. As one commenter on the previous post asked, "Who is doing the justifying?" Of course there is an obvious answer to this question – it is God who justifies! But, when we insist upon works (in James's sense) we then might reconsider our answer, for we very easily move from being justified by God through faith in Jesus Christ, allowing God to demonstrate his own righteousness working in us by the operation of the Spirit to attempting to establish our own righteousness by our own efforts to attain to state of justified perfection.
To clarify, it is important to understand, along with James, that active obedience to God is essential to living out a justified life, a life that freely moves about in a state of being in a right relationship with God. This involves a constant ascetic effort and confession of sins. But, when we fail at our efforts and fall back into our sins, God remains merciful, and the blood of Christ still wipes away our sins, thus our justification ultimately comes from God who forgives sins by faith in Jesus Christ.
Toward a Resolution?
I'm not sure there is any real resolution to this problem or a way of reconciling Paul and James that satisfies entirely. Paul remains (at least in my mind) as an ideal, while James represents the practicality of the situation. While we are justified by faith apart from works, nevertheless, our conduct does matter. But then, "If thou, O Lord, shouldst mark iniquity, O Lord, who could stand?" Justification is not entirely dependent upon our efforts, for God is merciful and strong to save to the uttermost those who put their trust in him.
In my opinion, the Orthodox Church has defaulted to the Jakobian position, insisting along with James on the necessity of "works," i.e., obedient living according to divine precepts, for our salvation. We have, to a large degree become comfortable with divine Law, a Christian Torah, which we gladly keep as a means to work out our salvation. The Gentile Church has become the "insiders," and we see no reason to cast aside the "works of the law" as Paul once did for the "outsider" Gentiles.
Has Orthodoxy ignored or de-emphasized some aspects of Pauline theology? I think it is possible, though I believe that the sacramental theology of the Church safeguards it from ever returning to a purely Judaized approach to "works." The sacraments ensure that we receive the grace of God freely through faith, though often legalistic stumbling blocks may be placed between the faithful and the sacraments. This is an important pastoral issue – How do we prepare for communion, by checking of a list of regulations, that we fast from midnight, go to confession, attend vespers, and say the proper (long) list of prayers so that God won't get angry with us? All of these things may be beneficial for us in order to soften and enrich the soil of our hearts to receive the eucharistic seed, but we do not do them simply in order to satisfy a requirement or to keep God from being angry with us.
Whatever the role of "works" in our salvation, it is clear from Paul that any obedience to divine precepts cannot be construed as an attempt to establish one's own righteousness before God. For Paul (and for James), to do so means to keep the whole Torah perfectly, which no man has done (there is no mention in Paul of the Virgin in this regard). So, to seek to be justified by works is to receive justification as a wage and not as a gift, and if a wage, then a debt (Rom 4:4). To be justified by faith is to be granted justification as a free gift (Rom 3:24).
Works are not excluded, but the manner in which they serve the justified believer changes, for they do not serve to establish a right relationship with God, rather they are the fulfillment and fruit of being in a right relationship with God. For having died with Christ in baptism, we have died to sin and are no longer slaves of it. Rather we are alive to Christ and slaves of righteousness (Rom 6:15-19). Therefore, to be justified, placed in a right relationship with God, is to be granted freedom to practice righteousness in such manner that it is not an attempt to establish one's own righteousness, but to live in the grace in which we now stand in Christ. Because justification is given by grace, failure to live according to the righteous requirement is no longer counted as debt, for God is just in forgiving us when we confess our sins, for he wiped away our debts having nailed the bill to the cross (Col 2:14).
I have jokingly said to students before that Protestantism is Paul taken seriously. Of course, with tongue firmly planted in cheek, I do hope to provoke some thought as to whether or not individually we do take Paul seriously. Do we trust in the mercy of God that our sins are forgiven, and therefore we have been placed in a right relationship with him solely on account of his grace, or do we seek to establish our own righteousness before God by trying to fulfill a list of rules? Do we keep the divine commandments and the ordinances of the Church in an effort to please God or do we keep them in eucharistic thanksgiving for having been given the grace of access to God and forgiveness of sins?