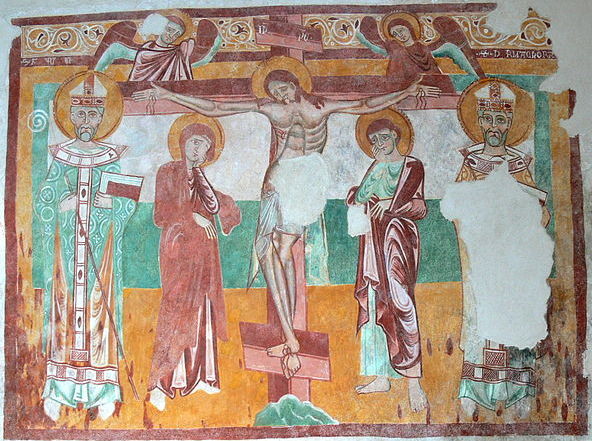 Of all of the seven last sayings of Christ on the cross, perhaps the most puzzling is the Cry of Dereliction. Recorded only in Matthew 27:46 and Mark 15:34, both in Aramaic and in Greek translation, this phrase was even somewhat confusing to its first hearers who pondered that he was calling Elijah.
| Matthew 27:46-47 NKJV | Mark 15:34-35 NKJV |
| --- | --- |
| And about the ninth hour Jesus cried out with a loud voice, saying, "Eli, Eli, lama sabachthani?" that is, "My God, My God, why have You forsaken Me?" Some of those who stood there, when they heard that, said, "This Man is calling for Elijah!" | And at the ninth hour Jesus cried out with a loud voice, saying, "Eloi, Eloi, lama sabachthani?" which is translated, "My God, My God, why have You forsaken Me?" Some of those who stood by, when they heard that, said, "Look, He is calling for Elijah!" |
In modern times, this verse has received a variety of interpretations. Albert Schweitzer and E.P. Sanders saw this cry as the disappointing denouement to the earthly ministry of Christ: a failed revolutionary petitions God for aid in his final hour and receives none. Evangelicals, rightly finding this answer unsatisfying, have often found themselves doubling down on Anselm's notion of a divine propitiatory punishment where Christ, receiving the sin of the world in his sacrificial death, also receives a deep personal isolation from the Father. As RC Sproul says:
After he became the scapegoat and the Father had imputed to him every sin of every one of his people, the most intense, dense concentration of evil ever experienced on this planet was exhibited. Jesus was the ultimate obscenity. So what happened? God is too holy to look at sin. He could not bear to look at that concentrated monumental condensation of evil, so he averted his eyes from his Son. The light of his countenance was turned off. All blessedness was removed from his Son, whom he loved, and in its place was the full measure of the divine curse… It was as if there was a cry from heaven, as if Jesus heard the words "God damn you," because that's what it meant to be cursed and under the anathema of the Father… [and] every person who has not been covered by the righteousness of Christ draws every breath under the curse of God.
The astute theological reader will, too, find this reading difficult. Both readings have a their core a great practical problem: if the Father turns away from His own Son in his hour of greatest need, what hope could we ever have? This difficulty is not only practical but is theological as well. While the first reading would self-consciously abandon Nicene orthodoxy, the second reading too is unable to bear the weight of such a proclamation: how convincingly can one hold the consubstantiality of Christ with the Father (ὁμοούσιον τῷ Πατρί) when such a profound separation can exist between the Father and the Son? Indeed, the Arians argued this very line against the divinity of the Son:
This too [the Arians] urge; "How can He be the own Word of the Father, without whom the Father never was, through whom He makes all things, as ye think, who said upon the Cross 'My God, My God, why hast Thou forsaken Me?' … If the Son were, according to your interpretation, eternally existent with God, He [could not have] been forsaken [since he was] coexistent …

– St Athanasius, Against the Arians III.26
St Athanasius responded to this accusation with a powerful defense:
If then He wept and was troubled, it was not the Word, considered as the Word, who wept and was troubled, but it was proper to the flesh; and if too He besought that the cup might pass away, it was not the Godhead that was in terror, but this affection too was proper to the manhood. And that the words 'Why hast Thou forsaken Me?' are His, according to the foregoing explanations (though He suffered nothing, for the Word was impassible), is notwithstanding declared by the Evangelists; since the Lord became man, and these things are done and said as from a man, that He might Himself lighten these very sufferings of the flesh, and free it from them. Whence neither can the Lord be forsaken by the Father, who is ever in the Father, both before He spoke, and when He uttered this cry. Nor is it lawful to say that the Lord was in terror, at whom the keepers of hell's gates shuddered and set open hell, and the graves did gape, and many bodies of the saints arose and appeared to their own people. Therefore be every heretic dumb, nor dare to ascribe terror to the Lord whom death, as a serpent, flees, at whom demons tremble, and the sea is in alarm; for whom the heavens are rent and all the powers are shaken. For behold when He says, 'Why hast Thou forsaken Me?' the Father shewed that He was ever and even then in Him; for the earth knowing its Lord who spoke, straightway trembled, and the vail was rent, and the sun was hidden, and the rocks were torn asunder, and the graves, as I have said, did gape, and the dead in them arose; and, what is wonderful, they who were then present and had before denied Him, then seeing these signs, confessed that 'truly He was the Son of God.'

– St Athanasius, Against the Arians III.56
St Athanasius absolutely rejects the notion that this cry implies any actual separation between the Father and Son. Indeed, in the mind of Athanasius, everything else in the crucifixion account evidences the continuing union. For him, the cry was made according to the human nature of Christ. St Athanasius does not, however, explain precisely what it is in Christ's humanity that makes this cry. This task would be left to St Ambrose of Milan who, also responding to the Arians, interpreted the cry this way:
As being man, therefore, He doubts; as man He is amazed. Neither His power nor His Godhead is amazed, but His soul; He is amazed by consequence of having taken human infirmity upon Him. Seeing, then, that He took upon Himself a soul He also took the affections of a soul, for God could not have been distressed or have died in respect of His being God. Finally, He cried: My God, My God, why have You forsaken Me? As being man, therefore, He speaks, bearing with Him my terrors, for when we are in the midst of dangers we think ourself abandoned by God. As man, therefore, He is distressed, as man He weeps, as man He is crucified.

– St Ambrose, Exposition of the Christian Faith II.7.56
Thus, for St Ambrose, human suffering bears with it a certain character of estrangement. In the words of the novelist David Foster Wallace, "We all suffer alone…" But this is not without hope because Christ, having taken on the full depth of loneliness in human suffering without separation from the Father, has redeemed even our suffering. In Christ, death is united to life and abandonment is united to God's eternal love and faithfulness.
In considering these responses to the Cry of Dereliction, it is worth noting how powerfully scriptural they are. The Father does not abandon the righteous man (Psalm 9:10, 16:10, 55:22; Proverbs 10:3). Nor is the unity of the Father and Son put in jeopardy (John 10:30, 17:21). Careful emphasis is also put on the reality of Christ's suffering as a man (Col 2:9, 1 John 1:1-3, 4:1-3; 2 John 1:7).