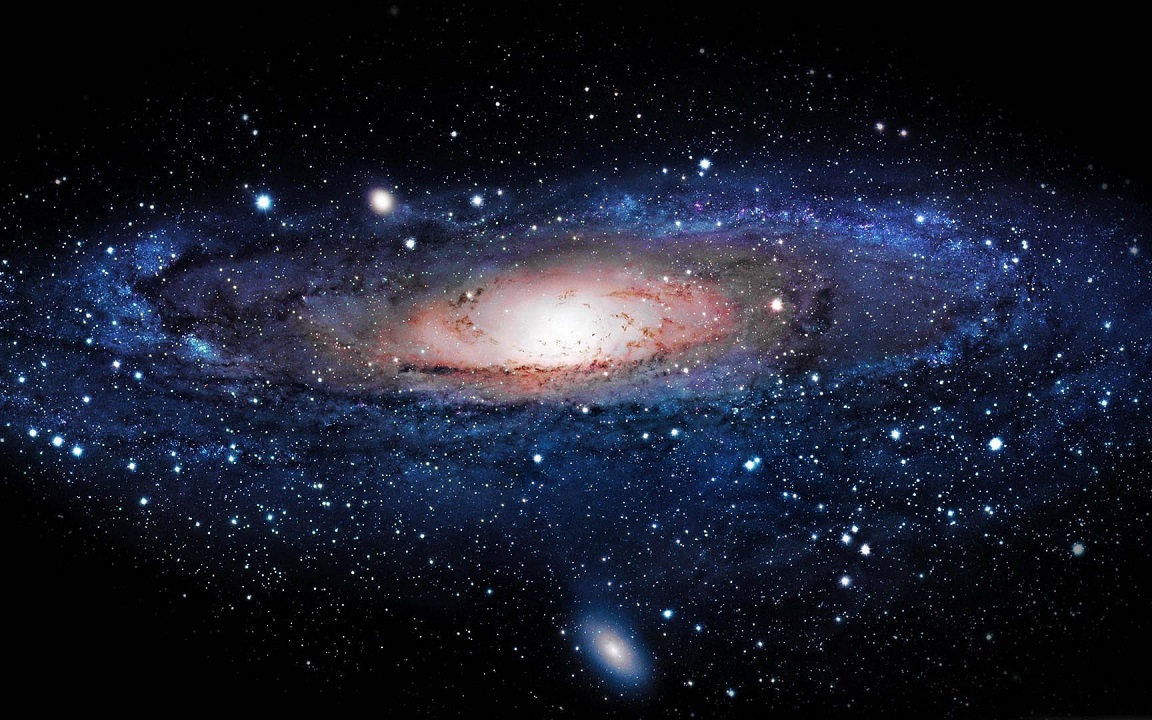 On the night of March 9th, 2014, countless pop-science buffs like myself waited with bated breath for the premier of the rebirth of the Carl Sagan's beloved science series Cosmos. Produced by Seth McFarlane of Family Guy and hosted by the popular astrophysicist Neil deGrasse Tyson, the reborn series follows in the wake of many similar shows of more recent vintage, such as Morgan Freeman's Through the Wormhole, the History Channel's The Universe, and the magnificent NOVA special The Fabric of the Cosmos by noted Columbia University theoretical physicist Brian Greene. The success of these television programs has followed on the ability of some of the world's greatest scientists to help common laypersons like myself understand incredibly complex scientific concepts such as quantum mechanics and Einstein's special relativity.
These programs have opened our minds to contemplate the mysteries of the universe, which for men and women of faith, bear the unmistakable fingerprints of God. I have personally found these programs enormously helpful in my own quest to integrate my faith with scientific learning, for, in contrast to a minor yet vocal segment of the American religious landscape, I do not believe religious faith and science to be opposed to each other.  While I am always keen to integrate my Orthodox Christian faith with the findings of secular scientific and historical scholarship, what transpired in the reboot of Cosmos was, however, tainted by an unmistakable anti-religious ideology. I use the term "anti-religious" carefully in order to note its difference from an atheistic ideology. The difference is subtle, but no less dangerous, and like the overly zealous religious ideology that Cosmos condemns, its anti-religious ideology is just as skewed from reality.
A segment in the program featured the story of Giordano Bruno, a late 16th century Italian friar who was executed for theological heresies. Along with his heresies, Bruno challenged popular assumptions of a geocentric cosmology and a finite creation, proposing an infinite universe filled with stars like our sun and worlds teeming with life. In the program, Bruno is hailed as daring, imaginative thinker, who broke through the confines of the religious establishment to conceive of an infinite God and an infinite creation. He is shown railing at hecklers gathered at a public lecture in Oxford, shouting "Your god is too small!" Many of Bruno's ideas did turn out to be correct, such as his proposition that neither the earth nor even the sun were the center of the universe.  It is understandable, then, why people today would hail Bruno as a visionary thinker, centuries ahead of his time – and for this, it is claimed, he became a "martyr" for science, executed at the hands of religious authorities for the claims he made that ultimately proved to be true.
In telling the story of Bruno, deGrasse Tyson and the Cosmos program failed to correctly parse three major themes, which will be considered in detail below:
(1) The distinction between Trinitarian and Christological dogma vs. cosmological theologoumena.
(2) The necessary theological distinction between the infinite God and the finite creation.
(3) The non-distinction between the Catholic Church and the Roman authorities responsible for Bruno's execution.
Dogma vs. Theologoumena
Dogma represents the teachings of the Christian Church which are established as incontrovertible and non-negotiable, and therefore anyone who denies them fundamentally denies the essence of the historical Christian faith. These include (among others) the Holy Trinity and the divinity of Christ, both of which Bruno denied, making him in the eyes of the Catholic Church not merely a heretic but an apostate. On the other hand, Bruno's views about cosmology were, in part, ideas that he held which had no bearing on Church dogma. The medieval belief in a universe with the earth at the center was a theologoumenon, a pious opinion. Theologoumena are ideas that are often held by pious believers but have not been given dogmatic definition by a Church council.  A denial of such beliefs does not constitute heresy nor apostasy, and it was certainly not a capital crime in 16th century Rome.
Bruno's belief in many inhabited worlds would have, however, raised some alarm among church authorities, who would have seen such a claim as a rejection of the uniqueness of the incarnation of Jesus Christ.  If other intelligent beings exist on other worlds, how do they relate to God, and how are their sins forgiven?  Are they, like us, made in the image of God? Whatever the answer to these questions, Christian dogma teaches that the Son of God is uniquely joined to human nature and will forever remain so. God did not come merely in the appearance of a man, but became a human man in fullest sense. While non-religious scientists like deGrasse Tyson may not have to make distinction between dogma and theologoumena, Christians hold to a faith in a personal God who has uniquely revealed Himself in the person of Jesus Christ, who is both God and man, and therefore, any idea that threatens to compromise that dogma will be regarded with some skepticism by faithful Christians.
Infinite God vs. Infinite Creation
Where Bruno did run into real trouble with his cosmological views was in positing an infinite creation alongside an infinite God. While this may sound like a perfectly logical and innocuous belief, it actually leads to the very dangerous conclusion that God is not unique in his infinitude. If creation is infinite, then it may be coterminous with the infinite essence of God Himself, leading to pantheism, the belief God and the universe are the same.  In fact, this is precisely what Bruno came to argue, and it was a belief that put him outside of the dogmatic Christian belief in a personal God distinct from creation.
Established scientific views regard the universe itself to be finite, though what is beyond the visible boundaries of the universe, no one can observe, because light from that region has not yet reached our telescopes. Nevertheless, scientists operating in the realm of theoretical physics have posited the existence of a multiverse, wherein our universe is just one among an infinite number of universes. These theories remain only mathematical propositions, and they do not yet have any observable proof. In fact, it may be argued that observable proof of a multiverse is impossible, due to the unimaginable size of the universe itself.  In this area of theoretical physics, science gradually crosses over into philosophy, which itself gradually crosses over into theology. While it may be interesting to hypothesize about a multiverse, we must acknowledge that there are theological implications to such hypotheses, and it is here that theoretical science and religion may legitimately clash.  Nevertheless, religious proscription of such theories can probably wait, because there is simply so much that we still do not know.  There may yet be a way of describing a multiverse that preserves the distinction between the infinite God and a finite creation.
Church and State
In an interview with Stephen Colbert, deGrasse Tyson claimed that, in fact, Cosmos was not anti-religious, because it made clear that Bruno was not executed by the Catholic Church, but by the Roman authorities, despite the fact that the program had previously stated that, in Bruno's time, there was not a separation of church and state. In order to save face in front of the unabashedly Catholic Colbert, deGrasse Tyson tried to frame the issue as if there were a separation of church and state, and that Colbert's Catholic Church was innocent of Bruno's execution.  Yet 16th century Rome was the capital of the Papal States, meaning that, like Vatican City today, the Catholic Church was the Roman authority in the form of papal legates directly under the authority of the Pope.
Now, I will make no apology for the actions of the Catholic Church or the Inquisition. The point here is not to justify execution of anyone for heresy, which is an abhorrent practice that has unfortunately marred the history of Christianity. The point here is to understand the anti-religious ideology promulgated by deGrasse Tyson and Cosmos. Not once in the series was it mentioned that the Roman Catholic Church today fully embraces the findings of the science of astronomy, admits the possible existence of extraterrestrial life, and even operates an observatory.  While the religion of Bruno's day may have been hostile to scientific progress, the Roman Catholic Church has now moved to the forefront of scientific advancement and encourages scientific progress.  It is unfortunate that viewers were left with such an awful perception of religious establishment without also being treated to the wonderful scientific work that is being done by that same establishment today.
Who is so Great as our God?
The anti-religious but not atheist ideology subtly seeks to establish a god that is acceptable to science, one that is infinite and undefined.  Yet this god is essentially the universe itself.  Science, theism, and a naturalistic philosophy all coincide under the convincing rhetoric of "infinite" and "unbounded."
Orthodox Christianity believes in just such an infinite and unbounded God, a God who holds all of existence within Himself, who causes existence to exist, yet is ontologically separate from all that exists in creation. Yet the Orthodox Church's God is also one who has revealed Himself in the person of Jesus Christ. The uncircumscribable Logos has become circumscribed in flesh; the unlimited, infinite God, amenable to scientists and philosophers, has taken upon Himself the limitations of our humanity.  And this very idea is, as St. Paul states, foolishness to the wise.  The Greek philosophers of St. Paul's day, he states, sought wisdom, while the Jews, the religious, sought miraculous signs, but Jesus Christ was a scandal to the Jews and foolishness to the philosophers. Many scientists and philosophers of our own day are equally offended by the radical claims of Christianity, which dares to delimit the knowledge of God through revelation. Unlike the god of the scientists and philosophers, the Christian God has revealed Himself in Person, in Word, and in Image, and the result of this revelation is definitive and unchanging dogma. As Christians, we worship what we know through what has been revealed to us through Jesus Christ (1 John 1:1-4), not what we do not know (John 4:22), an undefined, boundless, and infinite universe – impersonal, immediate, and incapable of salvation. Our God is not "too small." He is greater than the universe, however large it may be, and He has revealed Himself to us through the greatest cosmological mystery of all, the incarnation of the Son of God, and our cosmos is a cosmos filled with divine light having been united with Him.
For further criticism of Cosmos from a faith perspective and a closer look at Giordano Bruno, see here.