1794: Eight Russian monks, led by Fr. Joasaph Bolotov and Saints Herman and Juvenaly, arrived at Kodiak Island, inaugurating the Russian mission to Alaska.
1841: Bishop Innocent Veniaminov returned to Alaska from Russia, where he had just been consecrated.
1904: Germanos Shehadi was consecrated Metropolitan of Zahle, in the Patriarchate of Antioch. A decade later, Metropolitan Germanos came to America on a fundraising trip. While he was here, Bishop Raphael Hawaweeny, head of the Syro-Arab Mission, died, and World War I broke out, and Germanos decided he'd kind of like to stay in America. So he did, becoming the leader of the pro-Antiochian faction of Arab Orthodox in America. (His rival was the infamous Bishop Aftimios Ofiesh, head of the pro-Russian group.)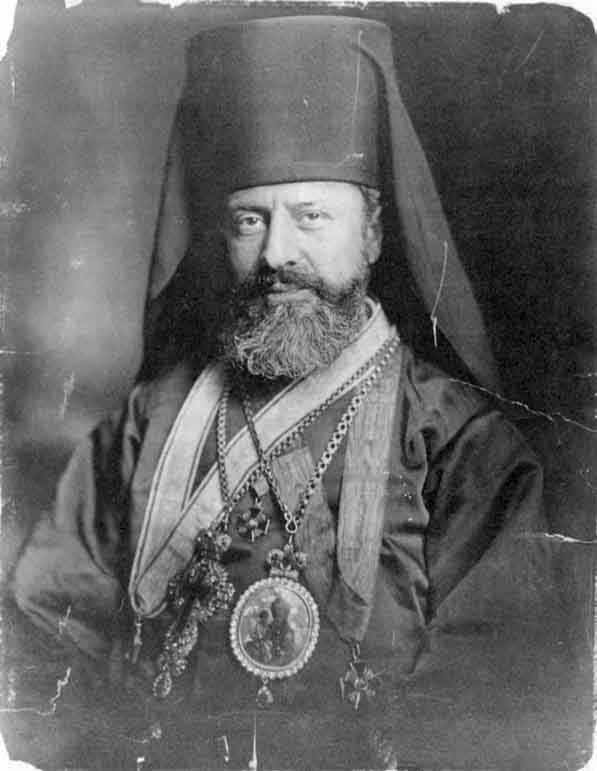 1911: Bishop Raphael Hawaweeny resigned from the Anglican and Eastern Orthodox Churches Union, an ecumenical group. St. Raphael explained his reasons in a letter that was (I'm nearly certain) ghostwritten by the convert priest Fr. Ingram Nathaniel Irvine. To learn more, check out these two articles that I wrote in 2010:
1932: Bishop Joseph Zuk was consecrated as the first Ukrainian Orthodox bishop in the United States. He was associated with the short-lived American Orthodox Catholic Church, a fringe group led by Archbishop Aftimios Ofiesh.
1947: Bishop Anthony Tereschenko of Montreal, a bishop of the Russian Metropolia (today's OCA), died. According to his obituary in the Ottawa Journal (9/29/1947), Bishop Anthony had come to Canada in 1907. He served in Winnipeg for more than two decades and worked as the Russian Metropolia's administrator for Western Canada. After that, he became dean of the Metropolia's cathedral in Montreal. He had become a bishop earlier in 1947, as part of the Metropolia's plan to divide Canada into three parts. Bishop Anthony's enthronement in May 1947 was the first step of that plan, but he died four months later, and the plan never came to fruition.
1996: The new Greek Archbishop Spyridon was enthroned in New York. That… didn't work out so well. But it's recent enough that I'm not going to get into it.
2000: Longtime ROCOR Archbishop Anthony Medvedev of San Francisco died. He was consecrated for ROCOR's Australian diocese in 1956, and in the late '60s, he succeeded the departed St. John Maximovitch as Archbishop of San Francisco. He held that position for over three decades, until his death at the age of 92.
2006: Metropolitan Vitaly Ustinov, former First Hierarch of ROCOR, died. And as with Archbishop Spyridon of the GOA, I'm really, really hesitant to say much about Metropolitan Vitaly. Very simply, though — Metropolitan Vitaly was ROCOR's First Hierarch from 1986 until 2001. In 2001, many in ROCOR were inclined to pursue reunion with the Moscow Patriarchate. Metropolitan Vitaly rejected this and resigned in protest. After that, he became the focal point for a splinter group called the "Russian Orthodox Church in Exile." He died in Quebec five years later, in September 2006.
It's a shame that he'll forever be remembered for those odd and sad final years, because Metropolitan Vitaly seems to have led a very interesting life. He was born in 1910, lived in that crazy post-revolutionary Russian émigré world (in Paris, Istanbul, Czechoslovakia, Yugoslavia, Berlin, London — you name it). He became ROCOR bishop of Sao Paulo, Brazil in 1951 and was transferred to Canada a few years later. He was Archbishop of Montreal for nearly three decades before his election as First Hierarch.