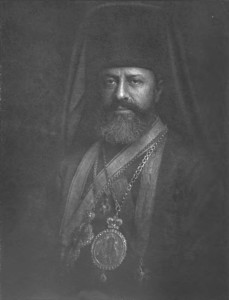 Over at Orthodox History, I just posted a brief timeline of the life of St Raphael Hawaweeny. Click here to read it.
I prepared that timeline as part of a series of lectures Sam Noble and I presented at the clergy brotherhood retreat for the Antiochian Diocese of Wichita and Mid-America this past week. The retreat was a wonderful experience, and it was a great privilege to be able to talk about St Raphael's life to an audience of priests and deacons who are following in his footsteps.
The best description I've yet found of St Raphael, which is simultaneously succinct and complete, comes from his longtime friend, the Episcopalian priest T.J. Lacey of Brooklyn, in his 1920 book Neighbors: Studies in Immigration from the Standpoint of the Episcopal Church:
Bishop Raphael was a master-builder. He laid strong enduring foundations, gathering a large constituency and acquiring valuable property for the congregation. He was a man of wide education and keen intelligence, a master of many languages. He possessed rare gifts of administration, and was unselfishly devoted to the spiritual and material welfare of his people. His death, in 1915, deprived the Syrian Church of a strong leader.