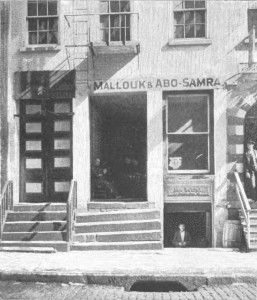 At Orthodox History, I just posted three images of St Raphael Hawaweeny's original chapel in Manhattan, New York. It was an unassuming place — a small room on the second floor of a building, above a Syrian-owned store. As I observed in that article, the chapel isn't much different than a typical storefront mission church today.
I showed these pictures (well, the two photos, because I just discovered the sketch) to the clergy of the Antiochian Diocese of Wichita and Mid-America, in a presentation on St Raphael's time in America. After that presentation, someone pointed out to me that it must have been inspiring and heartening for some of those priests to see the modest beginnings of St Raphael's ministry. That hadn't occurred to me — really, I just thought the pictures were cool and complemented the narrative of St Raphael's life.
But this observer was right: often, I suspect Orthodox people are tempted to think of the saints as people who were so much higher and greater than we are. And in an important sense, that's true — they're saints because they set themselves apart for God, living a life that we hold up for emulation. But many of our saints are more like us than we realize. St Raphael lived not so long ago, in an American city, serving a small but growing parish and trying to keep his people in the Church in a non-Orthodox environment full of distractions. And his parish began like so many of our parishes do, as a cramped, rented, unglamorous place. It was far, not just geographically but aesthetically and emotionally, from the cathedrals of Russia and Greece and the ancient holy sites of Palestine and the Levant. And yet it was no less holy: it housed a saint, yes, but more importantly it was the space in which the Divine Liturgy took place and the people of God came together as the Church.
In this way, those pictures of St Raphael's modest chapel remind me of an account of the blessing of the Kaw (Kansas) River by the Serbian Orthodox parish in Kansas City in 1910: "The Kaw is not 'blue' like the Danube, nor clear like the mountain streams of Servia, but to the members of the little church in the Servian colony along its banks its muddy waters will be just as sacred as those of the rivers in their native land."
Or perhaps: "My grace is sufficient for thee: for my strength is made perfect in weakness" (2 Cor. 12:9).
Here, one more time, is that link to Orthodox History, where you can see all the images of St Raphael's first chapel.