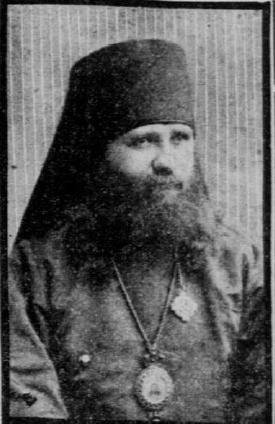 Today in 1901, St. Tikhon, bishop of the Russian Diocese in North America, celebrated the Divine Liturgy at the Greek church in Chicago. Here's an account of that visit, from Fr. Leonid Kishkovsky's article "Archbishop Tikhon in America," St. Vladimir's Theological Quarterly, vol. 19, no. 1 (1975):
Thus in 1900, during one of his visits to Chicago, Bishop Tikhon was approached by the rector and lay leaders of the local Greek church, who requested that he celebrate the Divine Liturgy at their church on a Sunday when his schedule allowed.

Accordingly, when Bishop Tikhon was next in Chicago in April 1901, after he celebrated Vigil at the small and uncomfortable Russian church on Saturday, April 27, he went to the Greek church—large and beautiful—for the following morning's Divine Liturgy. The congregation numbered some 400 persons on this occasion. The bishop celebrated entirely in Greek. The commemorations that morning included the Holy Synod of the Church of Russia, Bishop Tikhon and the locum tenens of the Ecumenical Throne, Metropolitan Nathanael.

After Liturgy the rector, Archimandrite Dorotheos, entertained Bishop Tikhon at lunch. Fr. Dorotheos thanked the bishop for celebrating in the Greek church. Bishop Tikhon in turn expressed his delight at the opportunity— his first in North America—to celebrate the Liturgy in the Greek language, the tongue of the Greek Church which was the mother of the Russian Church.

The account, written by Fr. John Nedzelnitsky (who presumably participated in the event), ends by drawing the moral that "the closer the unity among the Orthodox of various nationalities, the stronger will the Orthodox be in this land."
One of the things that caught my eye here is that the Chicago Greek priest, Fr. Dorotheos, was so hospitable and welcoming of St. Tikhon. Just a few years earlier, the same Fr. Dorotheos had picked a fight with St. Raphael (who was visiting Chicago), saying that the Patriarchate of Antioch should be under Greek control. At some point, I'll have to write something piecing together what we know of this Fr. Dorotheos.