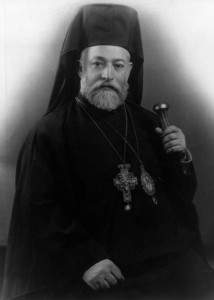 On December 16, 1934, the Orthodox of Chicago held a landmark pan-Orthodox liturgy that included Greek and Russian Metropolia bishops, as well as clergy from the local Serbian and Romanian churches. Here's an article on the liturgy from the Chicago Greek Daily (Dec. 9, 1934):
Next Sunday, Dec. 16, 7:30 P.M., in the church of St. Constantine and Helene, will take place a Grand Vesper, in which the Most Rev. Kallistos of San Francisco, and Most Rev. Leontios of the Russians will officiate.

The Most Rev. Leontios of the Russian church will be there with fifty members of his church choir, and the Head-Priest of the Serbians with his perfectly organized choir of fifty members, also the minister of the Rumanian church of forty-eight members directed by himself.

In addition all the ministers of the Greek Orthodox churches of Chicago and the Greek choir of all churches will attend. This event is the first one to be recorded in the chronicles of Chicago and will much advance the relations of the Orthodox Churches here.
The Greek bishop was Bishop Kallistos Papageorgapoulos, of San Francisco. (I'm pretty sure that Chicago didn't have a resident Greek bishop at the time.) The Russian bishop was Bishop Leonty Turkevich of Chicago, the future head of the Russian Metropolia (which became the OCA in 1970).
I haven't found anything else on this 1934 event — no Chicago Tribune articles, no photos, etc. It's possible that someone who attended the service is still alive (a 10-year-old then would be 90 now). If anyone knows more, please let me know.