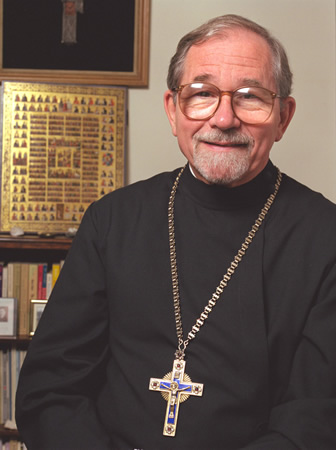 Fr Thomas Hopko, retired dean of St. Vladimir's Seminary, passed away this afternoon.
I first met Fr Tom in the 1990s, when my father joined the board of St Vladimir's Seminary. I must have been in sixth grade, or thereabouts. Fr Tom was always kind to me, and I spoke with him intermittently throughout my adolescence. I was an obnoxious, opinionated 17-year-old when I attended the St Vladimir's summer institute in 2001, but Fr Tom spent an extended period of time with me, one-on-one, discussing theology. (This was in the middle of the seminary's big summer event, and he was the dean!)
Then and later, I spoke and corresponded with Fr Tom about difficult subjects, touching on the core of our faith, and he always — always — responded with grace and care. At one point, when I was maybe 20, I was trying to understand the necessity of the Cross, and I had an extended dialogue by phone and email with Fr Tom. At one point, out of the blue, he sent me a package with tapes and CDs and materials on the subject. Other times, he would send me a postcard out of the blue, or an article of interest (by snail mail!). And it's not like we were incredibly close, or something. I was just a random kid, but that didn't matter to him. At his heart, he was a pastor.
As I matured, I become obsessed with church history — an obsession that continues to this day. Fr Tom was one of the first people to encourage me in my study of American Orthodox history. We had long debates over the phone — he had publicly advocated the "myth of unity," and I was finding evidence that contradicted it. I was a college dropout at the time, but he listened and read my evidence and considered my position, and ultimately he changed his views on what had actually happened in the past. I owe a great debt of gratitude to Fr Tom (and to Fr John Erickson), both of whom looked past my utter lack of credentials and listened to me and encouraged me.
My main point here is that Fr Tom was a really humble person who cared about everyone he met. May his memory be eternal.