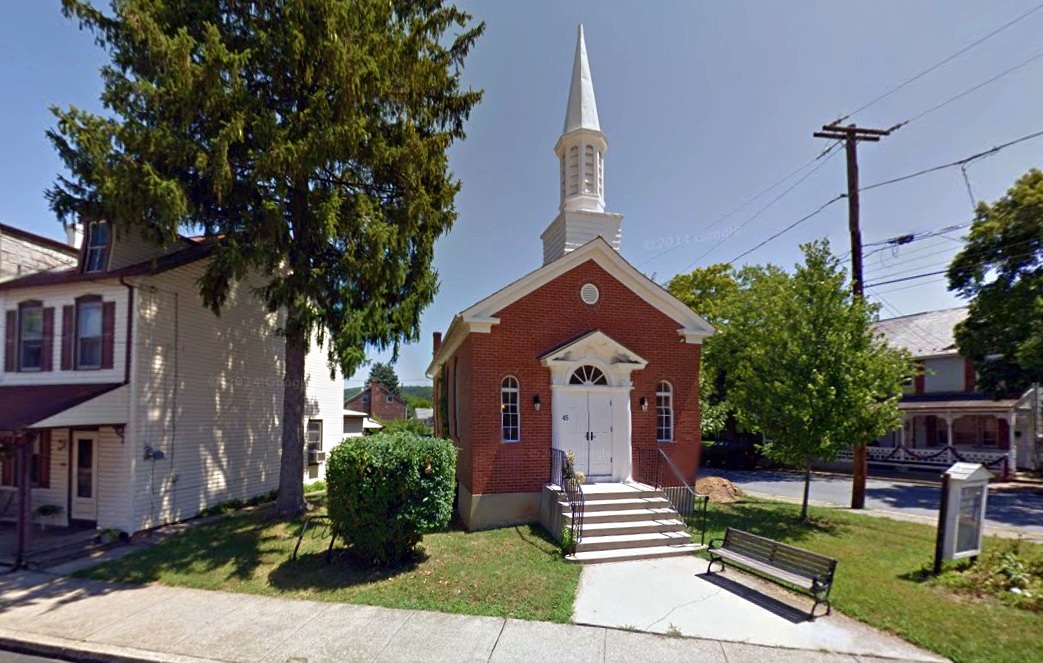 Today is the 26th anniversary of the passing from this life of Archbishop Wasyl Sawyna (Feb. 24, 1893 – Oct. 13, 1988), primate of the Ukrainian Autocephalic Orthodox Church of North and South America, an uncanonical church with, as far as I can tell, only one church that it ever claimed. The picture above was his archepiscopal see—the Ukrainian Orthodox Cathedral of St. Basil the Great in Emmaus, Pennsylvania. At 840 square feet, it can probably hold about 30-40 people, and now serves as the home of a financial planning office.
Here is his obituary as reported in the Morning Call (the local newspaper):
Bishop Wasyl Sawyna, 95, bishop of St. Basil the Great Ukrainian Autocephalic Orthodox Church, Emmaus, for many years, died Thursday in his home at 2224 Liberty St., Allentown. He was the husband of the late Halyna (Kuz) Sawyna.

Sawyna was ordained in Kiev, Russia, in 1922 by the Ukrainian Autocephalic (Independent) Orthodox Church.

In 1928, he was deported to Siberia and, in 1942, after capture by the Nazis, he was deported to Germany, where he worked in factories. He subsequently went to Belgium and worked in coal mines.

Sawyna came to America in 1952, working as a presser in the clothing industry, and on Sundays, was a pastor in New York City.

A year later, he served for a brief time as a priest for the Greek congregation at 2nd and Turner streets. He then served congregations in Reading, Philadelphia and other eastern Pennsylvania cities.

In 1958, he held the first service in the Emmaus church and, in 1959, he was consecrated a bishop of the Greek Orthodox Autocephalic Church.

Born in the Ukraine, he was a son of the late Panteliy and Melania Sawyna.

Survivors: Son, Dr. Vitaly of Allentown, and a grandchild.

Services: 3 p.m. Tuesday, Lehigh Valley Orthodox Mission of St. Paul, Emmaus. Call 7-9 p.m. Monday, Weber Funeral Home, 1619 Hamilton St., Allentown.
I first came across this intriguing story when I was doing some research on the properties where my parish had worshiped. The building pictured above was the first home of St. Paul Antiochian Orthodox Church, the congregation I serve as pastor. I noted in the property listings that one of the owners had been one Rev. Vitaly Sawyna, a name which immediately caught my eye. I began to Google around for him and discovered that he was now a gastroenterologist in Allentown. But then I found the name of his father Wasyl Sawyna. Most of what I've been able to discover about him is limited to the obituary above.
I've tried to sort out exactly which Ukrainian faction ordained him as a priest in 1922, but there are so many different names used for these groups that it's a bit confusing. What's clear is that he was ordained by one of the factions that was out of communion with the mainstream Orthodox Church.
I've learned that his 1959 episcopal consecration was at the hands of Evhen (Eugene) Batchinsky, a Ukrainian episcopus vagans who also led a rather interesting life (link is in French). Wasyl also apparently consecrated one James Parker Dees in 1964 at the tiny cathedral right here in Emmaus. Through Dees, he appears in the episcopal succession of a number of episcopi vagantes.
Given his great age, my guess is that services at the cathedral ended some time before his death in 1988. I do know that St. Paul's (my parish) began using the building in 1987 (renting it, I believe, for $1/yr. from Dr. Vitaly Sawyna) and then moving out in 1997 to a larger building. (2016 update: Dr. Sawyna has reposed.)
When Wasyl died in 1988, he was buried by the founding pastor of St. Paul's, though I cannot find any record of the burial in our church's books—as you can see from the obituary above, though, it did occur, and I have testimony from someone in the church who was there. What I was told by one of our parish's founders is that he was buried as a layman, which upset some of his handful of parishioners, who eventually consented to the burial since it seemed that there was no other way he would be buried as an Orthodox Christian. No one, it seems, claimed him as belonging to their church. The priest who did the burial departed this life several years ago, so I cannot ascertain exactly how it is he was able to be buried, since he had been out of communion with mainstream Orthodoxy for many years by that point. It is of course likely that he was baptized as an Orthodox Christian in Ukraine at birth, a baptism that would have predated all the schisms that took place there in the early 20th century.
I've tried contacting the family for more information on this fascinating man who spent his ecclesiastical life beyond the fringes of mainstream Orthodoxy, but I've not received any responses as yet. (I have an abiding interest in such people.) I did once visit the place where he and his wife are buried. It is not far from downtown Allentown.
If any of our readers happens to know more about Wasyl Sawyna, I would love to hear from you. I know that there are family members and descendants in the Eastern Pennsylvania region.