Last week, we delved into the early life and work of Mikhail Nesterov , an artist who was, in many ways, a bridge. He bridged the 19th and 20th centuries, Tsarist and Soviet Russia, the traditional and the modern. This week, we continue exploring his art, in particular his attempts to portray explicitly biblical and iconographic topics.
Two Passions
Nesterov's relationship with his parents was always full of trust. However, one time he found himself forced to go against the will of his parents. He fell in love. His chosen bride, a certain Maria Ivanovna Martynovskaia, was also from Ufa, but from a poor family.
In 1885, Nesterov married her in Moscow. His parents did not bless the union, and they were not present at the wedding. The love between Nesterov and his bride was intense and reciprocated. A year after their wedding, they had a baby girl. Nesterov was never as happy as on that day. However, only a day after giving birth, his wife Maria died of complications. Nesterov, destroyed by his grief, took to drawing Masha endlessly, resurrecting her in his memory. He remained for entire days at length at the cemetery. Three of his most famous paintings– The Final Resurrection, Christ's Bride, and The Princess are all dedicated to the memory of his wife.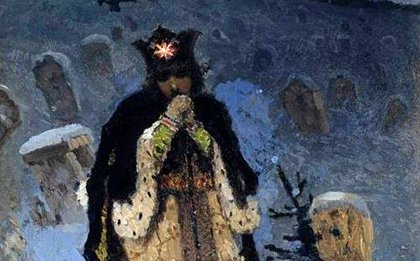 After the tragedy, Nesterov's art took a decided turn toward the more profound and effective. His pain never really disappeared, and it is present in nearly all of his subsequent female portraits. Thus, for example, we have the silent landscapes in In the Hills and Winter in the Monastery, where the girls are in heavy head coverings done in the "Old Style." These "Nesterovian" young women seem not to notice the world around them. Instead, they sorrow over something deep, seeming to be somewhere else in their thoughts. But where? In the future? The past? Neither. Rather, in that place where their true, eternal joy will reside.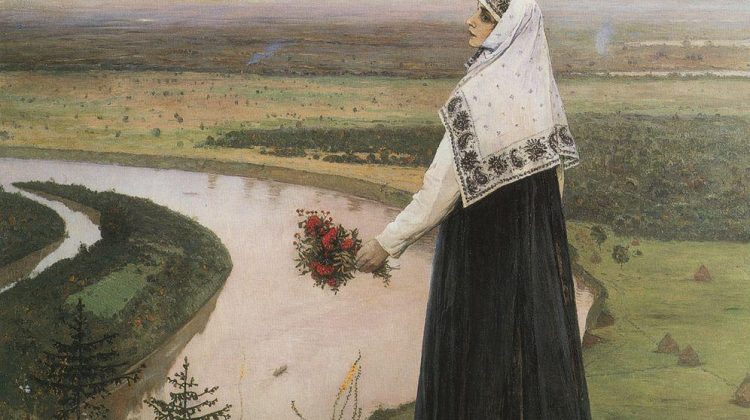 The same memorial tone is present in the painting The Great Tonsure, for which the Russian Academy of Artists officially inducted Nesterov into their ranks.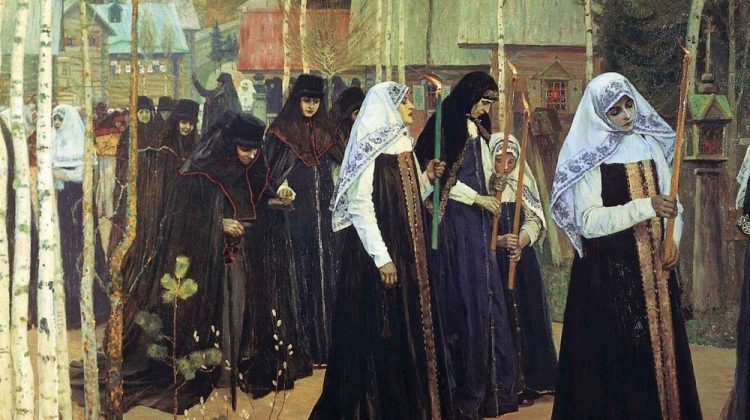 We see an Old Believer monastery in the woods. A procession of women, some already nuns, some still postulants. They are holding candles, preparing for the service of tonsure for one or more of their new members. There's a unique, special kind of rhythm to the painting, a kind of rhyme to the rows of black-robed nuns set against the columns of  birches and the simple wood of the monastic cells. The two dimensional space of the painting is enriched with these rhythms, and it becomes like a hymn, as though by looking at it, we can hear monastic chanting in the background. But it's not joy that we see here. It's still a profound sorrow at the moment of rejection of the world, as though something important is being taken away, not given, to the soul. This echo of profound sadness remained for a long time in his subsequent paintings.
My love for Masha, and her loss, have made me an artist. They instilled into my art that essential element that had been missing. They injected both living emotion and a living soul into my pictures."
This is how Nesterov himself assessed this tragic event, much later in life.
A few years after the death of his wife, Nesterov fell in love with a teacher named Iulia Nikolaevna Urusman. They never married, but lived together and had two children–Vera and Mikhail. Her face can be seen in several paintings.
In 1902, Nesterov suddenly fell in love again with Ekaterina Petrovna Vasilieva. They did get married, and remained married for the next forty years.
Nesterov spoke about this tempestuous part of his life in the following manner:
Two passions ruled over me my whole life. A passionate love and a passion for art. If not for these two passions, I would have been the most ordinary of men. Perhaps I may have even been a harmful ignoramus, a drunkard, or a complete failure."
At the same time, throughout his life, Nesterov had a profound sense of his own sinfulness and often repented sincerely, with pain in his heart:
The fact that I left one family and started another one was the worst sin of my life…To this day, I feel that this sin did not pass by me without punishment."
An Attempt at a New Kind of Art
In 1890 Nesterov's art turned in a new direction. He began to paint frescoes in churches. This choice would lead to the angriest denouncements and accolades, both from the artistic community and the ecclesiastical one. Nesterov accepted the invitation of a famous art historian and profession at the Kiev University, Adrian Prakhov, to paint the St. Vladimir Cathedral. It must be noted that most of the iconography in this church was painted by Nesterov's contemporary Victor Vasnetsov. Nesterov's contribution is slight compared to Vasnetsov's. He painted icons of Saints Cyrill and Methodius, St. Barbara, as well as a few others.
Not surprisingly, Nesterov didn't feel the necessary artistic freedom in this situation. At first, he was visibly influenced by Vasnetsov's much bolder style. Later, he allowed the organizing committee to dictate his style to a certain extent. He felt that he was being hemmed in "the direction of the official Orthodox template, a kind of decadent academic routine." He was only content with his icons of Barbara and St. Gleb. "That was something that belonged to me," he said.
It was exactly this "belonging to me" that bothered many in ecclesiastic circles. Fr. Paul Florensky, a famous theologian and philosopher, asked the following question, and not without good reason:
The conciliar wisdom of the Church cannot help but ask Vrubel, Vasnetsov, Nesterov, and others of these new 'iconography,' whether or not they understand that they are not depicting something that they have imagined and created, but a certain kind of existing reality. They must know that they can either say the truth about this truth (in which case they are creating truly original icons), or they are speaking an untruth…"
In other words, Florensky believed that what Vasnetsov, Nesterov, and Vrubel were doing in churches was completely beyond the pale of ecclesiastical art. He believed they were giving "false witness," that is, not telling the truth about the sacred.
Nesterov gave about twenty years of his life to iconography in churches. He received commissions directly from the royal family, the most famous of which is the Church of the Protection in the Sts. Martha and Mary Convent in Moscow.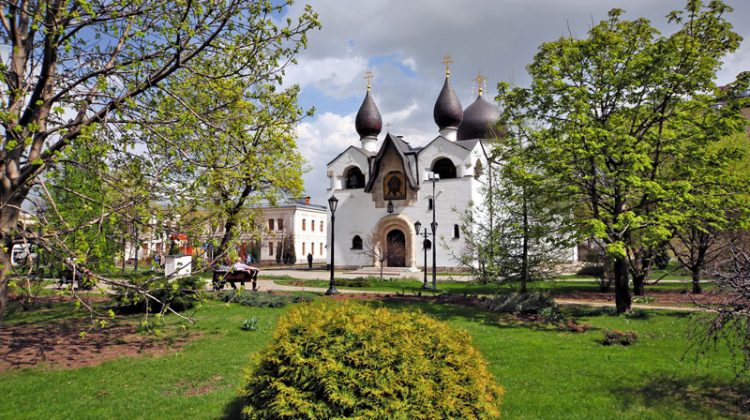 Nesterov painted the frescoes of this church without any external influence. His most famous paintings (they are not quite icons) on biblical themes are found here.
The most interesting aspects of this work is found in the small details. There is even some pre-Raphaelite influence, complete with their cultish devotion to refined beauty. Nesterov creates beautiful art, but he never really managed to enter into the spirit of iconography, the spirit of divine mystery. Unlike his masterpiece (Bartholomew), the uncreated did not join with the created. The aesthetic principle did not intertwine with the spiritual. Nesterov, later in his life, understood this limitation of his own art:
I've often thought later that I was not a very good iconographer. From the beginning, I was an artist of the easel, of the intimate."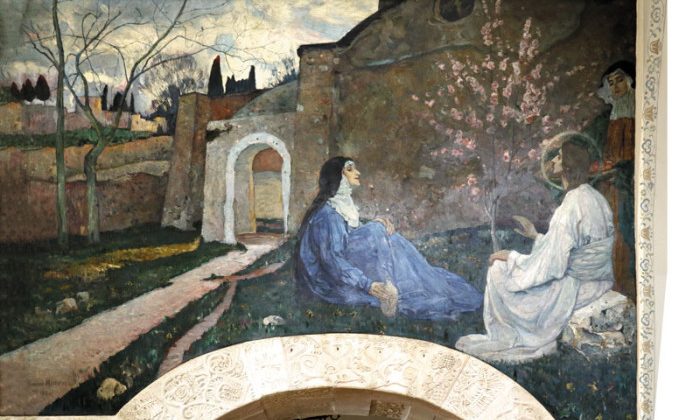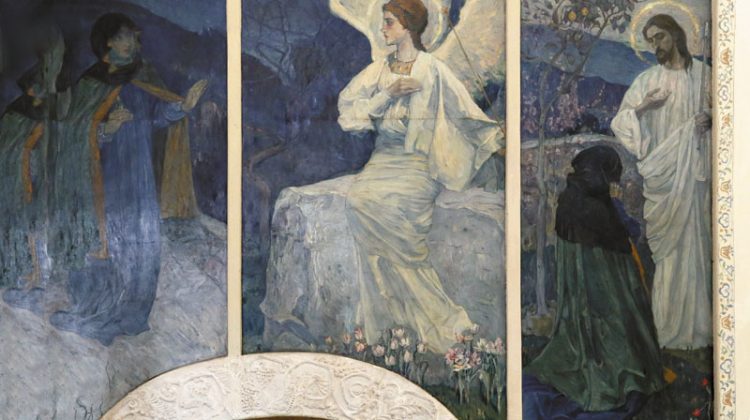 The Silence of the Artist
Truly, Nesterov's best art is found wherever he is most intimate, most in tune with his personal sufferings. One of his most striking paintings is Silence, which he painted in Solovki Monastery.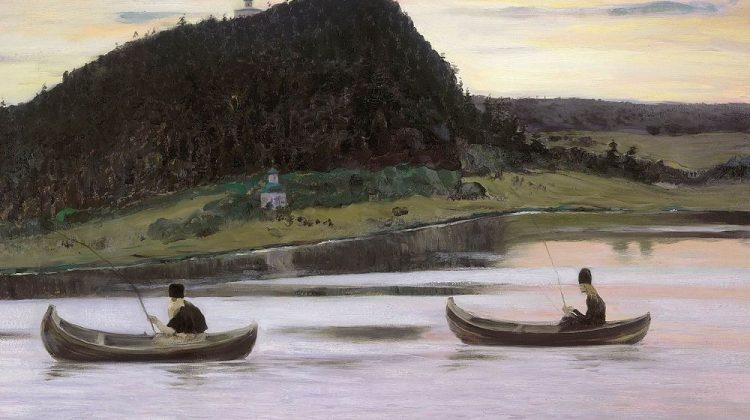 It shows the mystical light of the "White Nights," when the whole world falls silent and still. But in this silence of nature and man is something greater, something that cannot be measured by physical measurements. You can hear this silence, for it is like the still, small voice in the wind, where the Lord is (see 3 Kingdoms 19:11-12)
In Silence, Bartholomew, and The Eremite, we hear the unique song of Nesterov's art, his version of Holy Russia. The Revolution cut that melody off.
After the Revolution, he did not leave Russia, unlike many of his friends. Nesterov loved Russia too much. For many years, he lived in great hardship until he was moved into the "House of Scholars," which took care of the needs of scientists and artists.
Nesterov's niece, Maria Ivanovna Titova, remembers, "He…endured the authorities." In 1938, his father-in-law was executed, and his daughter was exiled (it took him a great deal of effort to secure her return). "Work, only work still has the power to distract me from the historic crime that has been perpetrated," he wrote in the early days of the October Revolution.
Despite the Revolution, he did not fully reject his previous themes. He still painted monks, young nuns, elders. Fittingly, he painted his Last Judgment in the 1920's, though he purposely dated it "1914". Still, these paintings were personal items that were not exhibited anywhere.
He suffered a martyric crisis along with his country as he tried to "find himself" in a new, Soviet reality. He never did glorify the ideology of the Bolsheviks in his art; instead, he, like many others, made his money by painting portraits. Nesterov left not a few wonderful portraits of artists and scientists of the time. They are amazingly energetic and impressive. Among them is the Portrait of Ivan Petrovich Pavlov (1935), for which Nesterov received the first degree award from Stalin himself.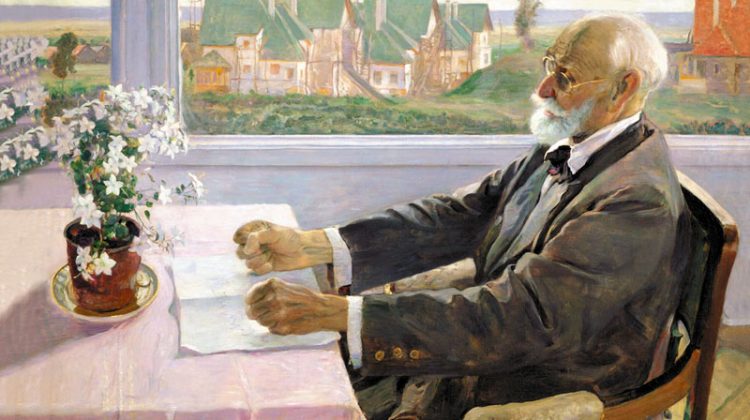 In 1935, he finally agreed to exhibit some of his later works, and the pieces he chose to show are almost exclusively portraits. He hoped to eventually exhibit his last pre-Revolutionary piece, The Soul of the People, which he finished in 1916, but that never happened.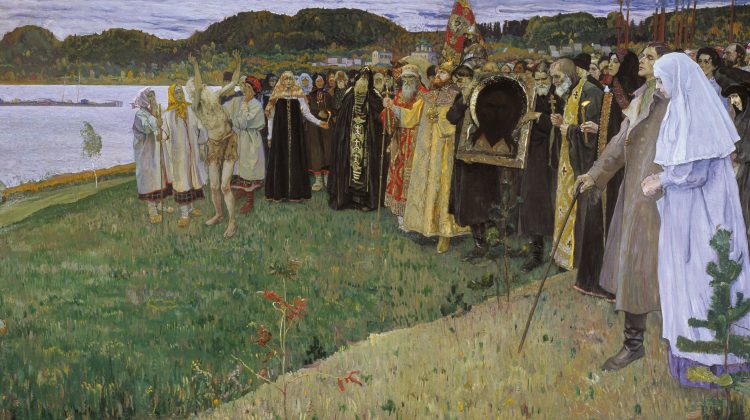 Here we see the theme of conciliarity (sobornost' in Russian)–people of different centuries, social classes; philosophers, writers on the path to Christ. This is a great procession of those who seek God and the rights of man. Nesterov worked on this theme in several other paintings, including The Path to Christ and Holy Russia. It is the most "Nesterovian" theme of all, in some sense, even though it can probably be argued these paintings are not as effective as his quiet elders and meek brides of Christ. As Gogol said,
The greater the truth, the more careful you have to be with it. Otherwise, it will suddenly turn into a commonplace, and people don't believe in commonplaces."
Conclusion
Nesterov lived a long, expansive, and interesting life. He had all the things that the world considers to lead to happiness. He had a full-blooded creative life, a large family with strong roots. All his daughters lived for a long time. Olga Mikhailovna lived to be 87, Natalia Mikhailovna–101, Vera Mikhailovna–99. All of them "preserved their minds bright and clear until the last day, and were spiritual people."
However, in his own words:
The time will come soon when I will have to walk over the threshold and come to know the greatest thing, the most important thing. But am I ready for this? I fear I am not, and I fear I will not be ready until the last moment. And that is bad. My life will turn out to be rushed, like a rough draft of a life. And in the meantime, every one of us knows ably and capably our saints met this moment. And not only the saints, but even our ancestors!"
In the end, Nesterov understood that though he dedicated himself to the knowledge of "this greatest thing, the most important thing," it could only be understood in the next life. The theme of Bartholomew is the intersection of the earthly and the heavenly, and this is the theme that remained the most important in his life's work and his soul's striving.
"It is not I who will live, but The Young Bartholomew." This is the creative last will and testament of Mikhail Nesterov.
If you enjoyed this post, and would like to learn more about Russian history and traditions, be sure to sign up for my Readers' Group. You'll be the first to know about my novels' release dates, giveaways, and contests. As a special thank you, I'll send you a preview of my new novel as well as a few other free gifts. Just tell me where to send them: