What if Jesus isn't asking you to go out into the deep?
We heard the passage in Luke on Sunday of Jesus calling his first disciples. It's a pretty dense story. (Duh. It's the Gospel.) I always heard it as saying that heeding the call to follow Christ is analogous to going out into the deep, leaving everything you know behind and doing something completely different. But as I listened, it occurred to me: What if Jesus isn't actually asking us to go out into the deep? Let's break down the story of Luke 5:1-11. 
5 One day as Jesus was standing by the Lake of Gennesaret,
the people were crowding around him and listening to the word of God. 
These people, for good reasons or not, were not attending to their duties. Given what human life was like at that time, they were necessarily sacrificing some of their responsibilities to their work, family, and society by being there. They were off at the lakeside crowding around Him—listening, but crowding. So there was some light aggression in their behavior, as there is in any crowd pressing towards a central object. That crowding suggests that perhaps there wasn't the kind of peace and order that would be the preferable environment for a public speaker to be heard. Presumably it wasn't going all that well. So Jesus acted. 
2
He saw at the water's edge two boats, left there by the fishermen, who were washing their nets.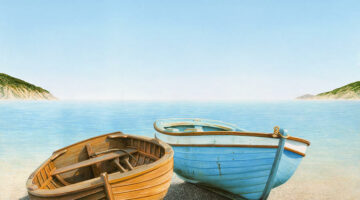 What He saw was the evidence of laborers at their work. But not only were they at their work, they were doing the tedious maintenance for their work. They were being conscientious and trying to do their work to the very best of their ability. They were caring for their supplies. And they didn't leave that work undone in order to crowd around a rabbi. 
3
He got into one of the boats, the one belonging to Simon, and asked him to put out a little from shore. Then he sat down and taught the people from the boat.
He got into one of the boats, the very vehicle of their work. He got into the work, the labor, the duty, but it was the duty of men who were doing the best job they could. That's what Jesus needed in order to reach the crowd gathered around Him.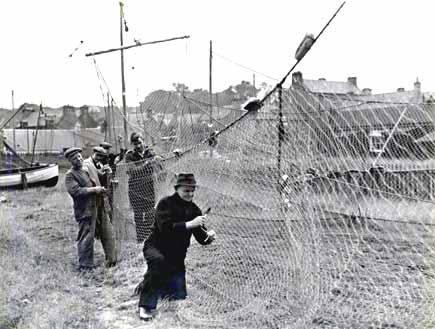 And then what did He ask Simon? He asked him to put out a little from shore. Not to go out into the deep. Jesus could preach the Word of God to the crowd only from within the work of someone who was doing that work conscientiously. Keeping his work near the crowd, near to the world, and keeping it well maintained, allowed Simon and his boat to be the medium by which Christ was visible and audible to the world. 
4
When he had finished speaking, he said to Simon, "Put out into deep water, and let down the nets for a catch."
Only when Christ had finished speaking did He ask Peter to put out into deep water. So it wasn't about the crowd anymore, it was about Peter. But what was Peter supposed to do out there in the deep water? His job. He was told to go out into a place of professional uncertainty, to be brave, and to keep at his work, but at that point it became a means of following God's commandments. And then it gets better.
5
Simon answered, "Master, we've worked hard all night and haven't caught anything. But because you say so, I will let down the nets."
It turns out that Simon and his fellow fishermen had just worked hard all night. So, they had been professionally discouraged. They'd worked hard for nothing, and then they were conscientious about cleaning up and maintaining their tools and supplies, and then Christ told them to try again. And they did. Oh, and they did say to Christ that they basically didn't think it would work. You know, they whined. A little. But then they did it anyway.
6
When they had done so, they caught such a large number of fish that their nets began to break.
7
So they signaled their partners in the other boat to come and help them, and they came and filled both boats so full that they began to sink.
And what a catch it was! It was so large that they had to call in other laborers to help them with the catch. They needed to band together to manage the fruitfulness of the work. And the difficulty is that it nearly unmade their boats! They could barely endure the generosity. 
8
When Simon Peter saw this, he fell at Jesus' knees and said, "Go away from me, Lord; I am a sinful man!"
9
For he and all his companions were astonished at the catch of fish they had taken,
10
and so were James and John, the sons of Zebedee, Simon's partners.
So what was Peter's first reaction? It wasn't repentance. It wasn't self-loathing. It was gratitude. And then the product of that gratitude was repentance. The goodness they received from Christ was so good that it made them feel intensely undeserving. "For he and all his companions were astonished at the catch of fish they had taken." This was actual material goodness. And the gratitude and then the repentance was so overwhelming that they fell down in fear. They saw a glimpse of the Glory of the Lord, His majesty and His mercy. "And they were sore afraid." 
Then Jesus said to Simon, "Don't be afraid; from now on you will fish for people."
11
So they pulled their boats up on shore, left everything and followed him.
And, just as in every other occasion when humans have a glimpse of the Glory of the Lord—glory being perhaps a goodness that nearly destroys the recipient by its sheer magnitude—the first thing He says to them is "do not be afraid." If the sequence is gratitude, repentance, fear, He says, "look, dial it back from fear to repentance and stay there."
And then there's this other funny part. I've had serious cognitive dissonance about this verse ever since I was a kid. Jesus says they'll fish for men. Notice though, He didn't say they wouldn't be fishermen anymore. In fact, it seems that He is saying that the very skills and conscientiousness that they built by their dutiful work were exactly what they were going to continue to do as they followed Him. Not some abstracted intellectual exercise disconnected from their duties and their livelihood.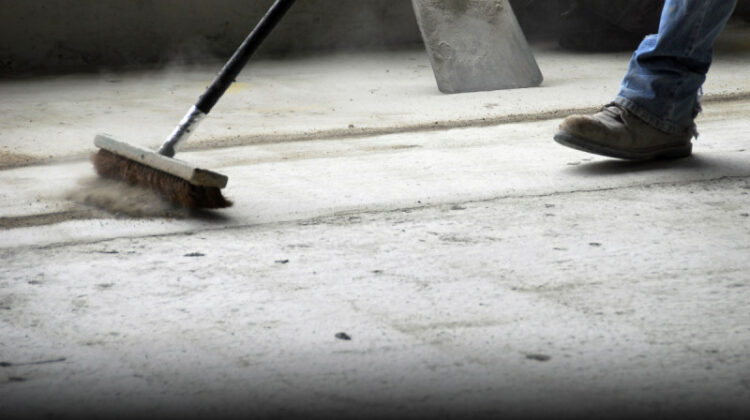 So, what work are you doing that you could do more conscientiously? And what work, by doing it more conscientiously, could you make be a vessel into which Christ could step in order to preach to the world? Remembering that once that happens, you merely have to put out a bit from the shore, to step a small amount away from the crowd. But you'll still be in your boat, in your work. And, then and only then, if He says to go out into the deep, do it. But keep your friends and your skills close at hand, and work together!