Welcome to The Music Stand. This is a blog about church music, liturgy, and the challenges of beautifying God's house in today's busy world. Have you ever felt that there's nothing more beautiful than a church filled with voices raised in song? It's that same experience—and how to share it with a world that needs it badly—that (literally) gets me up in the morning.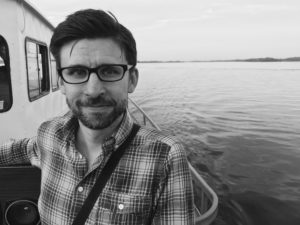 About Me
I was raised in the Orthodox Church by parents who converted when I was very young, but it wasn't until my secular humanist grandmother sent me a cassette of Russian Orthodox music for Christmas when I was thirteen that I really fell in love with church music. That tape changed my life. I vaguely remember doing other things, but from that time forward my love for Orthodox music shaped most of what I did.
I went to Westminster Choir College in Princeton when I was seventeen, where I majored in Composition, and, incidentally, met the woman who has been my wife for nearly two decades. (We now have six children, and another on the way.) A couple years after graduating from Westminster, I went to St. Tikhon's Seminary in Pennsylvania, where I now live and work as Director of Music. Recently, I also went and got a Master of Music in Conducting from Bard College in upstate New York, because no matter how much I study music, I feel like I only ever scratch the surface.
What I do with my time
When I'm not changing diapers or driving kids to ballet class, I teach music and conduct the choirs at St. Tikhon's Seminary and Monastery. When I'm not doing that, I compose and arrange music, write articles, make recordings, give concerts, sing services with my students at other churches, and travel around and talk to people about why church music is important and how they might be able to do it better. I also like reading, woodworking, skiing, playing frisbee with my wife, having friends over for dinner, and watching Netflix (which steals more of my time than I care to admit).
Some things I've done recently
In 2015, I founded the Chamber Choir of St. Tikhon's Monastery, the first professional vocal ensemble associated with an established Orthodox institution in America. We've given several concerts, and we made a recording of some of my music called Till Morn Eternal Breaks: Sacred Choral Music of Benedict Sheehan.
My first major anthology of music for use in services, called A Common Book of Church Hymns: Divine Liturgy, was published by St. Tikhon's in 2016. It contains nearly all of the music necessary to sing the Liturgy on any given day, in a format designed for today's smaller church choirs. Future volumes are in the works. I also have several of my compositions in print with Musica Russica.
If you'd like to read more of what I've written, you can find some of my articles on Orthodox Arts Journal, the Orthodox Christian Network, and Pravoslavie.ru.