Pious without stoking the flames of pride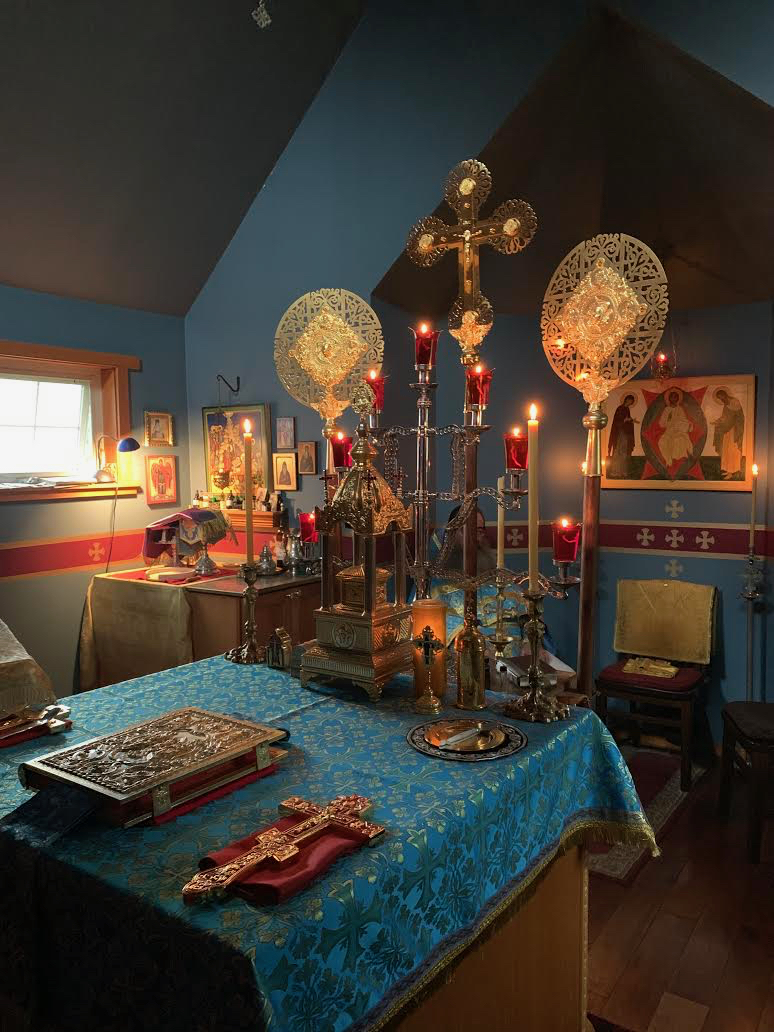 Some converts become experts in canon law and liturgical rubrics, and number themselves among the super correct. Archbishop Averky of Jordanville (of blessed memory) said of converts, "they are like envelopes and have a tendency to come unglued." None of this is meant to diminish the importance of external piety, nor making the cross properly. Liturgical correctness has it's place, and we should always avoiding sloppiness in the way we make the sign of the cross. Nor is it necessary to stand in the back of the temple during services. What is important is that we be careful that our piety is not meant to be seen by others.
I once knew a monk who always stood in the back of his monastery's catholicon, avoiding any public display whatsoever. He told me the temptation to be seen as a pious and holy monk was too strong, so he made a decision to give others no opportunity to witness him in worship.
It should not be construed that I am suggesting everyone stand in the back of the church, less everyone be doing battle for those few spots on a crowded Sunday morning. What I am suggesting is that we remember that we are there for worship. If you become aware that your motives for standing in front of others during worship is an occasion for pride, by all means move to the back. It is the Lord Who should see us, and for Whom our pious external acts of worship should give honor. Externals are meant to be an aid to worship, bringing our bodies into conformity with the heart. For this to happen, we must guard the heart, making sure the externals are not temptations for pride.
The way to make sure our piety takes us deeply into true worship is to express these external acts of worship in the privacy of our homes. Orthodox worship, expressed by standing before our icons, making the sign of the cross with care, and doing prostrations in the privacy of the home, instruct the heart in true worship. If we've established a true relationship with the Lord in our home, that which is expressed in the temple, publicly, will become authentic.
Love in Christ,
Abbot Tryphon
Monday September 23, 2019 / September 10, 2019
15th Week after Pentecost. Tone five.
Martyrs Menodora, Metrodora, and Nymphodora at Nicomedia (305).
New Hieromartyrs Ismail, Eugene, John, Constantine, Peter, Basil, Gleb, Basil, John, Nicholas, Palladius priests, Hieromartyrs Meletius and Gabriel, Martyr Symeon, Virgin-Martyr Tatiana (1937).
New Hieromartyr Warus bishop of Lipetsk (1938).
Venerable Paul the Obedient of the Kiev Caves (13th c.).
Venerable Prince Andrew, in monasticism Joasaph, of Kubensk, Vologda (1453).
Synaxis of the Holy Apostles Apelles, Lucius, and Clement of the Seventy..
Martyr Barypsabas in Dalmatia (2nd c.).
Blessed Pulcheria, the Empress of Greece (453).
Sts. Peter (826) and Paul (9th c.), bishops of Nicaea.
Synaxis of All Saints of Lipetsk.
Venerable Cassian, abbot of Spaso-Kamenny and St. Cyril of White Lake Monasteries (1469).
St. Salvius, bishop of Albi (584) (Gaul).
Venerable Finian of Ulster (Ireland), abbot (579) (Celtic & British).
St. Theodaard of Maastricht (668) (Neth.).
Translation of the relics of St. Egvin, bishop of Worchester.
Translation of the relics of St. Ethelwold, bishop of Winchester.
The Scripture Readings
Galatians 2:11-16
No Return to the Law
11 Now when Peter had come to Antioch, I withstood him to his face, because he was to be blamed; 12 for before certain men came from James, he would eat with the Gentiles; but when they came, he withdrew and separated himself, fearing those who were of the circumcision. 13 And the rest of the Jews also played the hypocrite with him, so that even Barnabas was carried away with their hypocrisy.
14 But when I saw that they were not straightforward about the truth of the gospel, I said to Peter before them all, "If you, being a Jew, live in the manner of Gentiles and not as the Jews, why do you compel Gentiles to live as Jews? 15 We who are Jews by nature, and not sinners of the Gentiles, 16 knowing that a man is not justified by the works of the law but by faith in Jesus Christ, even we have believed in Christ Jesus, that we might be justified by faith in Christ and not by the works of the law; for by the works of the law no flesh shall be justified.
Mark 5:24-34
24 So Jesus went with him, and a great multitude followed Him and thronged Him.
25 Now a certain woman had a flow of blood for twelve years, 26 and had suffered many things from many physicians. She had spent all that she had and was no better, but rather grew worse. 27 When she heard about Jesus, she came behind Him in the crowd and touched His garment. 28 For she said, "If only I may touch His clothes, I shall be made well."
29 Immediately the fountain of her blood was dried up, and she felt in her body that she was healed of the affliction. 30 And Jesus, immediately knowing in Himself that power had gone out of Him, turned around in the crowd and said, "Who touched My clothes?"
31 But His disciples said to Him, "You see the multitude thronging You, and You say, 'Who touched Me?' "
32 And He looked around to see her who had done this thing. 33 But the woman, fearing and trembling, knowing what had happened to her, came and fell down before Him and told Him the whole truth. 34 And He said to her, "Daughter, your faith has made you well.Go in peace, and be healed of your affliction."
Mark 5:24-34
24 So Jesus went with him, and a great multitude followed Him and thronged Him.
25 Now a certain woman had a flow of blood for twelve years, 26 and had suffered many things from many physicians. She had spent all that she had and was no better, but rather grew worse. 27 When she heard about Jesus, she came behind Him in the crowd and touched His garment. 28 For she said, "If only I may touch His clothes, I shall be made well."
29 Immediately the fountain of her blood was dried up, and she felt in her body that she was healed of the affliction. 30 And Jesus, immediately knowing in Himself that power had gone out of Him, turned around in the crowd and said, "Who touched My clothes?"
31 But His disciples said to Him, "You see the multitude thronging You, and You say, 'Who touched Me?' "
32 And He looked around to see her who had done this thing. 33 But the woman, fearing and trembling, knowing what had happened to her, came and fell down before Him and told Him the whole truth. 34 And He said to her, "Daughter, your faith has made you well.Go in peace, and be healed of your affliction."