Without Suffering the Cross Cannot be Embraced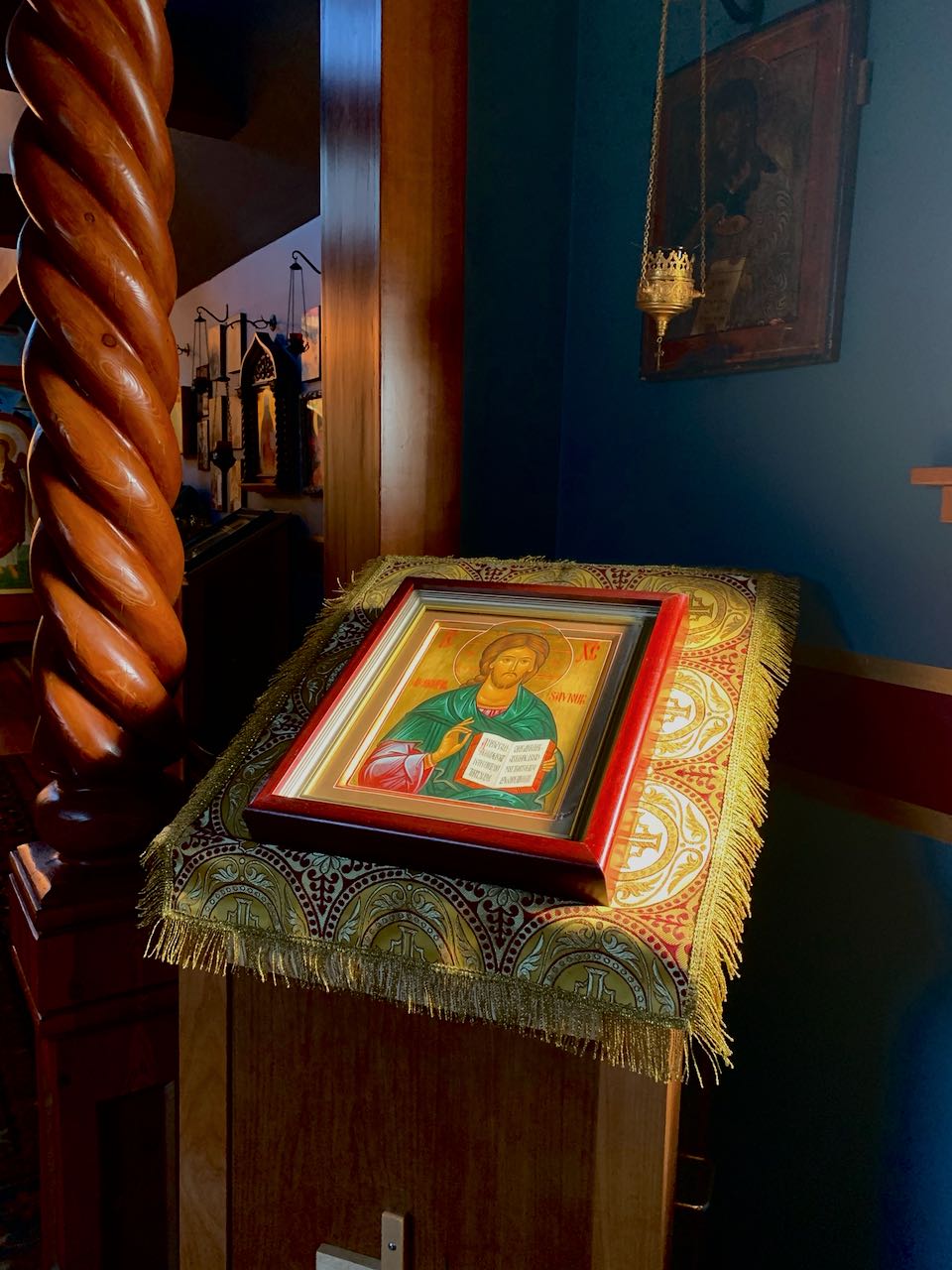 In comparison to eternity, the trials we suffer in this life are but a blip on the meter. Many are suffering job loss, illnesses, mortgage foreclosures, and all kinds of strife and hardships. Yet if we look at all these difficulties in light of eternity, this time of trial is nothing. "For I consider that the sufferings of this present time are not worthy to be compared with the glory which shall be revealed in us (Romans 8:18)".
God's desire that we all come to the knowledge of the truth, and be saved, is real. His love for us is all consuming, and nothing that happens in our life is without value in this journey to eternity. Our God does not send anything our way that is beyond our ability to withstand, for His grace is sufficient. Suffering has a salvific role, for it is in suffering that we are able to take up our cross and follow Christ. Without ascetic struggle, we remain unchanged, and transformation of self is unattainable.
God desires all be saved, yet this gift of salvation has to be accepted by the believer, since God will not force salvation on humanity. As we are free to reject the gift of salvation, suffering allows us to remember that this world is transitory, and that we need God. It is in that turning to God during periods of struggle that we grow in our faith, becoming one step closer to deification, where we are united, in our humanity, to God's divinity. This transformation takes place when we give ourselves over in humility to the will of God, embracing repentance as a way of life, and placing ourselves before God's mercy.
There is nothing a person can do to earn salvation, for it is a gift from God. Yet to be saved, we must work together with God in a synergeia whereby our entire being, including our will, effort and actions, are perfectly conformed with, and united to, the Divine.
Our Orthodox life is a life of suffering love, and this is perhaps the most difficult for most of us to accept. We are familiar with suffering, but will do anything we can to avoid it, forgetting that Christ told us that if we were to follow him, we had to take up our cross. Without suffering, the cross cannot be embraced.
With love in Christ,
Abbot Tryphon
Saturday June 5, 2021 / May 23, 2021
Fifth Week of Pascha. Tone four.
Venerable Michael the Confessor, bishop of Synnada (818).
Uncovering of the relics (1164) of St. Leontius, bishop and wonderworker of Rostov (1077).
Synaxis of All Saints of Rostov and Yaroslavl: Bishop Leontius (1073), Bishop Isaiah, wonderworker (1090), Bishop Ignatius (1288), Bishop James (1391), Archbishop Theodore (1394), Metropolitan Demetrius (1709), Archimandrite Abraham the wonderworker (1073-1077), Monk Irinarchus the Hermit (1616). Prince Basil ( 1238), Peter, Tsarevich of Ordynsk (1290) Blessed Isidore, Fool-for-Christ (1474) Blessed John of the Hair-Shirt (the Merciful), Fool-for-Christ (1580); Yaroslav Wonderworkers: Princes Basil (1249), Constantine (1257), Theodore (1299) and his sons David (1321) and Constantine (XIV); Pereslavl Wonderworkers: Monk Nikita the Stylite (1186), Monk Daniel the Archimandrite (1540), Prince Alexander Nevsky (1263), Prince Andrew of Smolensk (15th c.); Uglich Wonderworkers: Monk Paisius (1504), Monk Cassian (1504), Monk Ignatius of Lomsk (1591), Prince Roman (1285), Tsarevich Demetrius (1591); Poshekhonsk Wonderworkers: Monk Sylvester of Obnora (1379), Monk Sebastian (1542), Hieromartyr Adrian (1550), Monk Gennadius of Liubimograd and Kostroma (1565).
Venerable Euphrosyne, princess of Polotsk (1173).
Venerable Paisius, abbot, of Galich (1463).
Martyr Michael "the black-robed" of St. Sabbas' Monastery (9th c.).
Uncovering of the relics of Virgin-martyrs Eudocia, Daria, Daria, and Mary (2001).
Holy Myrrh-bearer Mary, wife of Cleopas.
Martyr Salonas the Roman (Greek).
Martyr Seleucus (Greek).
Venerable Damiane (King Demetrius) (1157) (Georgia).
St. Ioannicius I, archbishop of Serbia (1270).
The Scripture Readings
Acts 15:35-41
35 Paul and Barnabas also remained in Antioch, teaching and preaching the word of the Lord, with many others also.
Division over John Mark
36 Then after some days Paul said to Barnabas, "Let us now go back and visit our brethren in every city where we have preached the word of the Lord, and see how they are doing." 37 Now Barnabas was determined to take with them John called Mark. 38 But Paul insisted that they should not take with them the one who had departed from them in Pamphylia, and had not gone with them to the work. 39 Then the contention became so sharp that they parted from one another. And so Barnabas took Mark and sailed to Cyprus; 40 but Paul chose Silas and departed, being commended by the brethren to the grace of God. 41 And he went through Syria and Cilicia, strengthening the churches.
John 10:27-38
27 My sheep hear My voice, and I know them, and they follow Me. 28 And I give them eternal life, and they shall never perish; neither shall anyone snatch them out of My hand. 29 My Father, who has given them to Me, is greater than all; and no one is able to snatch them out of My Father's hand. 30 I and My Father are one."
Renewed Efforts to Stone Jesus
31 Then the Jews took up stones again to stone Him. 32 Jesus answered them, "Many good works I have shown you from My Father. For which of those works do you stone Me?"
33 The Jews answered Him, saying, "For a good work we do not stone You, but for blasphemy, and because You, being a Man, make Yourself God."
34 Jesus answered them, "Is it not written in your law, 'I said, "You are gods" '? 35 If He called them gods, to whom the word of God came (and the Scripture cannot be broken),36 do you say of Him whom the Father sanctified and sent into the world, 'You are blaspheming,' because I said, 'I am the Son of God'? 37 If I do not do the works of My Father, do not believe Me; 38 but if I do, though you do not believe Me, believe the works, that you may know and believe that the Father is in Me, and I in Him."