The Importance of Frequent Communion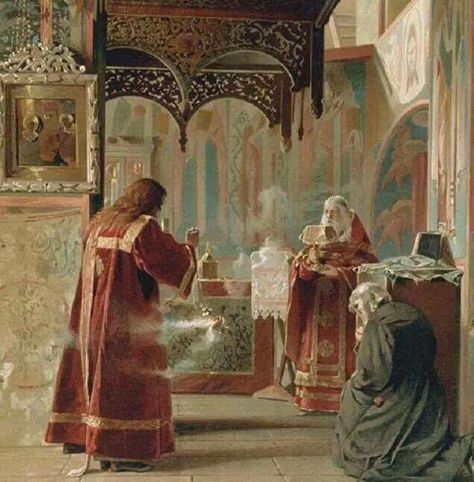 Eternity is an everlasting banquet (the Divine Liturgy) that takes place in the heavenly realm. Every time we participate in the Divine Liturgy we are transported into a place where there is neither time nor space, and participate in that very banquet. As we receive the Holy Mysteries (Christ's very Body and Blood), we receive the healing medicine for that which ails us. Our brokenness in both body and soul are given the healing medicine that we so very much need.
God is everywhere present and fills all things. There is no where He is not. Hell fire is none other than the Fire of God, burning those who are unloving and unresponsive to His invitation to commune with Him. God does not send anyone to hell, for we sentence ourselves. Eternity with God necessitates a transformation of our souls, that we be purified in order to be engulfed by God's uncreated light. Without transformation the fire of God burns us, not because He desires we be burned, but because our fallen nature can not withstand the presence of God without having been purified.
The Eucharist is the very medicine that God designed for this transformation. Our response should be one of humble submission to this invitation to commune with the very God Who created us. Holy Communion is meant to be the very agent that changes us, making us whole. The Holy Mysteries give us life. Frequent confession and communion are the means we have for change.
The Eucharist is both mystical and symbolic and is understood to be the genuine Body and Blood of Christ, precisely because bread and wine are the mysteries and symbols of God's true and genuine presence and His manifestation to us in Christ.
The Holy Eucharist defies analysis and explanation in purely rational and logical terms, precisely because it is a mystery. The Eucharist, as is Christ himself, is a mystery of the Kingdom of Heaven which, as Jesus has told us, is "not of this world." The Eucharist, because it belongs to God's Kingdom, is truly free from the earth-born "logic" of fallen humanity.
Saint John of Damascus says,  "If you enquire how this happens, it is enough for you to learn that it is through the Holy Spirit … we know nothing more than this, that the word of God is true, active, and omnipotent, but in its manner of operation unsearchable".
Before the reception of Holy Communion the following prayer is generally recited by the priest on behalf of all. It is each person's act of personal commitment to Christ, their promise of faith in Him and the Sacred Mysteries of His Church.
"I believe, O Lord, and I confess that Thou art truly the Christ, the Son of the Living God, who camest into the world to save sinners, of whom I am the first (1 Timothy 1:15).I believe also that this is truly Thine own most pure Body, and that this is truly Thine own most precious Blood. Therefore I pray Thee: Have mercy upon me and forgive me my transgressions, committed in word and deed, whether consciously or unconsciously. And make me worthy to partake without condemnation of Thy most pure Mysteries, for the remission of sins and unto life everlasting.Of Thy Mystical Supper, O Son of God, accept me today as a communicant. For I will not speak of Thy Mystery to Thine enemies, neither like Judas will I give Thee a kiss; but like the thief will I confess Thee: "Remember me, O Lord, in Thy Kingdom."May the communion of Thy Holy Mysteries be neither to my judgment, nor to my condemnation, 0 Lord, but to the healing of soul and body."
Love in Christ,
Abbot Tryphon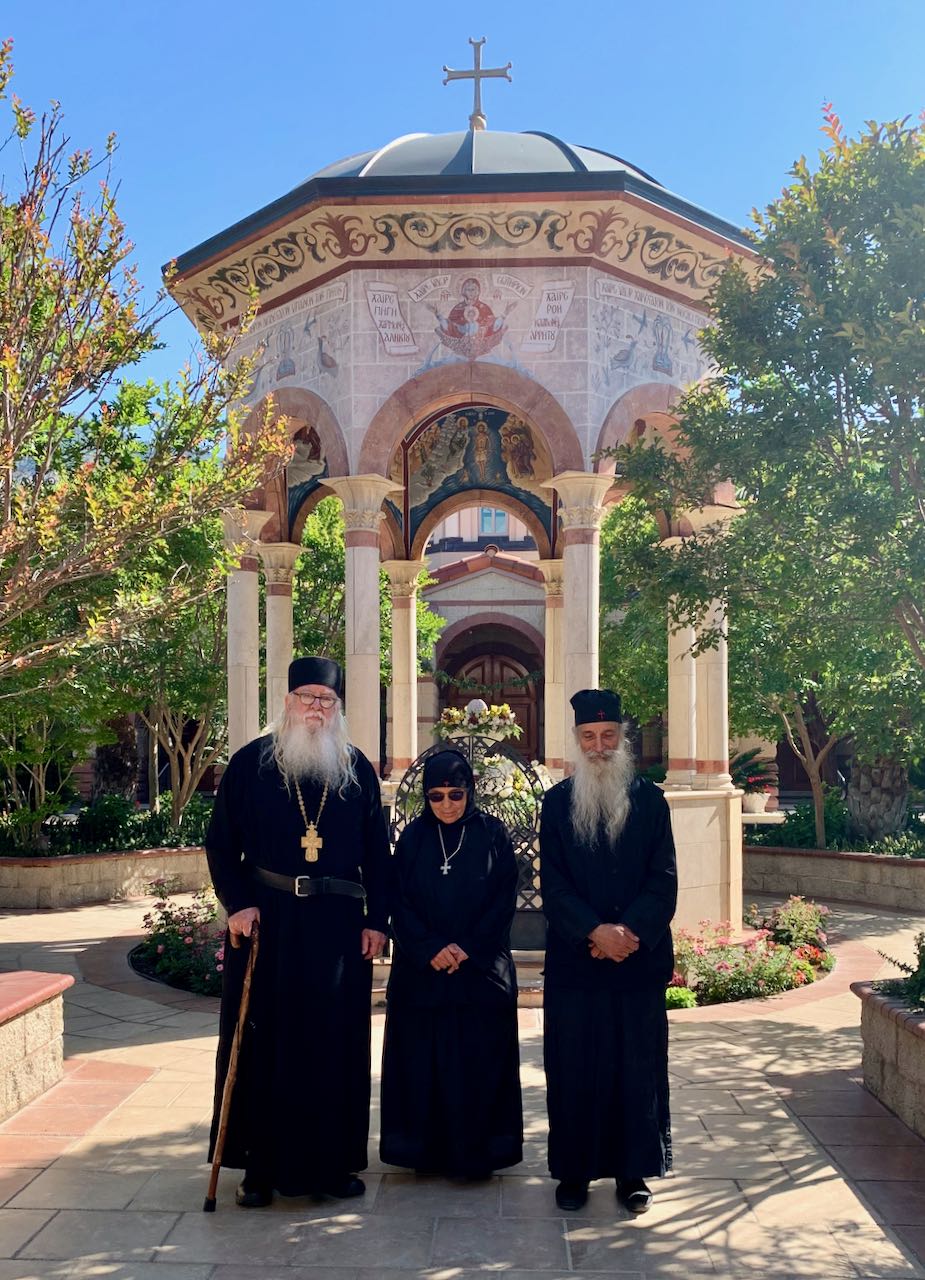 Photo: Abbot Tryphon, together with Abbess Markella of Life Giving Spring Monastery in Dunlap, California, and Abbot Paisios of Saint Anthony Monastery in Florence, Arizona.
Saturday May 8, 2021 / April 25, 2021
Bright Saturday.
Bright Week. Fast-free
Holy Apostle and Evangelist Mark (63).
Martyr Sergius (1938).
Venerable Basil Polianomerulsk (1767) (Romania).
Venerable Sylvester, abbot of Obnora (1379).
"Constantinople" Icon (1071) of the Mother of God.
St. Macedonius, patriarch of Constantinople (516).
St. Aninanus, second bishop of Alexandria (86).
Hieromartyr Stephen, bishop of Antioch (479).
Martyr Nice (Greek).
Eight anchorites who were martyred. (Greek).
The Scripture Readings
Luke 10:1-15
The Seventy Sent Out
10 After these things the Lord appointed seventy others also, and sent them two by two before His face into every city and place where He Himself was about to go. 2 Then He said to them, "The harvest truly is great, but the laborers are few; therefore pray the Lord of the harvest to send out laborers into His harvest. 3 Go your way; behold, I send you out as lambs among wolves. 4 Carry neither money bag, knapsack, nor sandals; and greet no one along the road. 5 But whatever house you enter, first say, 'Peace to this house.' 6 And if a son of peace is there, your peace will rest on it; if not, it will return to you. 7 And remain in the same house, eating and drinking such things as they give, for the laborer is worthy of his wages. Do not go from house to house. 8 Whatever city you enter, and they receive you, eat such things as are set before you. 9 And heal the sick there, and say to them, 'The kingdom of God has come near to you.' 10 But whatever city you enter, and they do not receive you, go out into its streets and say, 11 'The very dust of your city which clings to us we wipe off against you. Nevertheless know this, that the kingdom of God has come near you.' 12 But I say to you that it will be more tolerable in that Day for Sodom than for that city.
Woe to the Impenitent Cities
13 "Woe to you, Chorazin! Woe to you, Bethsaida! For if the mighty works which were done in you had been done in Tyre and Sidon, they would have repented long ago, sitting in sackcloth and ashes. 14 But it will be more tolerable for Tyre and Sidon at the judgment than for you. 15 And you, Capernaum, who are exalted to heaven, will be brought down to Hades.
Acts 3:11-16
Preaching in Solomon's Portico
11 Now as the lame man who was healed held on to Peter and John, all the people ran together to them in the porch which is called Solomon's, greatly amazed. 12 So when Peter saw it, he responded to the people: "Men of Israel, why do you marvel at this? Or why look so intently at us, as though by our own power or godliness we had made this man walk? 13 The God of Abraham, Isaac, and Jacob, the God of our fathers, glorified His Servant Jesus, whom you delivered up and denied in the presence of Pilate, when he was determined to let Him go. 14 But you denied the Holy One and the Just, and asked for a murderer to be granted to you, 15 and killed the Prince of life, whom God raised from the dead, of which we are witnesses. 16 And His name, through faith in His name, has made this man strong, whom you see and know. Yes, the faith which comes through Him has given him this perfect soundness in the presence of you all.
John 3:22-33
John the Baptist Exalts Christ
22 After these things Jesus and His disciples came into the land of Judea, and there He remained with them and baptized. 23 Now John also was baptizing in Aenon near Salim, because there was much water there. And they came and were baptized. 24 For John had not yet been thrown into prison.
25 Then there arose a dispute between some of John's disciples and the Jews about purification. 26 And they came to John and said to him, "Rabbi, He who was with you beyond the Jordan, to whom you have testified—behold, He is baptizing, and all are coming to Him!"
27 John answered and said, "A man can receive nothing unless it has been given to him from heaven. 28 You yourselves bear me witness, that I said, 'I am not the Christ,' but, 'I have been sent before Him.' 29 He who has the bride is the bridegroom; but the friend of the bridegroom, who stands and hears him, rejoices greatly because of the bridegroom's voice. Therefore this joy of mine is fulfilled. 30 He must increase, but I must decrease. 31 He who comes from above is above all; he who is of the earth is earthly and speaks of the earth. He who comes from heaven is above all. 32 And what He has seen and heard, that He testifies; and no one receives His testimony. 33 He who has received His testimony has certified that God is true.
1 Peter 5:6-14
6 Therefore humble yourselves under the mighty hand of God, that He may exalt you in due time, 7 casting all your care upon Him, for He cares for you.
8 Be sober, be vigilant; because your adversary the devil walks about like a roaring lion, seeking whom he may devour. 9 Resist him, steadfast in the faith, knowing that the same sufferings are experienced by your brotherhood in the world. 10 But may the God of all grace, who called us to His eternal glory by Christ Jesus, after you have suffered a while, perfect, establish, strengthen, and settle you. 11 To Him be the glory and the dominion forever and ever. Amen.
Farewell and Peace
12 By Silvanus, our faithful brother as I consider him, I have written to you briefly, exhorting and testifying that this is the true grace of God in which you stand.
13 She who is in Babylon, elect together with you, greets you; and so does Mark my son. 14 Greet one another with a kiss of love.
Peace to you all who are in Christ Jesus. Amen.
Mark 6:7-13
Sending Out the Twelve
7 And He called the twelve to Himself, and began to send them out two by two, and gave them power over unclean spirits. 8 He commanded them to take nothing for the journey except a staff—no bag, no bread, no copper in their money belts— 9 but to wear sandals, and not to put on two tunics.
10 Also He said to them, "In whatever place you enter a house, stay there till you depart from that place. 11 And whoever will not receive you nor hear you, when you depart from there, shake off the dust under your feet as a testimony against them. Assuredly, I say to you, it will be more tolerable for Sodom and Gomorrah in the day of judgment than for that city!"
12 So they went out and preached that people should repent. 13 And they cast out many demons, and anointed with oil many who were sick, and healed them.