And the Resurrection of Jesus Christ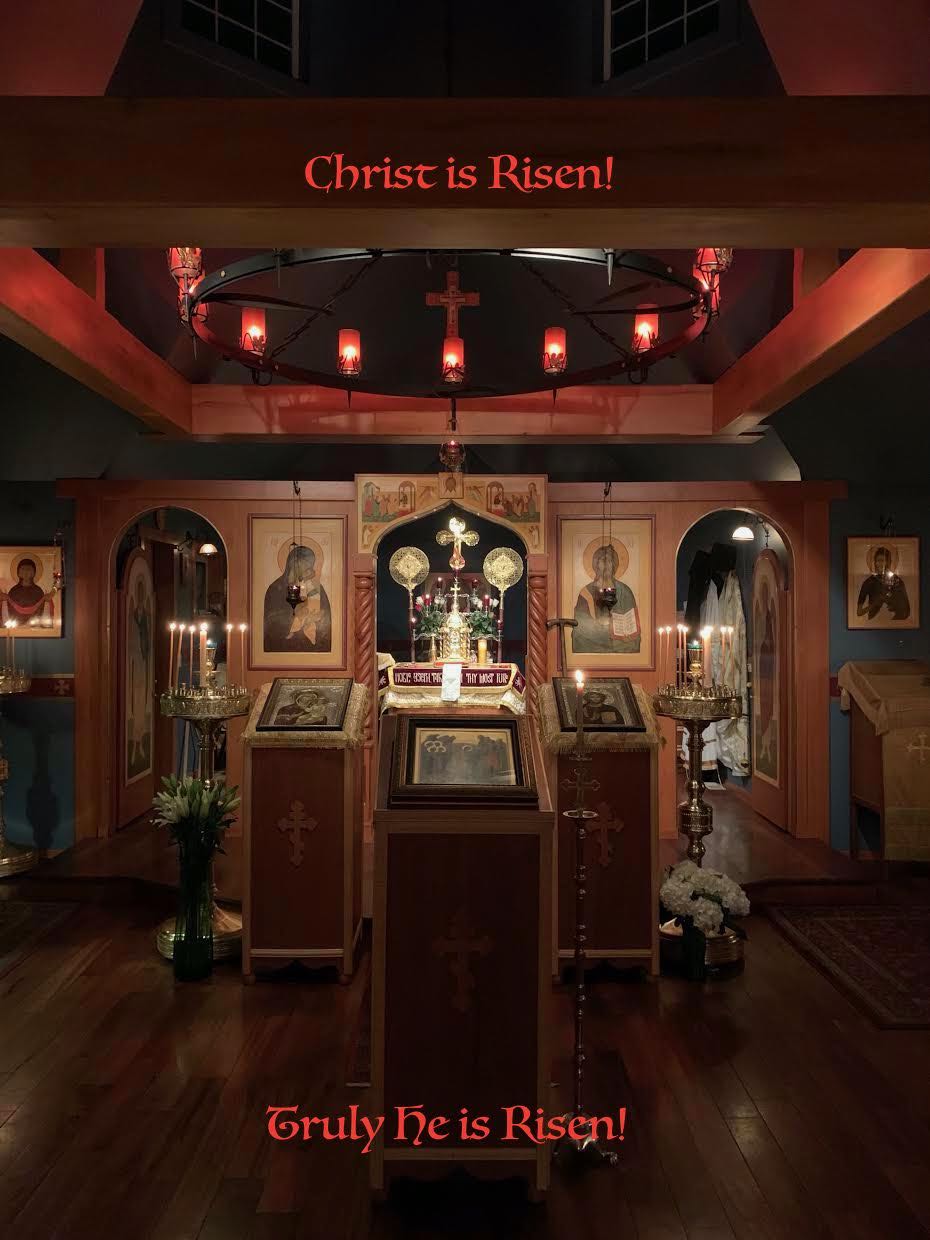 The jubilation of the Church is also the jubilation of the Divine Persons of the Holy Trinity at the accomplishment of our salvation. The resurrection of Christ, which brought on the defeat of the power of death, is the cause of joyful praise, because He is the cause of the death of death, and the destruction of Hades. Christ's resurrection is the beginning of an eternal life. Because of Christ's resurrection, death no longer separates us from God, and we are no longer destined for the darkness of Hades, but rather brought into heavenly mansions, to dwell there eternally in the fullness of everything good.
Christ is risen!
Truly He is risen!
With love in Christ,
Abbot Tryphon
Monday May 3, 2021 / April 20, 2021
Bright Monday.
Bright Week. Fast-free
Entire week, fast-free.
Venerable Theodore Trichinas ("the Hair-shirt Wearer"), hermit near Constantinople (400).
New Hieromartyr Theodosius, bishop of Kolomensk (1937).
Translation of the relics (1991) of St. Nicholas (Velimirovich) of Ochrid and Zhicha (1956) from America to Serbia.
Venerable Alexander (Oshevensky), abbot, near Onega Lake (1479).
Child-martyr Gabriel of Slutsk (Poland) (1690).
Sts. Gregory (593) and Anastasius (599), Patriarchs of Antioch.
Venerable Anastasius, abbot of Sinai (685).
St. Nicholas (Velimirovich), bishop of Ochrid and Zhicha, Serbia (1956) (Serbia).
"Cyprus" (392) and "Keepiazh" Icons of the Mother of God.
Venerables Athanasius (1380) and Ioasaph (1423) of Meteora, abbots.
Apostle Zacchaeus, bishop of Caesarea (1st c.).
Sts. Betran and Theotimus I, bishop of Tomis in Scythia Minor (410) (Romania).
St. Caedwalla, king of the West Saxons (689) (Celtic & British).
Blessed Anastasius I (599), patriarch of Antioch.
Hieromartyr Anastasius II, patriarch of Antioch (610).
The Scripture Readings
Acts 1:12-17
The Upper Room Prayer Meeting
12 Then they returned to Jerusalem from the mount called Olivet, which is near Jerusalem, a Sabbath day's journey. 13 And when they had entered, they went up into the upper room where they were staying: Peter, James, John, and Andrew; Philip and Thomas; Bartholomew and Matthew; James the son of Alphaeus and Simon the Zealot; and Judas the son of James. 14 These all continued with one accord in prayer [b]and supplication, with the women and Mary the mother of Jesus, and with His brothers.
Matthias Chosen
15 And in those days Peter stood up in the midst of the [c]disciples (altogether the number of names was about a hundred and twenty), and said, 16 "Men and brethren, this Scripture had to be fulfilled, which the Holy Spirit spoke before by the mouth of David concerning Judas, who became a guide to those who arrested Jesus; 17 for he was numbered with us and obtained a part in this ministry."
Acts 1:21-26
21 "Therefore, of these men who have accompanied us all the time that the Lord Jesus went in and out among us, 22 beginning from the baptism of John to that day when He was taken up from us, one of these must become a witness with us of His resurrection."
23 And they proposed two: Joseph called Barsabas, who was surnamed Justus, and Matthias. 24 And they prayed and said, "You, O Lord, who know the hearts of all, show which of these two You have chosen 25 to take part in this ministry and apostleship from which Judas by transgression fell, that he might go to his own place." 26 And they cast their lots, and the lot fell on Matthias. And he was numbered with the eleven apostles.
John 1:18-28
18 No one has seen God at any time. The only begotten Son, who is in the bosom of the Father, He has declared Him.
A Voice in the Wilderness
19 Now this is the testimony of John, when the Jews sent priests and Levites from Jerusalem to ask him, "Who are you?"
20 He confessed, and did not deny, but confessed, "I am not the Christ."
21 And they asked him, "What then? Are you Elijah?"
He said, "I am not."
"Are you the Prophet?"
And he answered, "No."
22 Then they said to him, "Who are you, that we may give an answer to those who sent us? What do you say about yourself?"
23 He said: "I am
'The voice of one crying in the wilderness:
"Make straight the way of the Lord," '
as the prophet Isaiah said."
24 Now those who were sent were from the Pharisees. 25 And they asked him, saying, "Why then do you baptize if you are not the Christ, nor Elijah, nor the Prophet?"
26 John answered them, saying, "I baptize with water, but there stands One among you whom you do not know. 27 It is He who, coming after me, is preferred before me, whose sandal strap I am not worthy to loose."
28 These things were done in Bethabara beyond the Jordan, where John was baptizing.
Matthew 28
He Is Risen
28 Now after the Sabbath, as the first day of the week began to dawn, Mary Magdalene and the other Mary came to see the tomb. 2 And behold, there was a great earthquake; for an angel of the Lord descended from heaven, and came and rolled back the stone from the door, and sat on it. 3 His countenance was like lightning, and his clothing as white as snow. 4 And the guards shook for fear of him, and became like dead men.
5 But the angel answered and said to the women, "Do not be afraid, for I know that you seek Jesus who was crucified. 6 He is not here; for He is risen, as He said. Come, see the place where the Lord lay. 7 And go quickly and tell His disciples that He is risen from the dead, and indeed He is going before you into Galilee; there you will see Him. Behold, I have told you."
8 So they went out quickly from the tomb with fear and great joy, and ran to bring His disciples word.
The Women Worship the Risen Lord
9 And [b]as they went to tell His disciples, behold, Jesus met them, saying, "Rejoice!" So they came and held Him by the feet and worshiped Him. 10 Then Jesus said to them, "Do not be afraid. Go and tell My brethren to go to Galilee, and there they will see Me."
The Soldiers Are Bribed
11 Now while they were going, behold, some of the guard came into the city and reported to the chief priests all the things that had happened. 12 When they had assembled with the elders and consulted together, they gave a large sum of money to the soldiers, 13 saying, "Tell them, 'His disciples came at night and stole Him away while we slept.' 14 And if this comes to the governor's ears, we will appease him and make you secure." 15 So they took the money and did as they were instructed; and this saying is commonly reported among the Jews until this day.
The Great Commission
16 Then the eleven disciples went away into Galilee, to the mountain which Jesus had appointed for them. 17 When they saw Him, they worshiped Him; but some doubted.
18 And Jesus came and spoke to them, saying, "All authority has been given to Me in heaven and on earth. 19 Go therefore and make disciples of all the nations, baptizing them in the name of the Father and of the Son and of the Holy Spirit, 20 teaching them to observe all things that I have commanded you; and lo, I am with you always, even to the end of the age." Amen.
Mark 16:1-8
He Is Risen
16 Now when the Sabbath was past, Mary Magdalene, Mary the mother of James, and Salome bought spices, that they might come and anoint Him. 2 Very early in the morning, on the first day of the week, they came to the tomb when the sun had risen. 3 And they said among themselves, "Who will roll away the stone from the door of the tomb for us?" 4 But when they looked up, they saw that the stone had been rolled away—for it was very large. 5 And entering the tomb, they saw a young man clothed in a long white robe sitting on the right side; and they were alarmed.
6 But he said to them, "Do not be alarmed. You seek Jesus of Nazareth, who was crucified. He is risen! He is not here. See the place where they laid Him. 7 But go, tell His disciples—and Peter—that He is going before you into Galilee; there you will see Him, as He said to you."
8 So they went out quickly and fled from the tomb, for they trembled and were amazed. And they said nothing to anyone, for they were afraid.
Luke 24:1-12
He Is Risen
24 Now on the first day of the week, very early in the morning, they, and certain other women with them, came to the tomb bringing the spices which they had prepared. 2 But they found the stone rolled away from the tomb. 3 Then they went in and did not find the body of the Lord Jesus. 4 And it happened, as they were greatly perplexed about this, that behold, two men stood by them in shining garments. 5 Then, as they were afraid and bowed their faces to the earth, they said to them, "Why do you seek the living among the dead? 6 He is not here, but is risen! Remember how He spoke to you when He was still in Galilee, 7 saying, 'The Son of Man must be delivered into the hands of sinful men, and be crucified, and the third day rise again.' "
8 And they remembered His words. 9 Then they returned from the tomb and told all these things to the eleven and to all the rest. 10 It was Mary Magdalene, Joanna, Mary the mother of James, and the other women with them, who told these things to the apostles. 11 And their words seemed to them like idle tales, and they did not believe them. 12 But Peter arose and ran to the tomb; and stooping down, he saw the linen cloths lying by themselves; and he departed, marveling to himself at what had happened.
John 20:1-10
The Empty Tomb
20 Now the first day of the week Mary Magdalene went to the tomb early, while it was still dark, and saw that the stone had been taken away from the tomb. 2 Then she ran and came to Simon Peter, and to the other disciple, whom Jesus loved, and said to them, "They have taken away the Lord out of the tomb, and we do not know where they have laid Him."
3 Peter therefore went out, and the other disciple, and were going to the tomb. 4 So they both ran together, and the other disciple outran Peter and came to the tomb first. 5 And he, stooping down and looking in, saw the linen cloths lying there; yet he did not go in. 6 Then Simon Peter came, following him, and went into the tomb; and he saw the linen cloths lying there, 7 and the handkerchief that had been around His head, not lying with the linen cloths, but folded together in a place by itself. 8 Then the other disciple, who came to the tomb first, went in also; and he saw and believed. 9 For as yet they did not know the Scripture, that He must rise again from the dead. 10 Then the disciples went away again to their own homes.
Luke 24:36-53
Jesus Appears to His Disciples
36 Now as they said these things, Jesus Himself stood in the midst of them, and said to them, "Peace to you." 37 But they were terrified and frightened, and supposed they had seen a spirit. 38 And He said to them, "Why are you troubled? And why do doubts arise in your hearts? 39 Behold My hands and My feet, that it is I Myself. Handle Me and see, for aspirit does not have flesh and bones as you see I have."
40 When He had said this, He showed them His hands and His feet. 41 But while they still did not believe for joy, and marveled, He said to them, "Have you any food here?" 42 So they gave Him a piece of a broiled fish and some honeycomb. 43 And He took it and ate in their presence.
The Scriptures Opened
44 Then He said to them, "These are the words which I spoke to you while I was still with you, that all things must be fulfilled which were written in the Law of Moses and the Prophets and the Psalms concerning Me." 45 And He opened their understanding, that they might comprehend the Scriptures.
46 Then He said to them, "Thus it is written, and thus it was necessary for the Christ to suffer and to rise from the dead the third day, 47 and that repentance and remission of sins should be preached in His name to all nations, beginning at Jerusalem. 48 And you are witnesses of these things. 49 Behold, I send the Promise of My Father upon you; but tarry in the city of Jerusalem until you are endued with power from on high."
The Ascension
50 And He led them out as far as Bethany, and He lifted up His hands and blessed them. 51 Now it came to pass, while He blessed them, that He was parted from them and carried up into heaven. 52 And they worshiped Him, and returned to Jerusalem with great joy, 53 and were continually in the temple praising and blessing God. Amen.