Christ asked those without sin to cast the first stone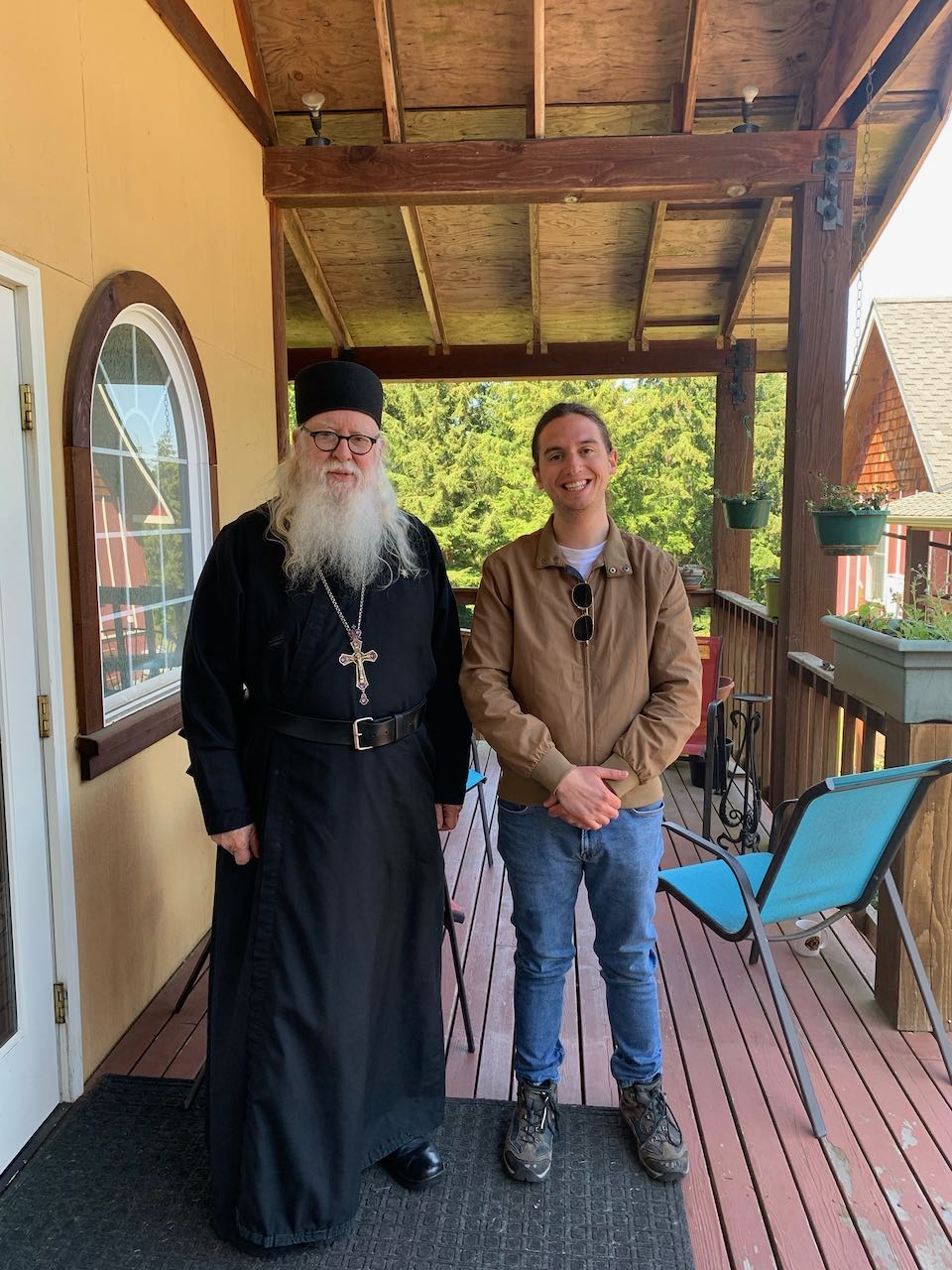 "We have all sinned and fall short of the Glory of God (Romans 3:23)." We Orthodox often miss the mark in understanding and ministering to this world. We fail to heed the words of Christ, "to love one another as God has loved us", and forget we are charged by Our Lord to bring healing and wholeness to those struggling in this fallen world. In our righteous indignation we show contempt to those who live apart from biblical morality, forgetting that we were ourselves called out of this fallen world by Christ. We forget, in our contempt for the sins of others, that it was this very Christ Who asked those in the crowd who were without sin to cast the first stone.
All of us have failed to fulfill the Commandments of God, and we are all deserving of being squashed like worms. But Jeremiah says, "Through the Lord's mercies we are not consumed, because His compassions fail not. They are new every morning; great is Your FAITHFULNESS" (Lam 3:22,23).
God never washes His hands of us. We may disappoint Him every day, but His love is without measure, and He responds with His saving Grace and Mercy. The Church, as the hospital of the soul, is the very institution founded by Our Lord to bring about wholeness and healing to everyone. It is the lie of Satan that some are deserving of nothing but our contempt and violence. But it is Christ Who has called us to compassion for those who are stuck in sin, and Who offers, through the Church, the saving, transformational healing that can turn hearts around, and turn sinners into saints.
When we turn from the Gospel of wholeness and healing, and act in such contemptuousness to the Gospel message of love, forgiveness, and redemption, those who are caught up in a sinful life will feel nothing but hopelessness, and the message of the Church will have been hidden from them.
A personal relationship with Christ changes our hearts, and saves us. It is not political extremism that preserves nations from immorality and sin, but the people themselves, who, having put on Christ, transform the society from within. As Saint Seraphim of Sarov said, when we acquire the Holy Spirit, a thousand around us will be saved.
Love in Christ,
Abbot Tryphon
Photo: Noah Cascio, from Fort Collins, Colorado, spent a few nights in retreat at the monastery.
Sunday May 16, 2021 / May 3, 2021
Third Sunday of Pascha: The Myrrh-bearing Women. Tone two.
Sts. Myrrh-Bearing Women, righteous Joseph of Arimathea and Nicodemus (celebration on the 3rd Sunday of Pascha).
Right-believing Tamara, Queen of Georgia (movable holiday on the Sunday of Myrrh-Bearing Women).
Sts. Mary and Martha, sisters of St. Lazarus (1st c.) (movable holiday on the Sunday of Myrrh-Bearing Women).
All Saints of Thessalonica (celebration on the 3rd Sunday of Pascha) (Greek).
New Hieromartyr Seraphim, archbishop of Phanarion and Neochorion (celebration on the 3rd Sunday of Pascha) (Greek).
New Monk-martyr Elias (Ardunis) of Mt. Athos and Kalamata (1688) (celebration on the 3rd Sunday of Pascha) (Greek).
New Martyr Demetrius of Peloponnesus (1803) (celebration on the 3rd Sunday of Pascha) (Greek).
Martyrs Timothy the Reader and his wife Maura of Antinoe in Egypt (286).
Venerable Theodosius, abbot of the Kiev Caves Monastery and founder of cenobitic monasticism in Russia (1074).
Venerable Peter the Wonderworker, bishop of Argos (10th c.).
New Hieromartyr Nicholas priest (1941).
Venerables Juliana (1393) and Eupraxia (1394) of Moscow.
St. Theophanes of Vatopedi, metropolitan of Peritheorion (14th c.).
Translation of the Dormition Icon of the Mother of God from Constantinople to the Kiev-Pechersk Far Caves (1073).
Pechersk Not-Wrought-by-Hand (1085), "Pechersk" (with Sts. Anthony and Theodosius) (1085), "Sven-Caves" (1288), "Yaskinsky"and Vlakhernsky" Icons of the Mother of God
St. Ansfried, bishop of Utrecht (1010).
Venerable Ecumenius the Wonderworker, bishop of Tricca (Greek).
Translation of the relics of Venerable Luke of Mt. Stirion (Greek).
New Martyr Ahmet the Calligrapher of Constantinople (Greek).
New Martyr Mary of Crete. (Greek).
St. Mamai, Catholicos of Georgia (744) (Georgia).
Venerable Fathers Michael and Arsenius the Georgians (9th c.) (Georgia).
Martyr Paul of Vilnius, Lithuania (17th c.).
Great-martyr Xenia the Wonderworker of Peloponnesus.
St. Glywys of Corwall.
The Scripture Readings
Mark 16:9-20
Mary Magdalene Sees the Risen Lord
9 Now when He rose early on the first day of the week, He appeared first to Mary Magdalene, out of whom He had cast seven demons. 10 She went and told those who had been with Him, as they mourned and wept. 11 And when they heard that He was alive and had been seen by her, they did not believe.
Jesus Appears to Two Disciples
12 After that, He appeared in another form to two of them as they walked and went into the country. 13 And they went and told it to the rest, but they did not believe them either.
The Great Commission
14 Later He appeared to the eleven as they sat at the table; and He rebuked their unbelief and hardness of heart, because they did not believe those who had seen Him after He had risen. 15 And He said to them, "Go into all the world and preach the gospel to every creature. 16 He who believes and is baptized will be saved; but he who does not believe will be condemned. 17 And these signs will follow those who believe: In My name they will cast out demons; they will speak with new tongues; 18 they will take up serpents; and if they drink anything deadly, it will by no means hurt them; they will lay hands on the sick, and they will recover."
Christ Ascends to God's Right Hand
19 So then, after the Lord had spoken to them, He was received up into heaven, and sat down at the right hand of God. 20 And they went out and preached everywhere, the Lord working with them and confirming the word through the accompanying signs. Amen.
Acts 6:1-7
Seven Chosen to Serve
6 Now in those days, when the number of the disciples was multiplying, there arose a complaint against the Hebrews by the Hellenists, because their widows were neglected in the daily distribution. 2 Then the twelve summoned the multitude of the disciples and said, "It is not desirable that we should leave the word of God and serve tables. 3 Therefore, brethren, seek out from among you seven men of good reputation, full of the Holy Spirit and wisdom, whom we may appoint over this business; 4 but we will give ourselves continually to prayer and to the ministry of the word."
5 And the saying pleased the whole multitude. And they chose Stephen, a man full of faith and the Holy Spirit, and Philip, Prochorus, Nicanor, Timon, Parmenas, and Nicolas, a proselyte from Antioch, 6 whom they set before the apostles; and when they had prayed, they laid hands on them.
7 Then the word of God spread, and the number of the disciples multiplied greatly in Jerusalem, and a great many of the priests were obedient to the faith.
Mark 15:43-16:8
43 Joseph of Arimathea, a prominent council member, who was himself waiting for the kingdom of God, coming and taking courage, went unto Pilate and asked for the body of Jesus. 44 Pilate marveled that He was already dead; and summoning the centurion, he asked him if He had been dead for some time. 45 So when he found out from the centurion, he granted the body to Joseph. 46 Then he bought fine linen, took Him down, and wrapped Him in the linen. And he laid Him in a tomb which had been hewn out of the rock, and rolled a stone against the door of the tomb. 47 And Mary Magdalene and Mary the mother of Joses observed where He was laid.
He Is Risen
16 Now when the Sabbath was past, Mary Magdalene, Mary the mother of James, and Salome bought spices, that they might come and anoint Him. 2 Very early in the morning, on the first day of the week, they came to the tomb when the sun had risen. 3 And they said among themselves, "Who will roll away the stone from the door of the tomb for us?" 4 But when they looked up, they saw that the stone had been rolled away—for it was very large. 5 And entering the tomb, they saw a young man clothed in a long white robe sitting on the right side; and they were alarmed.
6 But he said to them, "Do not be alarmed. You seek Jesus of Nazareth, who was crucified. He is risen! He is not here. See the place where they laid Him. 7 But go, tell His disciples—and Peter—that He is going before you into Galilee; there you will see Him, as He said to you."
8 So they went out quickly and fled from the tomb, for they trembled and were amazed. And they said nothing to anyone, for they were afraid.
Hebrews 13:7-16
Concluding Religious Directions
7 Remember those who rule over you, who have spoken the word of God to you, whose faith follows, considering the outcome of their conduct. 8 Jesus Christ is the same yesterday, today, and forever. 9 Do not be carried about with various and strange doctrines. For it is good that the heart be established by grace, not with foods which have not profited those who have been occupied with them.
10 We have an altar from which those who serve the tabernacle have no right to eat. 11 For the bodies of those animals, whose blood is brought into the sanctuary by the high priest for sin, are burned outside the camp. 12 Therefore Jesus also, that He might sanctify the people with His own blood, suffered outside the gate. 13 Therefore let us go forth to Him, outside the camp, bearing His reproach. 14 For here we have no continuing city, but we seek the one to come. 15 Therefore by Him let us continually offer the sacrifice of praise to God, that is, the fruit of our lips, giving thanks to His name. 16 But do not forget to do good and to share, for with such sacrifices God is well pleased.
Matthew 11:27-30
27 All things have been delivered to Me by My Father, and no one knows the Son except the Father. Nor does anyone know the Father except the Son, and the one to whom the Son wills to reveal Him. 28 Come to Me, all you who labor and are heavy laden, and I will give you rest. 29 Take My yoke upon you and learn from Me, for I am gentle and lowly in heart, and you will find rest for your souls. 30 For My yoke is easy and My burden is light."