The power and influence of good deeds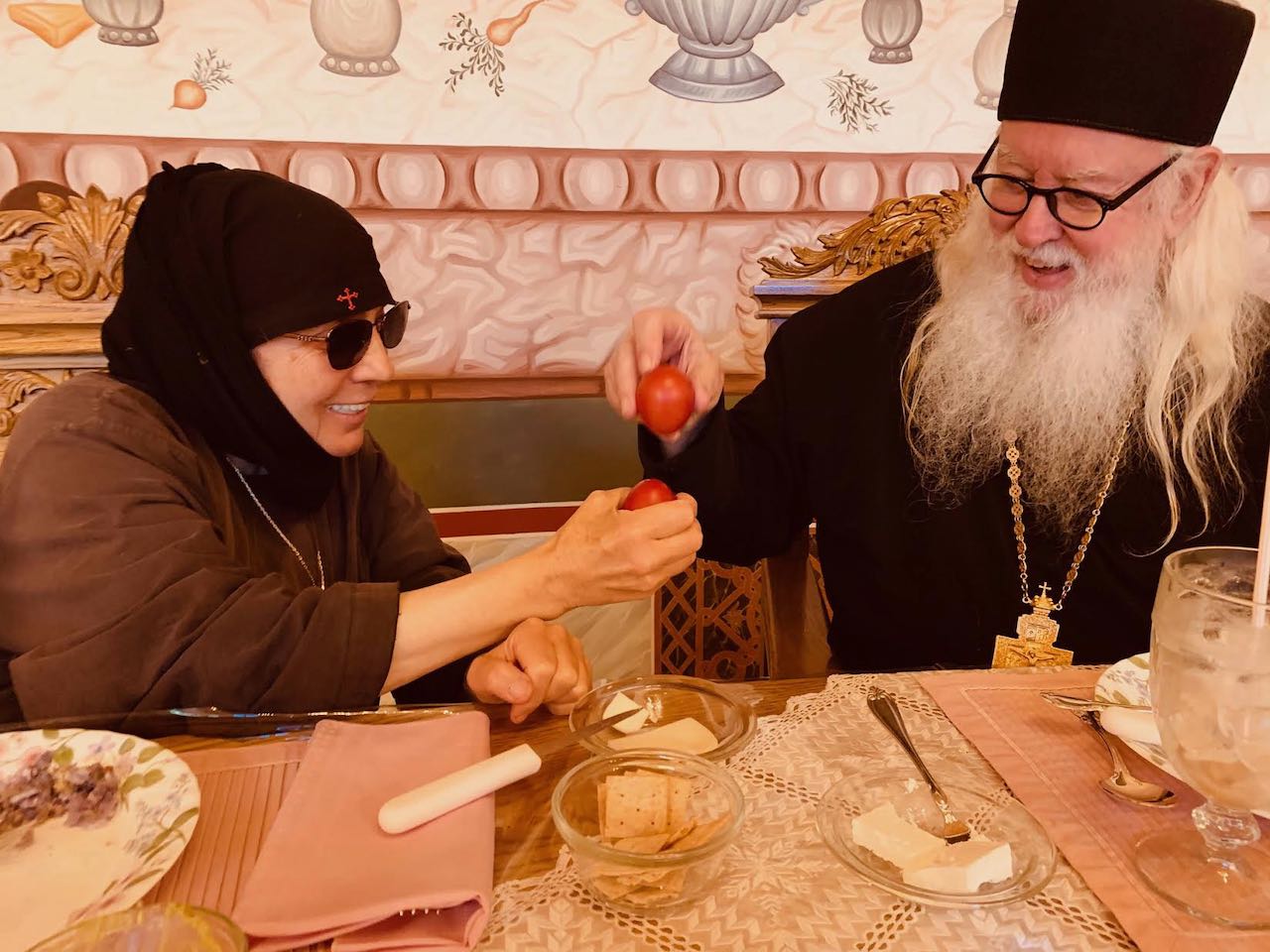 "For it is the will of God, that with well-doing ye may put to silence the ignorance of foolish men (1 Peter 2:15).
Bishop Nikolai Velimirovic tells us in The Prologue from Ochrid that we are better off if we do not engage others in lengthy debates and fruitless discussions, but that we can better change their hearts by our love and good deeds. Arguing with others, even over matters of faith, is usually a fruitless venture, rarely leading the other to ponder the truth of your words. Better to demonstrate truth by holiness of life, patience, and kindness in our response. Entering into heated words most often leads to a standoff, where only the demons win in the end.
"It is difficult, my brethren, to dispute with an atheist; it is difficult to converse with a stupid man; it is difficult to change an embittered man. It is only with the greatest difficulty that you will convince an atheist, a stupid man, or an embittered man, with words."
"If you argue with an atheist on his own diabolical terms, you simply strengthen the demon of atheism. If you converse with a stupid man in a spirit of derision, the darkness of stupidity will be made the greater. If you think to change a bitter man by anger, you will merely add more fuel to the fire of bitterness."
Responding to the embittered man, the angry man, or the stupid man, while hoping to win him over, does nothing for him, and eventually gives power to the demon who would devour the man's soul, and consume your own. Thinking you have to prove the correctness of your point of view does nothing for truth, but only gives power to the demons of pride, anger, and stupidity. The power and influence of good deeds always wins out in the end.
With love in Christ,
Abbot Tryphon
Photos: Gerontissa Markella of Life Giving Spring Monastery in Dunlap, CA. Mother Markella is a sister, a mother, and a friend to me. Her nuns are like family.
Friday May 7, 2021 / April 24, 2021
Bright Friday.
Bright Week. Fast-free
"Life- giving Spring" Icon of the Most Holy Theotokos (movable holiday on the Friday of the Bright Week).
Commemoration of the renewal (sanctification) of the Holy Theotokos temple near the Life-giving Spring in Constantinople (5th c.) (movable holiday on the Friday of the Bright Week).
"Pochaev" Icon of the Most Holy Theotokos (movable holiday on the Friday of the Bright Week).
Martyr Sabbas Stratelates ("the General") of Rome, and 70 soldiers with him (272).
St. Alexis Toth, priest of Wilkes Barre, Pennsylvania (1909).
Martyr Sergius (1938).
Hieromartyr Branko of Veljusa, Serbia (1941).
Venerables Sabbas (13th c.) and Alexis the Hermit of the Kiev Caves.
Martyr Alexander of Lyons (177) (Gaul).
Martyrs Pasicrates, Valentine and Julius in Moesia (Bulgaria) (228).
Martyrs Eusebius, Neon, Leontius, Longinus, and others at Nicomedia (303).
Venerable Thomas the Fool of Syria (550).
Venerable Elizabeth the Wonderworker of Constantinople (540).
St. Symeon of Transylvania (1656) (Romania).
"Molchensk" Icon (1405) of the Mother of God.
Saint Luke, Tailor of Mytilene (1564).
New Martyr Nicholas of Magnesia (1795).
St. Elias (Iorest) (1678) and St. Sava (Brancovici) (1683), metropolitans of Ardeal, confessors against the Calvinists (Transylvania).
St. Joseph the Confessor, bishop of Maramures (1711) (Romania).
New Martyr Doukas of Mitylene (1564) (Greek).
St. Innocent, presbyter on the Mount of Olives (4th c.).
St. Xenophon, founder of the monastery of St. George (Xenophontos) on Mt. Athos (1018).
New Martyr George in Anatolia (1796).
St. Wilfrid, archbishop of York (709) (Celtic & British).
St. Egbert, bishop of Iona (729) (Celtic & British).
St. Mellitus, archbishop of Canterbury. (Celtic & British).
Uncovering of the relics of St. Yvo, bishop. (Celtic & British).
The Scripture Readings
Acts 3:1-8
A Lame Man Healed
3 Now Peter and John went up together to the temple at the hour of prayer, the ninth hour. 2 And a certain man lame from his mother's womb was carried, whom they laid daily at the gate of the temple which is called Beautiful, to ask alms from those who entered the temple; 3 who, seeing Peter and John about to go into the temple, asked for alms. 4 And fixing his eyes on him, with John, Peter said, "Look at us." 5 So he gave them his attention, expecting to receive something from them. 6 Then Peter said, "Silver and gold I do not have, but what I do have I give you: In the name of Jesus Christ of Nazareth, rise up and walk." 7 And he took him by the right hand and lifted him up, and immediately his feet and ankle bones received strength. 8 So he, leaping up, stood and walked and entered the temple with them—walking, leaping, and praising God.
Philippians 2:5-11
The Humbled and Exalted Christ
5 Let this mind be in you which was also in Christ Jesus, 6 who, being in the form of God, did not consider it robbery to be equal with God, 7 but made Himself of no reputation, taking the form of a bondservant, and coming in the likeness of men. 8 And being found in appearance as a man, He humbled Himself and became obedient to the point of death, even the death of the cross. 9 Therefore God also has highly exalted Him and given Him the name which is above every name, 10 that at the name of Jesus every knee should bow, of those in heaven, and of those on earth, and of those under the earth, 11 and that every tongue should confess that Jesus Christ is Lord, to the glory of God the Father.
John 2:12-22
12 After this He went down to Capernaum, He, His mother, His brothers, and His disciples; and they did not stay there many days.
Jesus Cleanses the Temple
13 Now the Passover of the Jews was at hand, and Jesus went up to Jerusalem. 14 And He found in the temple those who sold oxen and sheep and doves, and the money changers doing business. 15 When He had made a whip of cords, He drove them all out of the temple, with the sheep and the oxen, and poured out the changers' money and overturned the tables. 16 And He said to those who sold doves, "Take these things away! Do not makeMy Father's house a house of merchandise!" 17 Then His disciples remembered that it was written, "Zeal for Your house [b]has eaten Me up."
18 So the Jews answered and said to Him, "What sign do You show to us, since You do these things?"
19 Jesus answered and said to them, "Destroy this temple, and in three days I will raise it up."
20 Then the Jews said, "It has taken forty-six years to build this temple, and will You raise it up in three days?"
21 But He was speaking of the temple of His body. 22 Therefore, when He had risen from the dead, His disciples remembered that He had said this to them; and they believed the Scripture and the word which Jesus had said.
Luke 10:38-42
Mary and Martha Worship and Serve
38 Now it happened as they went that He entered a certain village; and a certain woman named Martha welcomed Him into her house. 39 And she had a sister called Mary, who also sat at Jesus' feet and heard His word. 40 But Martha was distracted with much serving, and she approached Him and said, "Lord, do You not care that my sister has left me to serve alone? Therefore tell her to help me."
41 And Jesus answered and said to her, "Martha, Martha, you are worried and troubled about many things. 42 But one thing is needed, and Mary has chosen that good part, which will not be taken away from her."
Luke 11:27-28
Keeping the Word
27 And it happened, as He spoke these things, that a certain woman from the crowd raised her voice and said to Him, "Blessed is the womb that bore You, and the breasts which nursed You!"
28 But He said, "More than that, blessed are those who hear the word of God and keep it!"