We must first care for ourselves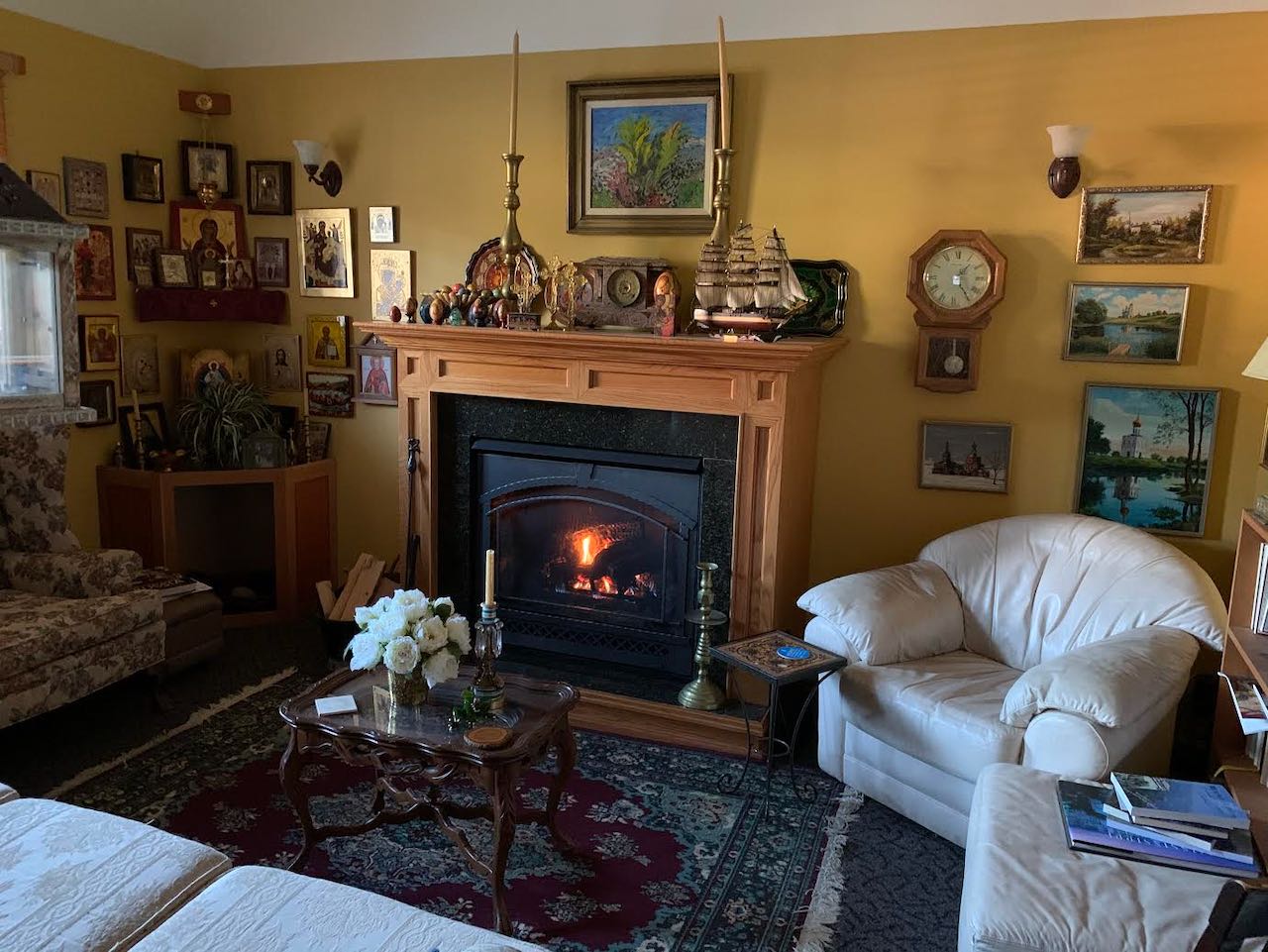 My dear mother was diagnosed with dementia back in 2003. Soon after the diagnosis I moved her from Coeur d' Alene, Idaho, and into an assisted living place on Vashon Island, where I could be involved in the supervision of her care. Her dementia progressed for the next four years, and almost from the beginning she needed me to be with her as much as possible. I spent hours everyday by her side, taking her on drives around the island, treating her to lunches in the Chinese restaurant, and bringing her to the monastery for services. As I attended to her spiritual and social needs, as best I could, I felt blessed.
My willingness to sacrifice my time and energy for my mother, in her time of need, was based not only on my love for her, but I saw this as an opportunity to pay her back for all the love and care she had given me while I was growing up.
Increasingly, people are being called upon to be caregivers for parents, siblings, or other family members. As the economy falters, and the pandemic continues, we are, as a people, having to take on responsibilities that were in past generations, the norm. Extended families were common during most of our nation's history, where multiple generations living in one house was the norm. Elderly family members were never sent to live in institutions.
It is important that caregivers not sacrifice their own spiritual and social needs as they take on the extra burden of attending to the physical, medical, and social needs of their family members. Caregivers have every right to have a life of their own, and should  make sure to attend to their own need for friendships, social engagements, and church life. The caregiver must not feel guilty, or feel they are betraying their loved one, when they step out with friends for dinner and a movie. They should not feel they are abandoning their responsibility by attending the divine services, or partaking in a Bible study.
I know only too well that, as a priest, I must tend to my own spiritual and emotional needs if I am to have the energy to minister to others. If I were to allow myself to be depleted, spiritually and emotionally, I would do a disservice to those whom I serve, and I would ultimately fail in my service to them.
We should not feel as though we are betraying a family member, (or, in the case of a priest, a parishioner) when we spend an evening with friends, or take time out with other family members for a special outing. When we allow ourselves to become depleted, the person in our care will ultimately suffer, for a caregiver (or priest) who becomes resentful, can slip into being abusive, without even realizing it.
There are any number of organizations that can provide in-home care when the caregiver needs a break. Whether we be a caregiver, social worker, or a priest, or anyone in service to others, we must be sure to take care of ourselves, lest we become ineffective in our service. When flying on an airline, we are instructed by the flight attendant, when the oxygen apparatus falls down, to place it over our own face before taking care of the person next to us. Likewise, if we do not take care of our own spiritual, emotional, and social needs, we will ultimately fail in our ministering to others.
With love in Christ,
Abbot Tryphon
Sunday April 4, 2021 / March 22, 2021
Third Sunday of the Great Lent: Adoration of Cross. Tone two.
Great Lent. Food with Oil
Hieromartyr Basil, presbyter of Ancyra (362).
Martyr Drosida (Drosis) of Antioch, and five virgins (104).
Venerable Isaac, founder of the Dalmatian Monastery at Constantinople (383).
Martyrs Callinica and Basilissa of Rome (2nd c.).
Venerable Euthymius of Constantinople.
"The Izborsk" Icon of the Mother of God (1657).
St. Paul, bishop of Narbonne, Brittany (3rd c.) (Celtic & British).
New Martyr Euthymius of Mt. Athos (1814) (Greek).
New Martyr Basil (Zelentsov) bishop of Priluk (1930).
New Martyr Schema-abbess Sophia of Kiev (1941) and her priest Demetrius Ivanov (1934).
The Scripture Readings
John 21:1-14
Breakfast by the Sea
21 After these things Jesus showed Himself again to the disciples at the Sea of Tiberias, and in this way He showed Himself: 2 Simon Peter, Thomas called the Twin, Nathanael of Cana in Galilee, the sons of Zebedee, and two others of His disciples were together. 3 Simon Peter said to them, "I am going fishing."
They said to him, "We are going with you also." They went out and immediately got into the boat, and that night they caught nothing. 4 But when the morning had now come, Jesus stood on the shore; yet the disciples did not know that it was Jesus. 5 Then Jesus said to them, "Children, have you any food?"
They answered Him, "No."
6 And He said to them, "Cast the net on the right side of the boat, and you will find some."So they cast, and now they were not able to draw it in because of the multitude of fish.
7 Therefore that disciple whom Jesus loved said to Peter, "It is the Lord!" Now when Simon Peter heard that it was the Lord, he put on his outer garment (for he had removed it), and plunged into the sea. 8 But the other disciples came in the little boat (for they were not far from land, but about two hundred cubits), dragging the net with fish. 9 Then, as soon as they had come to land, they saw a fire of coals there, and fish laid on it, and bread. 10 Jesus said to them, "Bring some of the fish which you have just caught."
11 Simon Peter went up and dragged the net to land, full of large fish, one hundred and fifty-three; and although there were so many, the net was not broken. 12 Jesus said to them, "Come and eat breakfast." Yet none of the disciples dared ask Him, "Who are You?"—knowing that it was the Lord. 13 Jesus then came and took the bread and gave it to them, and likewise the fish.
14 This is now the third time Jesus showed Himself to His disciples after He was raised from the dead.
Hebrews 4:14-5:6
Our Compassionate High Priest
14 Seeing then that we have a great High Priest who has passed through the heavens, Jesus the Son of God, let us hold fast our confession. 15 For we do not have a High Priest who cannot sympathize with our weaknesses, but was in all points tempted as we are, yet without sin. 16 Let us therefore come boldly to the throne of grace, that we may obtain mercy and find grace to help in time of need.
Qualifications for High Priesthood
5 For every high priest taken from among men is appointed for men in things pertaining to God, that he may offer both gifts and sacrifices for sins. 2 He can have compassion on those who are ignorant and going astray, since he himself is also subject to weakness. 3 Because of this he is required as for the people, so also for himself, to offer sacrifices for sins. 4 And no man takes this honor to himself, but he who is called by God, just as Aaron was.
A Priest Forever
5 So also Christ did not glorify Himself to become High Priest, but it was He who said to Him:
"You are My Son,
Today I have begotten You."
6 As He also says in another place:
"You are a priest forever
According to the order of Melchizedek";
Mark 8:34-9:1
Take Up the Cross and Follow Him
34 When He had called the people to Himself, with His disciples also, He said to them, "Whoever desires to come after Me, let him deny himself, and take up his cross, and follow Me. 35 For whoever desires to save his life will lose it, but whoever loses his life for My sake and the gospel's will save it. 36 For what will it profit a man if he gains the whole world, and loses his own soul? 37 Or what will a man give in exchange for his soul? 38 For whoever is ashamed of Me and My words in this adulterous and sinful generation, of him the Son of Man also will be ashamed when He comes in the glory of His Father with the holy angels."
The Transfiguration of Christ
9 And He said to them, "Assuredly, I say to you that there are some standing here who will not taste death till they see the kingdom of God present with power."