Theosis is participation in the Divine Life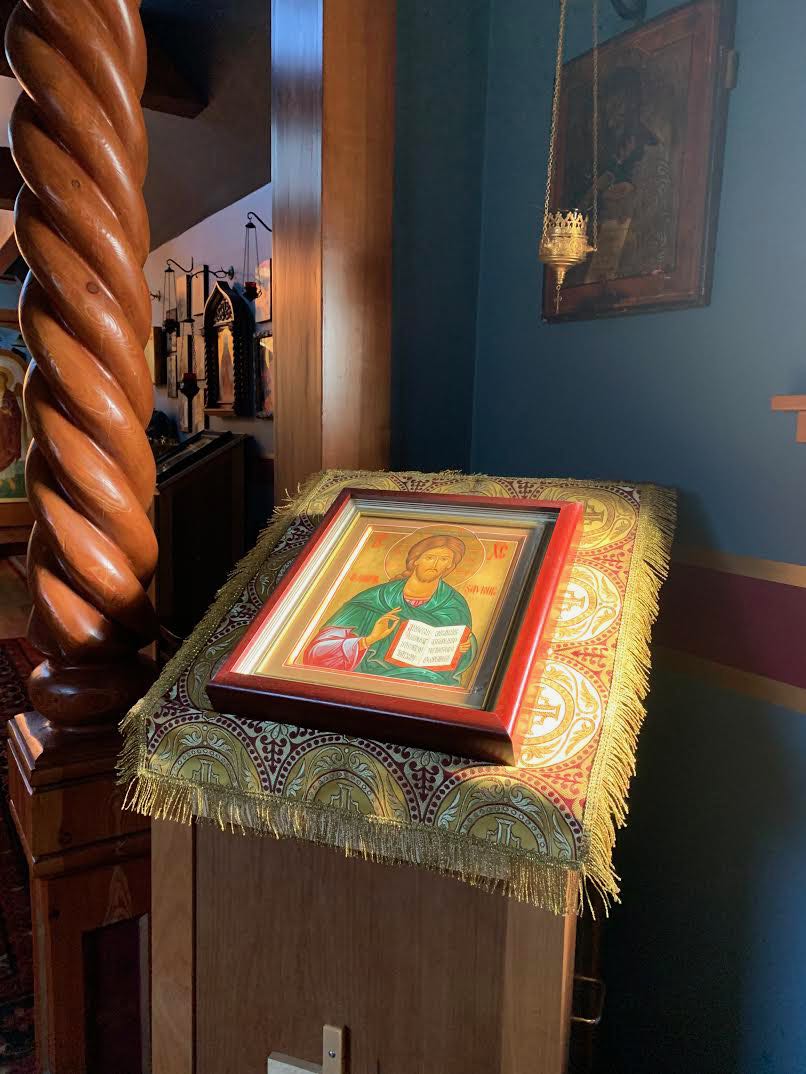 According to Protopresbyter George Metallinos, Dean of the Athens University School of Theology, "For we Orthodox the unique and absolute goal of life in Christ is theosis, our union with God, so that man – through his participation in God's uncreated energy – may become "by the Grace of God" that which God is by nature (without beginning and without end). This is what "salvation" means, in Christianity."
As Christians we know that salvation is an ongoing process that, as believers, we are called to cooperate in. We are instructed to "Repent: for the kingdom of heaven is at hand" (Matthew 4:17). The Apostle Paul made clear the necessity of human cooperation when he told us to "work out your own salvation with fear and trembling; for it is God who is at work in you, enabling you both to will and to work for his good pleasure (Philippians 2:1–13)".
Our salvation is a process by which we become more and more like Christ. Our faith is a free gift from God, not dependent upon anything we can do, but this life long process of salvation requires that we cooperate with God's grace, that we might be transformed by the Holy Spirit, and made holy. If we are to spend eternity with God, transformation must take place.
The sole purpose of the Church is the salvation of every human person, helping us to become united to Christ, and transformed by Him in all holiness. It means we are prepared for eternal life. Through the Church we hear the Good News, that Jesus is the Christ, the Messiah, and that He rose from the dead, and because of this we have eternal life.
This work of salvation is a gradual, life-long process by which Christians become more and more like Christ. Our salvation begins the moment we commit ourselves to Christ, and within the abounding grace of the Holy Spirit we are ever drawn closer in communion with God.
Theosis goes far beyond the simple restoration of people to their state before the Fall. Because Christ united the human and divine natures in his person, it is now possible for us to experience closer fellowship with God than Adam and Eve initially experienced in the Garden of Eden. Some of the Church Fathers went so far as to say that Jesus would have become incarnate for this reason alone, even if Adam and Eve had never sinned.
Theosis is the regaining of the Holy Spirit, and glorification begins now in this life. Theosis is participation in the Divine Life via the Nous. Our sanctification, glorification and transformation all begins now, in this life. Being deified means we become participants in the Divine Life through theosis.
Saint Athanasius of Alexandria wrote, "He was incarnate that we might be made god". Although seemingly absurd, that we fallen, sinful creatures may become holy as God is holy, has been made possible through Jesus Christ, who is God incarnate. Even though it is not possible for any created being to become God ontologically, or even a necessary part of God, so a created being cannot become Jesus Christ, the Holy Spirit nor the Father of the Trinity.
The deification of human nature is provided by the Incarnation of God, which makes man God to the same degree as God Himself became man. It is clear that He Who became man without sin (Heb. 4:15) will divinize human nature without changing it into the Divine Nature, and will raise it up for His Own sake to the same degree as He lowered Himself for man's sake. This is what Saint Paul teaches mystically when he says, "that in the ages to come he might display the overflowing richness of His grace (Eph. 2:7)".
With love in Christ,
Abbot Tryphon
Friday April 9, 2021 / March 27, 2021
Fourth Week of the Great Lent: Adoration of Cross. Tone two.
Great Lent. By Monastic Charter: Strict Fast (Bread, Vegetables, Fruits)
St. Matrona of Thessalonica (4th c.).
Martyrs Manuel and Theodosius (304).
Venerable John the Clairvoyant of Lycopolis, anchorite of Egypt (394).
Venerable Cyricus (Quiricus), monk, of Thrace.
Prophet Hanani (Ananias).
Venerable Paul, bishop of Corinth (ca. 925).
Venerable Paphnutius, disciple of St. Anthony the Great (4th c.).
St. Ephraim of Rostov (1454).
Venerable Alexander, abbot of Voche, near Galich (on the Volga) (16th c.).
St. Anthony, metropolitan of Tobolsk (1740).
Icons of the Most Holy Theotokos on Mt. Athos "Glykophylousa" ("Sweet-kissing") and "Of the Akathist".
St. Rupert, bishop of Salzburg (718).
Martyrs John and Baruch (Greek).
St. Eutyches, monk (Greek).
The Scripture Readings
Isaiah 29:13-23
13 Therefore the Lord said:
"Inasmuch as these people draw near with their mouths
And honor Me with their lips,
But have removed their hearts far from Me,
And their fear toward Me is taught by the commandment of men,
14 Therefore, behold, I will again do a marvelous work
Among this people,
A marvelous work and a wonder;
For the wisdom of their wise men shall perish,
And the understanding of their prudent men shall be hidden."
15 Woe to those who seek deep to hide their counsel far from the Lord,
And their works are in the dark;
They say, "Who sees us?" and, "Who knows us?"
16 Surely you have things turned around!
Shall the potter be esteemed as the clay;
For shall the thing made say of him who made it,
"He did not make me"?
Or shall the thing formed say of him who formed it,
"He has no understanding"?
Future Recovery of Wisdom
17 Is it not yet a very little while
Till Lebanon shall be turned into a fruitful field,
And the fruitful field be esteemed as a forest?
18 In that day the deaf shall hear the words of the book,
And the eyes of the blind shall see out of obscurity and out of darkness.
19 The humble also shall increase their joy in the Lord,
And the poor among men shall rejoice
In the Holy One of Israel.
20 For the terrible one is brought to nothing,
The scornful one is consumed,
And all who watch for iniquity are cut off—
21 Who make a man an offender by a word,
And lay a snare for him who reproves in the gate,
And turn aside the just by empty words.
22 Therefore thus says the Lord, who redeemed Abraham, concerning the house of Jacob:
"Jacob shall not now be ashamed,
Nor shall his face now grow pale;
23 But when he sees his children,
The work of My hands, in his midst,
They will hallow My name,
And hallow the Holy One of Jacob,
And fear the God of Israel.
Genesis 12:1-7
Promises to Abram
12 Now the Lord had said to Abram:
"Get out of your country,
From your family
And from your father's house,
To a land that I will show you.
2 I will make you a great nation;
I will bless you
And make your name great;
And you shall be a blessing.
3 I will bless those who bless you,
And I will curse him who curses you;
And in you all the families of the earth shall be blessed."
4 So Abram departed as the Lord had spoken to him, and Lot went with him. And Abram was seventy-five years old when he departed from Haran. 5 Then Abram took Sarai his wife and Lot his brother's son, and all their possessions that they had gathered, and the people whom they had acquired in Haran, and they departed to go to the land of Canaan. So they came to the land of Canaan. 6 Abram passed through the land to the place of Shechem, as far as the terebinth tree of Moreh. And the Canaanites were then in the land.
7 Then the Lord appeared to Abram and said, "To your descendants I will give this land." And there he built an altar to the Lord, who had appeared to him.
Proverbs 14:15-26
15 The simple believes every word,
But the prudent considers well his steps.
16 A wise man fears and departs from evil,
But a fool rages and is self-confident.
17 A quick-tempered man acts foolishly,
And a man of wicked intentions is hated.
18 The simple inherit folly,
But the prudent are crowned with knowledge.
19 The evil will bow before the good,
And the wicked at the gates of the righteous.
20 The poor man is hated even by his own neighbor,
But the rich has many friends.
21 He who despises his neighbor sins;
But he who has mercy on the poor, happy is he.
22 Do they not go astray who devise evil?
But mercy and truth belong to those who devise good.
23 In all labor there is profit,
But idle chatter leads only to poverty.
24 The crown of the wise is their riches,
But the foolishness of fools is folly.
25 A true witness delivers souls,
But a deceitful witness speaks lies.
26 In the fear of the Lord there is strong confidence,
And His children will have a place of refuge.