The Christ's Triumphal Entrance into Jerusalem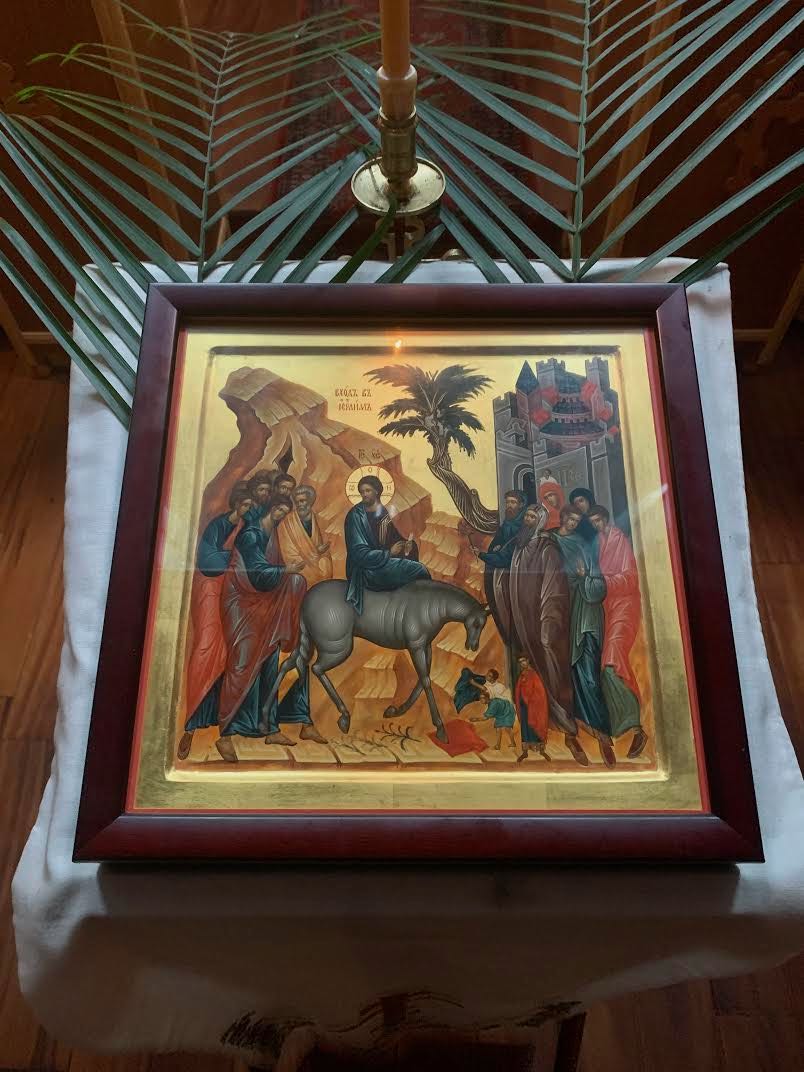 As the crowds acclaim him their King, Jesus entered into the holy city of Jerusalem. Jesus does not silence the people, and tell them he is not their King, but this king arrives on a donkey. He is not accompanied by an imperial court, nor is he surrounded by an army as symbolizing his power.
"Rejoice greatly, O daughter of Zion! Shout, O daughter of Jerusalem! Behold, your King is coming to you;
He is just and having salvation, Lowly and riding on a donkey, A colt, the foal of a donkey (Zechariah 9:9).
As a sign of his kingship, Jesus imitated Abraham who rode a donkey when he took Isaac for sacrifice to the mountain. He imitated Moses who rode a donkey. He imitated David who rode a donkey, as did Solomon as a sign that he was David's successor.
Riding on a donkey is in itself a sign of Christ's kingly character. Yet he is received by simple people who see in him something more than a king. In Jesus they have that sense of the faith which says: here is the Saviour, for he does not enter the Holy City to receive the honors reserved to earthly kings, but he enters to be scourged, insulted and abused, as Isaiah the prophet had foretold.
He enters to receive a crown of thorns, a staff, a purple robe: his kingship becomes an object of derision. He enters to climb Calvary, carrying his burden of wood.
With love in Christ,
Abbot Tryphon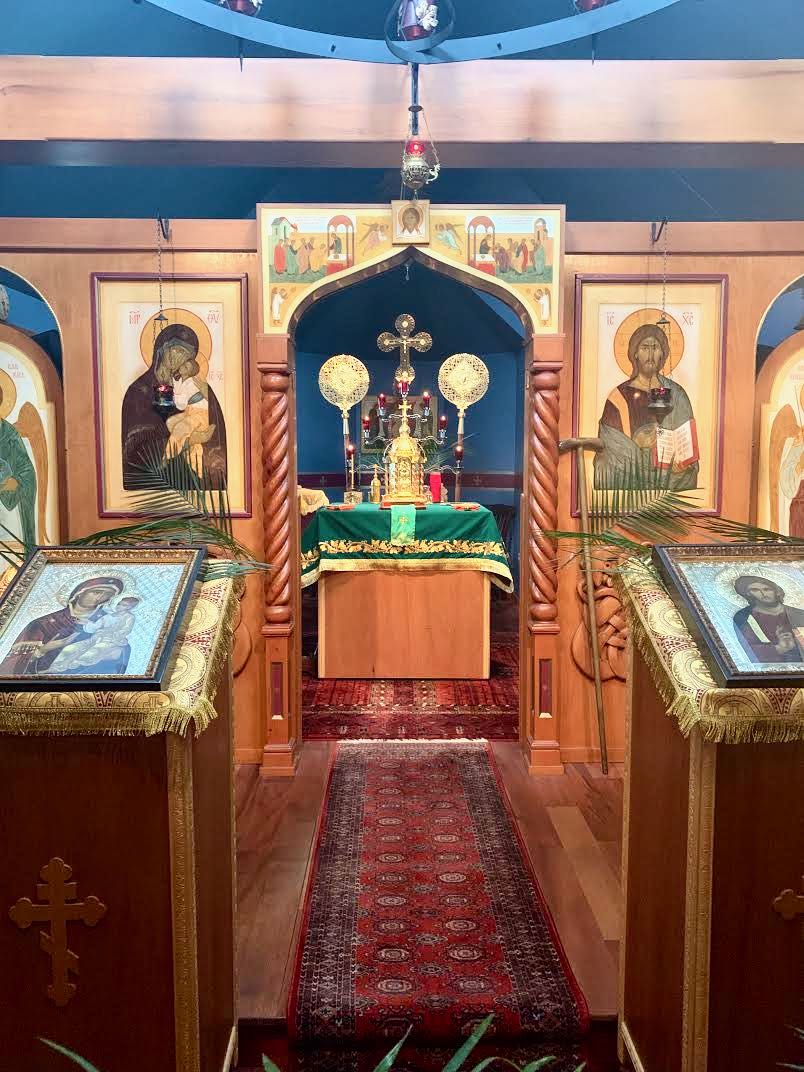 Sunday April 25, 2021 / April 12, 2021
The Entry of the Lord into Jerusalem.
Great Lent. Fish Allowed
Venerable Basil the Confessor, bishop of Parium (760).
New Hieromartyr Sergius (1938).
Hieromartyr Zeno, bishop of Verona (ca. 260).
Venerable Isaac the Syrian, abbot of Spoleto, Italy (ca. 550).
Martyrs Menas, David, and John of Palestine (630).
Virgin Anthusa of Constantinople (801).
Venerable Athanasia, abbess of Aegina (860).
"Murom" (12th c.) and "Belynich" (13th c.) Icons of the Mother of God.
St. Acacius of Kapsokalyvia Skete, Mt. Athos (1730).
St. Basil, bishop of Ryazan (1295).
Deposition of the Belt of the Most Holy Mother of God in Constantinople (942).
Martyr Sabbas the Goth, who suffered at Buzau in Wallachia (372) (Romania).
St. Sergius, patriarch of Constantinople (1019).
Martyrs Demas, Protion, and those with them (Greek).
The Scripture Readings
Matthew 21:1-11
The Triumphal Entry
21 Now when they drew near Jerusalem, and came to Bethphage, at the Mount of Olives, then Jesus sent two disciples, 2 saying to them, "Go into the village opposite you, and immediately you will find a donkey tied, and a colt with her. Loose them and bring them to Me. 3 And if anyone says anything to you, you shall say, 'The Lord has need of them,' and immediately he will send them."
4 [b]All this was done that it might be fulfilled which was spoken by the prophet, saying:
5 "Tell the daughter of Zion,
'Behold, your King is coming to you,
Lowly, and sitting on a donkey,
A colt, the foal of a donkey.' "
6 So the disciples went and did as Jesus commanded them. 7 They brought the donkey and the colt, laid their clothes on them, and set Him on them. 8 And a very great multitude spread their clothes on the road; others cut down branches from the trees and spread them on the road. 9 Then the multitudes who went before and those who followed cried out, saying:
"Hosanna to the Son of David!
'Blessed is He who comes in the name of the Lord!'
Hosanna in the highest!"
10 And when He had come into Jerusalem, all the city was moved, saying, "Who is this?"
11 So the multitudes said, "This is Jesus, the prophet from Nazareth of Galilee."
Matthew 21:15-17
15 But when the chief priests and scribes saw the wonderful things that He did, and the children crying out in the temple and saying, "Hosanna to the Son of David!" they were indignant 16 and said to Him, "Do You hear what these are saying?"
And Jesus said to them, "Yes. Have you never read,
'Out of the mouth of babes and nursing infants
You have perfected praise'?"
17 Then He left them and went out of the city to Bethany, and He lodged there.
Philippians 4:4-9
4 Rejoice in the Lord always. Again I will say, rejoice!
5 Let your gentleness be known to all men. The Lord is at hand.
6 Be anxious for nothing, but in everything by prayer and supplication, with thanksgiving, let your requests be made known to God; 7 and the peace of God, which surpasses all understanding, will guard your hearts and minds through Christ Jesus.
Meditate on These Things
8 Finally, brethren, whatever things are true, whatever things are noble, whatever things are just, whatever things are pure, whatever things are lovely, whatever things are of good report, if there is any virtue and if there is anything praiseworthy—meditate on these things. 9 The things which you learned and received and heard and saw in me, these do, and the God of peace will be with you.
John 12:1-18
The Anointing at Bethany
12 Then, six days before the Passover, Jesus came to Bethany, where Lazarus was who had been dead, whom He had raised from the dead. 2 There they made Him a supper; and Martha served, but Lazarus was one of those who sat at the table with Him. 3 Then Mary took a pound of very costly oil of spikenard, anointed the feet of Jesus, and wiped His feet with her hair. And the house was filled with the fragrance of the oil.
4 But one of His disciples, Judas Iscariot, Simon's son, who would betray Him, said, 5 "Why was this fragrant oil not sold for three hundred denarii and given to the poor?" 6 This he said, not that he cared for the poor, but because he was a thief, and had the money box; and he used to take what was put in it.
7 But Jesus said, "Let her alone; she has kept this for the day of My burial. 8 For the poor you have with you always, but Me you do not have always."
The Plot to Kill Lazarus
9 Now a great many of the Jews knew that He was there; and they came, not for Jesus' sake only, but that they might also see Lazarus, whom He had raised from the dead. 10 But the chief priests plotted to put Lazarus to death also, 11 because on account of him many of the Jews went away and believed in Jesus.
The Triumphal Entry
12 The next day a great multitude that had come to the feast, when they heard that Jesus was coming to Jerusalem, 13 took branches of palm trees and went out to meet Him, and cried out:
"Hosanna!
'Blessed is He who comes in the name of the Lord!'
The King of Israel!"
14 Then Jesus, when He had found a young donkey, sat on it; as it is written:
15 "Fear not, daughter of Zion;
Behold, your King is coming,
Sitting on a donkey's colt."
16 His disciples did not understand these things at first; but when Jesus was glorified, then they remembered that these things were written about Him and that they had done these things to Him.
17 Therefore the people, who were with Him when He called Lazarus out of his tomb and raised him from the dead, bore witness. 18 For this reason the people also met Him, because they heard that He had done this sign.