Holy and Great Monday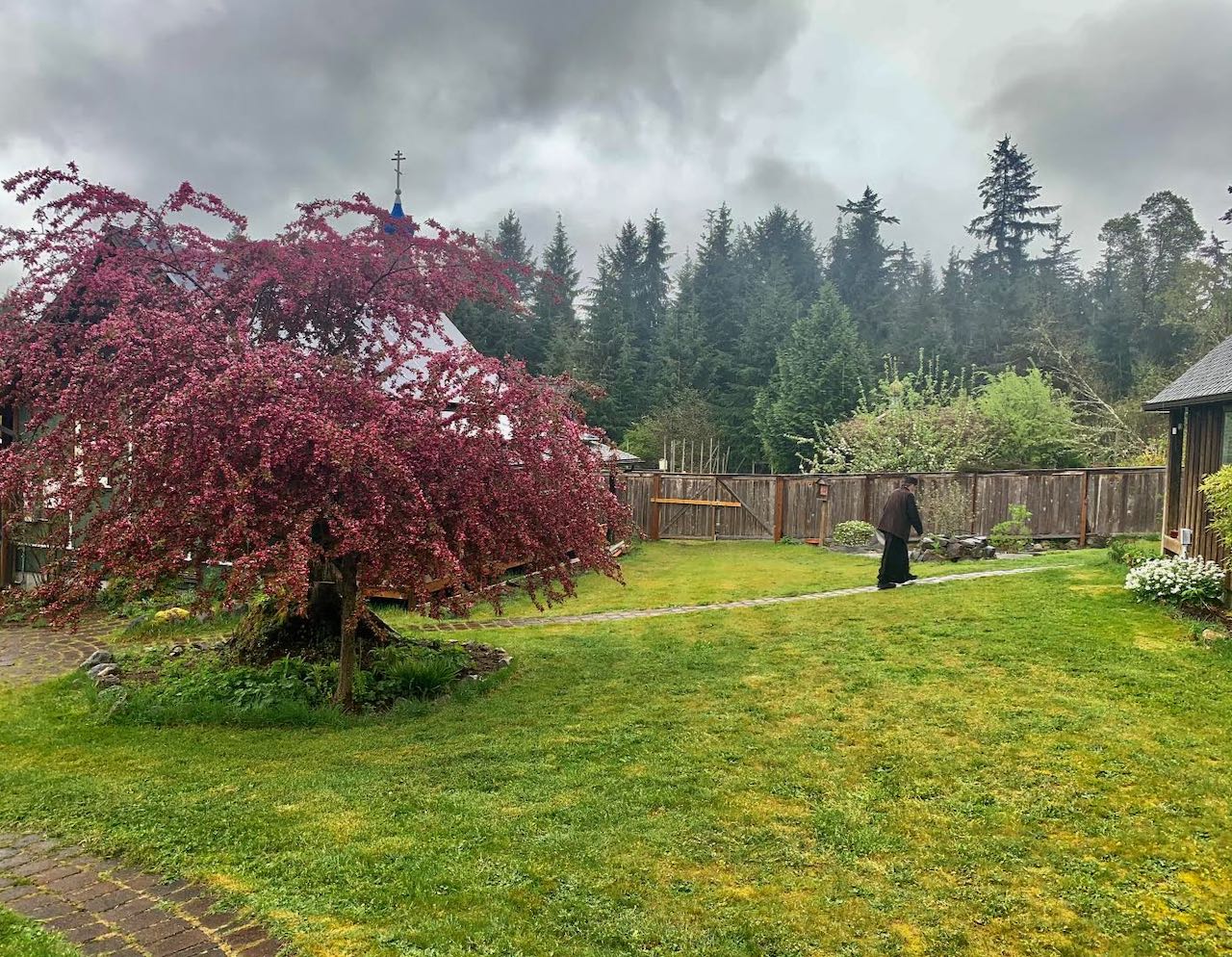 On Holy Monday, the Orthodox Church remembers the cursing of the fig tree. This event is a display of Christ's divine power and of God's judgment upon those who do not follow Him. Also on this day, the Church remembers the patriarch Joseph. The Old Testament story of Joseph is reflective of Christ because Joseph fell into a poor state but rose to power, just as Christ is soon to do.
The hymns and readings of Holy Monday, Holy Tuesday, and Holy Wednesday, are to remind the Church of Christ's final teachings to His disciples.
Ascetic Struggle
If we embrace Christianity with dedication of heart and mind, we will receive the power to live in this world, filled as it is, with temptations and disappointments, yet remaining true to our vocation as a holy people. Committing ourselves to being full time Christians, empowers us to live our lives in such a way that we give glory and witness to the very Christ Whom we worship.
If, however, we avoid ascetic struggle, and choose to keep our Christian faith sidelined, and reject real commitment, we will ultimately have  become Christian in name only. For those who, out of laziness or personal selfishness, choose to relegate fasting, private prayer, and even church attendance, as something done only when we feel "in the mood", we will stand before the Throne of God, in the end, with a darkened heart that can not withstand the power of God, and eternity will be for us, a lake of fire.
With love in Christ,
Abbot Tryphon
Monday April 26, 2021 / April 13, 2021
Passion Week: Great Monday.
Great Lent. By Monastic Charter: Strict Fast (Bread, Vegetables, Fruits)
Hieromartyr Artemon, presbyter of Laodicea in Syria (303).
New Hieromartyr Stephen (Bekh) bishop of Izhevsk (1933).
Virgin-martyr Martha (1941).
Martyr Crescens of Myra in Lycia.
Martyr Thomais of Alexandria (476).
Martyr Demetrius of the Peloponnesus who suffered at Tripoli (1803).
Martyr Eleutherius of Persia (4th c.).
Martyr Zoilus of Rome (4th c.).
Venerable Martins, abbot, of Clermont (Gaul).
St. Martin the Confessor, pope of Rome (655) (Greek).
Martyrs Maximus (286), Dada and Quinctilian at Dorostolum in Moesia.
St. Martyrius, archbishop of Jerusalem (486).
St. Guinoch of Buchan.
Martyr Theodosius (Greek).
The Scripture Readings
Matthew 21:18-43
The Fig Tree Withered
18 Now in the morning, as He returned to the city, He was hungry. 19 And seeing a fig tree by the road, He came to it and found nothing on it but leaves, and said to it, "Let no fruit grow on you ever again." Immediately the fig tree withered away.
The Lesson of the Withered Fig Tree
20 And when the disciples saw it, they marveled, saying, "How did the fig tree wither away so soon?"
21 So Jesus answered and said to them, "Assuredly, I say to you, if you have faith and do not doubt, you will not only do what was done to the fig tree, but also if you say to this mountain, 'Be removed and be cast into the sea,' it will be done. 22 And whatever things you ask in prayer, believing, you will receive."
Jesus' Authority Questioned
23 Now when He came into the temple, the chief priests and the elders of the people confronted Him as He was teaching, and said, "By what authority are You doing these things? And who gave You this authority?"
24 But Jesus answered and said to them, "I also will ask you one thing, which if you tell Me, I likewise will tell you by what authority I do these things: 25 The baptism of John—where was it from? From heaven or from men?"
And they reasoned among themselves, saying, "If we say, 'From heaven,' He will say to us, 'Why then did you not believe him?' 26 But if we say, 'From men,' we fear the multitude, for all count John as a prophet." 27 So they answered Jesus and said, "We do not know."
And He said to them, "Neither will I tell you by what authority I do these things.
The Parable of the Two Sons
28 "But what do you think? A man had two sons, and he came to the first and said, 'Son, go, work today in my vineyard.' 29 He answered and said, 'I will not,' but afterward he regretted it and went. 30 Then he came to the second and said likewise. And he answered and said, 'I go, sir,' but he did not go. 31 Which of the two did the will of his father?"
They said to Him, "The first."
Jesus said to them, "Assuredly, I say to you that tax collectors and harlots enter the kingdom of God before you. 32 For John came to you in the way of righteousness, and you did not believe him; but tax collectors and harlots believed him; and when you saw it, you did not afterward relent and believe him.
The Parable of the Wicked Vinedressers
33 "Hear another parable: There was a certain landowner who planted a vineyard and set a hedge around it, dug a winepress in it and built a tower. And he leased it to vinedressers and went into a far country. 34 Now when vintage-time drew near, he sent his servants to the vinedressers, that they might receive its fruit. 35 And the vinedressers took his servants, beat one, killed one, and stoned another. 36 Again he sent other servants, more than the first, and they did likewise to them. 37 Then last of all he sent his son to them, saying, 'They will respect my son.' 38 But when the vinedressers saw the son, they said among themselves, 'This is the heir. Come, let us kill him and seize his inheritance.' 39 So they took him and cast him out of the vineyard and killed him.
40 "Therefore, when the owner of the vineyard comes, what will he do to those vinedressers?"
41 They said to Him, "He will destroy those wicked men miserably, and lease his vineyard to other vinedressers who will render to him the fruits in their seasons."
42 Jesus said to them, "Have you never read in the Scriptures:
'The stone which the builders rejected
Has become the chief cornerstone.
This was the Lord's doing,
And it is marvelous in our eyes'?
43 "Therefore I say to you, the kingdom of God will be taken from you and given to a nation bearing the fruits of it.
Matthew 24:3-35
The Signs of the Times and the End of the Age
3 Now as He sat on the Mount of Olives, the disciples came to Him privately, saying, "Tell us, when will these things be? And what will be the sign of Your coming, and of the end of the age?"
4 And Jesus answered and said to them: "Take heed that no one deceives you. 5 For many will come in My name, saying, 'I am the Christ,' and will deceive many. 6 And you will hear of wars and rumors of wars. See that you are not troubled; for all these things must come to pass, but the end is not yet. 7 For nation will rise against nation, and kingdom against kingdom. And there will be famines, pestilences, and earthquakes in various places. 8 All these are the beginning of sorrows.
9 "Then they will deliver you up to tribulation and kill you, and you will be hated by all nations for My name's sake. 10 And then many will be offended, will betray one another, and will hate one another. 11 Then many false prophets will rise up and deceive many.12 And because lawlessness will abound, the love of many will grow cold. 13 But he who endures to the end shall be saved. 14 And this gospel of the kingdom will be preached in all the world as a witness to all the nations, and then the end will come.
The Great Tribulation
15 "Therefore when you see the 'abomination of desolation,' spoken of by Daniel the prophet, standing in the holy place" (whoever reads, let him understand), 16 "then let those who are in Judea flee to the mountains. 17 Let him who is on the housetop not go down to take anything out of his house. 18 And let him who is in the field not go back to get his clothes. 19 But woe to those who are pregnant and to those who are nursing babies in those days! 20 And pray that your flight may not be in winter or on the Sabbath. 21 Forthen there will be great tribulation, such as has not been since the beginning of the world until this time, no, nor ever shall be. 22 And unless those days were shortened, no flesh would be saved; but for the elect's sake those days will be shortened.
23 "Then if anyone says to you, 'Look, here is the Christ!' or 'There!' do not believe it. 24 For false christs and false prophets will rise and show great signs and wonders to deceive, if possible, even the elect. 25 See, I have told you beforehand.
26 "Therefore if they say to you, 'Look, He is in the desert!' do not go out; or 'Look, He is in the inner rooms!' do not believe it. 27 For as the lightning comes from the east and flashes to the west, so also will the coming of the Son of Man be. 28 For wherever the carcass is, there the eagles will be gathered together.
The Coming of the Son of Man
29 "Immediately after the tribulation of those days the sun will be darkened, and the moon will not give its light; the stars will fall from heaven, and the powers of the heavens will be shaken. 30 Then the sign of the Son of Man will appear in heaven, and then all the tribes of the earth will mourn, and they will see the Son of Man coming on the clouds of heaven with power and great glory. 31 And He will send His angels with a great sound of a trumpet, and they will gather together His elect from the four winds, from one end of heaven to the other.
The Parable of the Fig Tree
32 "Now learn this parable from the fig tree: When its branch has already become tender and puts forth leaves, you know that summer is near. 33 So you also, when you see all these things, know that it is near—at the doors! 34 Assuredly, I say to you, this generation will by no means pass away till all these things take place. 35 Heaven and earth will pass away, but My words will by no means pass away.